Lekki Killings: Over 77,300 Sign Petition To Jail Buhari After Lagos Panel Reports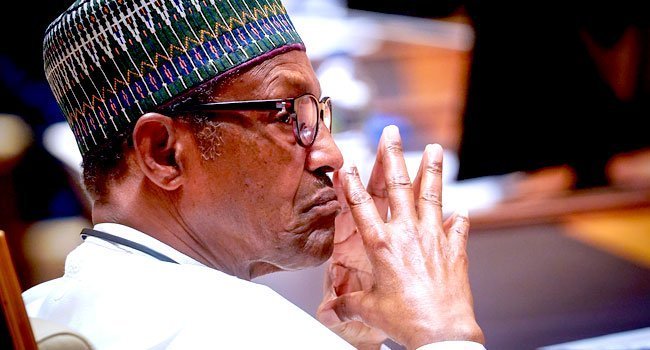 No fewer than seventy-seven thousand Nigerians have signed a petition that seeks to have President Muhammadu Buhari tried and jailed over the killings of peaceful protesters at the Lekki Toll Gate last year October.
Naija News understands that the petition initiated by former Presidential aide, Reno Omokri, on the change.org platform has continued to receive hundreds of signatures with many citizens giving reasons for pending their signatures.
The petition which was started on Wednesday was directed at the International Criminal Court.
This comes after the Governor Babajide Sanwo-Olu-led government #EndSARS panel indicted President Buhari's administration in its report.
In the petition narration, Omokri lamented the gruesome killing of the innocent Nigerian youths who were only expressing their human right.
Omokri said: "These youths were protesting to put an end to the rampant police brutality that had become the hallmark of the Buhari regime, which treats so-called repentant Boko Haram almost like royalty, while coming hard on young Nigerians, sometimes for the flimsiest reason, such as wearing dreadlocks."
He added: "Following the murders of these protesters, the Buhari administration denied that the incident ever occurred. They threatened those, like myself, who insisted, with proof, that this massacre happened. The government even threatened to jail people who called for those behind the murders to be brought to book.
"However, on Monday, November 15, 2021, the Lagos state Panel of Inquiry into EndSARS released its report to the state government in which it established judicially that not only did the massacre occur, but that the government of Muhammadu Buhari and its agents, re the Nigerian Army and Police, perpetuated the murders.
"This petition is therefore directed at the International Criminal Court to set machinery in motion for the trial of Muhammadu Buhari for crimes against humanity in the same way that former Liberian President, Charles Taylor, was tried and convicted."
Meanwhile, a member of the Lagos State Judicial Panel of Inquiry on Restitution for Victims of SARS Related Abuses and other matters, Ebun-Olu Adegboruwa, on Friday stated that the report submitted by the panel to the state government is defended by documents.
Naija News had earlier reported that the panel submitted a report to the state government on Monday.
The panel in its report disclosed that security operatives killed eleven people at the Lekki tollgate on October 20, 2020.
The counsel for the Lagos State Government, Abiodun Owonikoko, days after the report was submitted, however, claimed that the report contains at least 40 discrepancies.
---
---
© 2023 Naija News, a division of Polance Media Inc.