Pastor Shows Off Luxurious Cars His 'Sons And Daughters' Drove To Church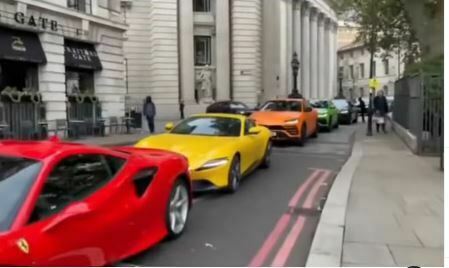 The founder and head pastor of Salvation Proclaimers Anointed Church, Tobi Adegboyega, has shown off the cars his sons and daughters drove to accompany him to church on his 41st birthday.
Adegboyega took to Facebook to reveal how well his church members whom he referred to as his sons and daughters were doing financially.
In the video, the clergyman showed off the cars of his congregants, stating that the reason for the coverage was to encourage people.
The cleric stated that anyone who took offense with the video does not appreciate good things.
In other news, popular actress and Instagram sensation, Princess Shyngle has taken to social media to explain how difficult it is to get pregnant.
According to curvy beauty via her verified Instagram handle, getting pregnant is the hardest thing, adding that babies are indeed a gift from God.
She, however, noted that she's not trying to get pregnant but just thinking out loud as to what mothers who are expectant face when trying to get pregnant. 
She said pregnancy seems difficult when one is married or have the perfect baby daddy but when it's a fling or with someone you don't love, it hurriedly appears.  
In her own words; "I never knnew getting pregnant is the hardest thing ever when youre ready you can have sex everyday for 3 years and not get pregnant. Honestly babies are inded a gift from God
"Not trying to get pregnant though just thinking out loud. I'm still celibate but on the real, it's when you get married or find that perfect baby daddy that's when pregnancy will never come oh but mistakenly have a one night stand or a fling with someone you don't like or love". Read more