Police Seal Plateau State House Of Assembly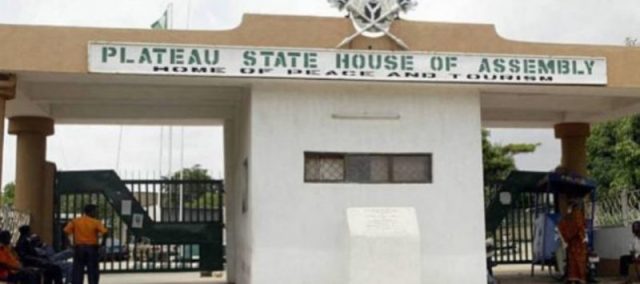 The crisis rocking the Plateau State House of Assembly took a new turn on Wednesday as fierce-looking police operatives sealed off the assembly premises.
Naija News recalls leadership crisis engulfed the state assembly with two different factions laying claim to the seat of the Plateau Assembly Speaker.
The two lawmakers laying claim to the speaker's seat are Sanda Yakubu (Pengana Constituency) and Abok Ayuba (Jos East Constituency).
After sealing the assembly premises on Wednesday, the security operatives said to be acting based on the instructions of the AIG in charge of Zone four comprising Plateau, Benue, and Nasarawa State commands, Mustapha Dandaura prevented both factions from gaining access.
A source quoted by Punch on the development said the move was to prevent any breakdown of law and order in the state.
The source said, "The AIG visited Jos yesterday (Tuesday) for an on-the-spot assessment of the situation. In his wisdom, he said the best thing to do for now is to seal off the Assembly until further notice."
Also, the lawmaker representing Riyom Constituency in the state assembly, Timothy Dantong said they are aware the order was given by the AIG to curb any crisis situation.
He added that the Police Chief is expected to mediate between the two factions with a view to getting an amicable resolution.
He said: "The impression they have is that we are having a crisis. So, they (police) decided to come and seal the Assembly complex.
"We are aware that the AIG gave the order that none of the factions should come into the Assembly complex for now until everything is sorted out.
"We are also aware that he is going to mediate in the matter and have a meeting with us to hear the grievances and see if we can resolve the matter before normal plenary will start again to avoid any crisis.
"We are aware that he has visited Government House but we didn't see him visiting us. So, we waited and we are still waiting up till this morning (Wednesday) without seeing anybody. All we are saying is that we cannot allow illegality at the Plateau State House of Assembly on who becomes the Speaker."
Recall lawmakers in the Plateau State House of Assembly impeached the speaker of the house, Hon. Abok Ayuba Nuhu.
Nuhu, following his impeachment last Thursday, was replaced with Sanda Yakubu, who hails from Pingana constituency of Bassa Local Government Area of the state.
But as the drama continued, six members of the Plateau State House of Assembly have been suspended for allegedly spearheading the impeachment of Abok Ayuba Nuhu as the Speaker.
Presiding over a plenary at the Zawan Community Association Hall in Jos, Nuhu rejected his removal as the Speaker of the House, saying that the plan will not stand.
Download NAIJA NEWS app: