Court Orders Resident Doctors To End Strike Immediately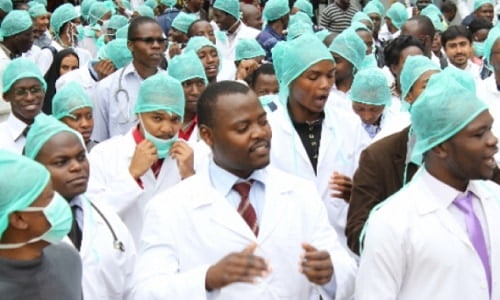 The National Industrial Court, Abuja division, on Monday ordered the Nigerian Association of Resident Doctors (NARD) to suspend its nationwide strike.
Naija News reports the resident doctors on August 2, embarked on strike action, accusing the federal government of failing to implement agreements it had with their union on issues including salaries, hazard allowances, and others.
The strike embarked upon by the doctors had been expected to be close to a peaceful resolution until the resident doctors on Sunday told the federal government they won't sign the memorandum of understanding put on the table by the government team.
The doctors accused the government of insincerity in its dealings, hence their inability to trust what is contained in the memorandum again since they've been deceived previously.
They also want a direct negotiation with President Muhammadu Buhari as they held that those they've been negotiating with are not trustworthy
Recall that the federal government had before Sunday meeting instituted a suit against the association, asking the court for an order of interlocutory injunction restraining the doctors from continuing with the industrial action.
Ruling on Monday, John Targema, the judge, asked all parties in the suit to suspend all forms of hostilities and maintain status quo.
He stated that this should be done pending the hearing and determination of the motion on notice.
"Having looked especially on the affidavit of extreme urgency, the grounds of the application, the affidavit in support of same and arguments of counsel for the applicant. I also weighed the submissions and arguments of counsel on the law as it stands on this application," Targema said.
"It is hereby ordered that claimant/applicant and the defendant/respondent suspend all forms of hostilities forthwith pending the hearing and determination of the motion on notice."
The judge adjourned the case to September 15 for a hearing of the motion on notice and/or any other pending application.