Nigerians React To Videos Of Residents Struggling For Leftover Cow Meat At Obi Cubana's Mother's Burial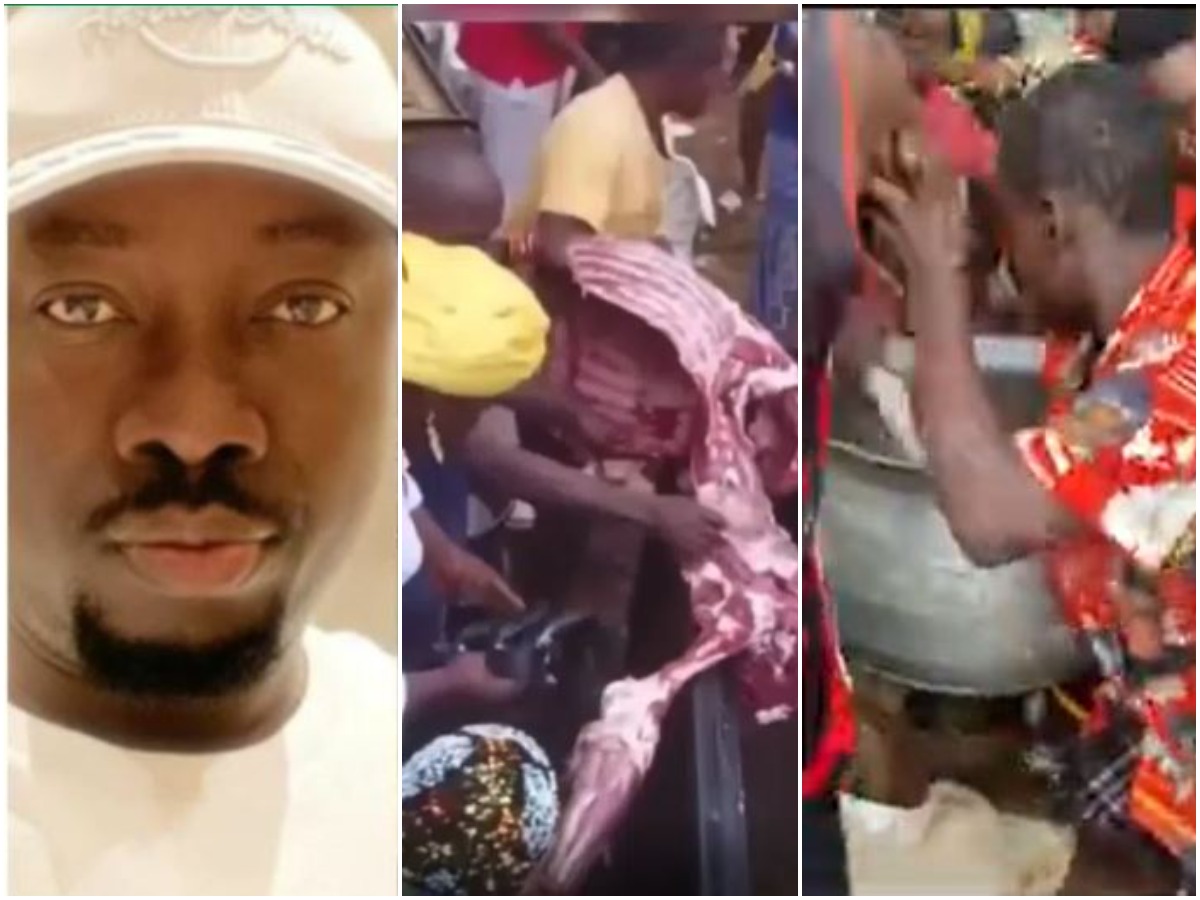 Nigerians on social media have reacted to the viral video of residents dragging leftover cow meat from Obi Cubana's mother's burial.
Naija News reports that billionaire businessman, Obi Cubana, over the weekend, set the internet on fire after money rained at his mother's lavish burial at Oba, Anambra State, which was graced by top Nigerian celebrities.
According to reports, the billionaire got over 300 cows and over N88M was spent on drinks for his mother's burial ceremony.
In a video that surfaced on social media a few days after the party, residents of Oba were spotted fighting and dragging the remains for the cow meat.
Watch the video below;
See reactions below;
@call_me_tema wrote; 'So OBA people are in Poverty and the rich people were busy showing off with Money instead of helping their people? May God have Mercy'
@ozor_iyanga_iii wrote; 'This should be a sorry sight to behold. But again, it is our reality. I pray for abundance for all, but I am wise enough to know it doesn't work. What works is intentional acts by government to better the lives of citizens'
@shabadems wrote; 'Stupendous wealth & stupendous poverty in the same location.'
@tresbodorganics wrote; 'The real Oba that you don't know. Behind the scene is where the real stories lie. 😢😢😢😢 but isn't this Nigeria in a nutshell???'.
@favouredchick123 wrote; 'Wow. May God provide for everyone
fideliaoka4 wrote; No matter anythg , people wld want to embarrass you.even if they shared cows among them, their greediness wld still show out …'
@kotchfilming wrote;'if at the end of the day people in the community can scamper for meat like this , then it was a show of shame. you can't cut the left overs and tell people to be on a queue give them to the women who'll rep their families one after the other…..yuck so sad… see hunger'
@adeyemi_choice wrote; 'Apparently these people can't be living well and still come out to struggle for meat.'
@oluwaseunsakaba wrote;'Wild 😢😢😢hunger is real…'
Source: Naija News