Insecurity: Save Nigeria From Collapse, NADECO Begs UN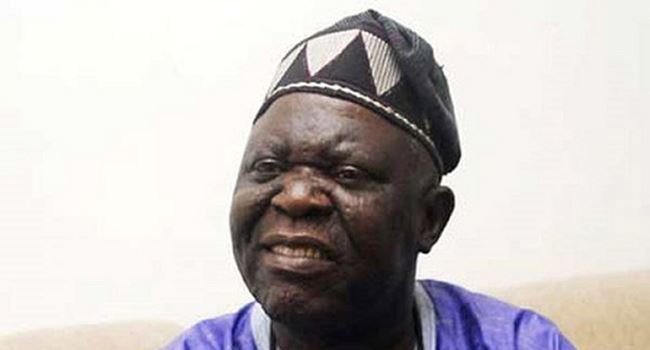 The National Democratic Coalition (NADECO) has appealed to the United Nations (UN) to intervene in Nigeria's current situation, adding that the country is on the brink of collapse.
In a letter made available to newsmen on Sunday, NADECO spokesman, Ayo Opadokun, called on the UN to prevent a total breakdown of order in the country.
The letter which was addressed to the Secretary-General, United Nations Organisation (UN), António Guterres, added that Nigeria's current situation was caused by the "imposed centralist and unitary 1999 Constitution" written by some military cliques.
The letter read; "We, the National Democratic Coalition, on behalf of Nigeria write to formally request you to use your good offices to take immediate and concrete steps to halt the fast deterioration of national security and political stability in Nigeria.
"Nigeria's current situation is so deplorable because of the imposed centralist and unitary 1999 Constitution, which was manufactured by a military clique and imposed upon us.
"Ethnic nationalities who were the building blocks upon which the British colonialist constructed Nigeria had clamoured, appealed and cautioned the sectional military wing ruling Nigeria (foisting former Presidents, Olusegun Obasanjo and Goodluck Jonathan) as surrogates, for Nigeria to return to a federal constitution upon which Nigeria secured its independence in 1960 but their interventions had always been met with disdain and provocative responses.
"Nigerians have never accepted the suspension, and abrogation of the negotiated Independence Constitution."
The group had earlier written a letter to President Muhammadu Buhari accusing him of having a 'Fulanisation' agenda.
In the letter dated June 15, 2021, the group argued that the growing secessionist tendencies in the country were fuelled by what it called the obvious policy of 'Fulanisation' and the president's refusal to discontinue the operation of the 1999 Constitution as altered.
"The foregoing narrative explains why the owners of Nigeria have not given the opportunity to participate in constitution-making whilst the Tables of Rights of the component parts of the country show the reasons why you, Mr. President, and your preferred citizens, will forever not allow Nigeria to go back to what was agreed and formed part of the independence constitution; making one Nigeria the biggest fraud ever." the statement read in part.