8 Reasons Why iPhone Is Better Than Android Phone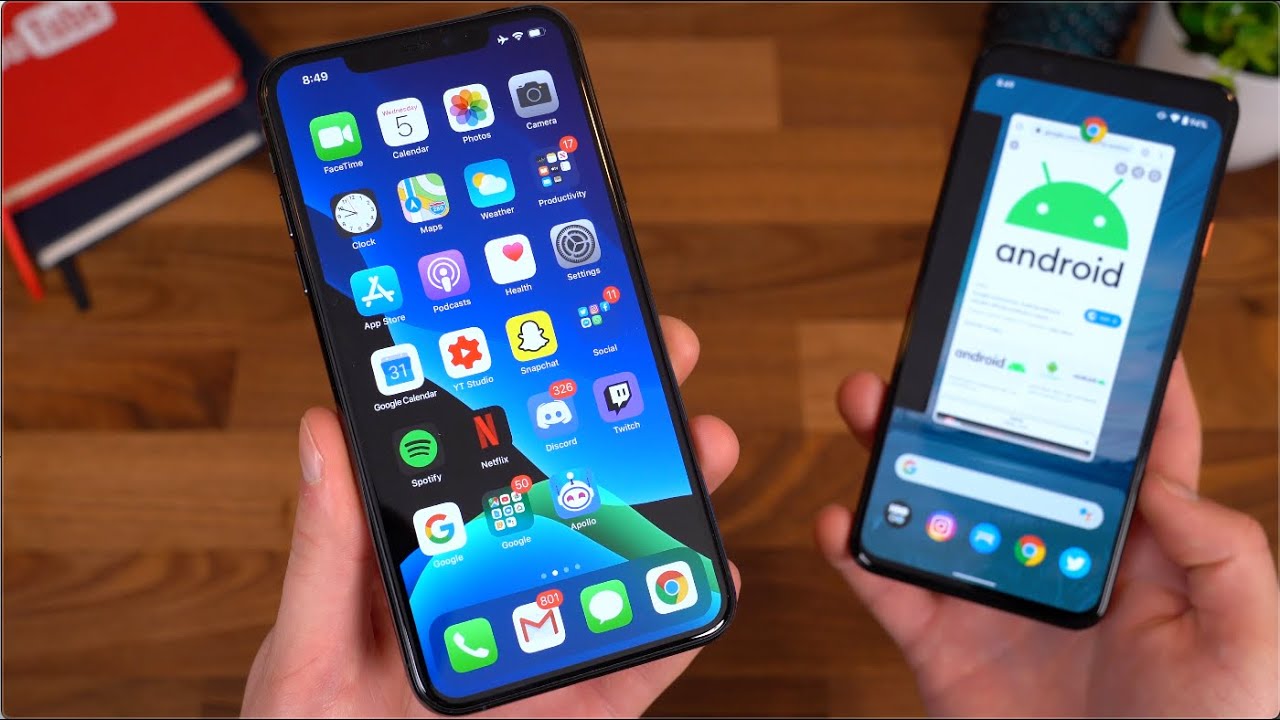 Why choose an iPhone over an Android?
Earlier, we published an article on why Android smartphones are better than iPhones. But as often, a certain amount of subjectivity must be taken into account in this kind of situation. And if Android users have many reasons to be satisfied with their devices, those running iOS also have serious arguments for refusing to look at the competition. More regular and faster updates, specific features or increased resale value, paying a premium for iPhones comes with its benefits too.
Here are eight reasons why an iPhone is still better than an Android smartphone.
Frequent and quick updates
The biggest advantage of iPhones is undoubtedly the update feature. The software is common to all devices – the iOS system – and updates are rolled out to everyone at the same time. In any case, for all compatible devices.
This is also the other great strength of Apple: devices are updated for a long time. Thus, the latest version of the home system, iOS 9, is thus compatible with all terminals since the iPhone 4s, which dates from 2011.
So of course, performance can be reduced because of the features that are added and make the OS heavier, but at least, users can claim to take advantage of the latest software innovations.
The priority of developers
While the two application stores, the Google Play Store and the Apple App Store, have a similar number of items overall (around 1.3 million), that intended for iPhones remains the priority for developers. And this is not only to please users: it is above all economical.
The App Store remains much more lucrative than the Play Store. First of all, because users on iOS are more inclined to pay for their applications, but also hacking is much easier on Android. New products, therefore, arrive in priority on the Apple store.
Many developers then have to resolve to offer their games for example for free on Android where they were paid for under iOS, because of piracy. The most recent case is the indie game Alto's Adventure, offered for € 2.99 on iOS and free on Android.
Functions shared with Mac OS
Since iOS 8, Apple has offered a feature, Handoff, which allows an iPhone and a Mac to be linked in order to share data between the two devices. The idea is to be able to continue working without having to take your phone in hand to see your notifications.
Thus, making calls, sending messages or resuming web browsing where you left off on the other screen is a formality once the two devices are synchronized. This also applies to connection sharing, which is facilitated under these conditions.
A closed system is better for safety
The security of smartphones is a crucial issue at a time when all of our most crucial data is on these devices that follow us everywhere. If both Apple and Google are making efforts to secure their OS, Apple is enjoying a certain lead.
In question, the fact that iOS is a closed system. Thus, Apple controls all the applications that can be installed there through the App Store and thus limits the malware that could be inadvertently installed by a user.
In addition, another advantage of updates that concerns almost the entire fleet of devices is that in the event of a breach, they are all protected after installing the patches. Under Android, there is such a diversity of brands, devices and versions of Android that the process is infinitely more complex.
They sell better
Of course, an iPhone comes at a high price. Leaving an Apple Store with one of its devices requires a great sacrifice when compared to the competition: the iPhone 6s starts at 759 euros in its 16 GB version. But the advantage is that the haircut is relatively small even after several years.
Thus, an iPhone 4s 8 GB, compatible with the latest version of iOS, is thus around 150 euros, an iPhone 5 16 GB is negotiated around 200 euros, an iPhone 5s 16 GB is close to 300 euros and an iPhone 6 16 GB can exceed 500 euros for the Plus model.
By regularly changing devices, year after year, it is, therefore, possible to make a return on your initial investment.
iPhone is the fastest any day
Android smartphones may multiply the cores in their processors and increase the amount of RAM, the iPhone remains the fastest. Here we must see the benefits of a platform optimized for a particular type of material. Indeed, Apple devices integrate the house AX chips, the latest generation being the A9.
As a result, the various speed tests seeking to show efficiency in real use are unanimous: the iPhone 6s is the fastest phone at the moment. If the synthetic benchmarks can show results sometimes in decline, it is only a figure where the user experience does not deceive.
Top after-sales service
Watching your phone break down is never a good time. However, this bad moment is often less painful when you have an iPhone, thanks to a particularly responsive after-sales service. In the event of a problem, all you have to do is go to an Apple Store for a diagnosis and in some cases, the problem is fixed immediately. Otherwise, if you have taken out Apple Care insurance, you can leave with a new device for less than 100 euros if the failure falls within the framework of conventional use.
Phones that age better
If Apple's phones keep resale value even after several years, that's of course because they keep getting updated, but that's not all. Whatever the theory of planned obsolescence says, it is not uncommon to see iPhones three, four or even five years old still in working order, perfectly usable.
So of course, the performance has nothing to do with the new models and the impression of slowness is exacerbated over the updates. But few Android phones can claim such a long lifespan, with performance generally deteriorating much faster.