10 Reasons Android Phones Are Better Than iPhones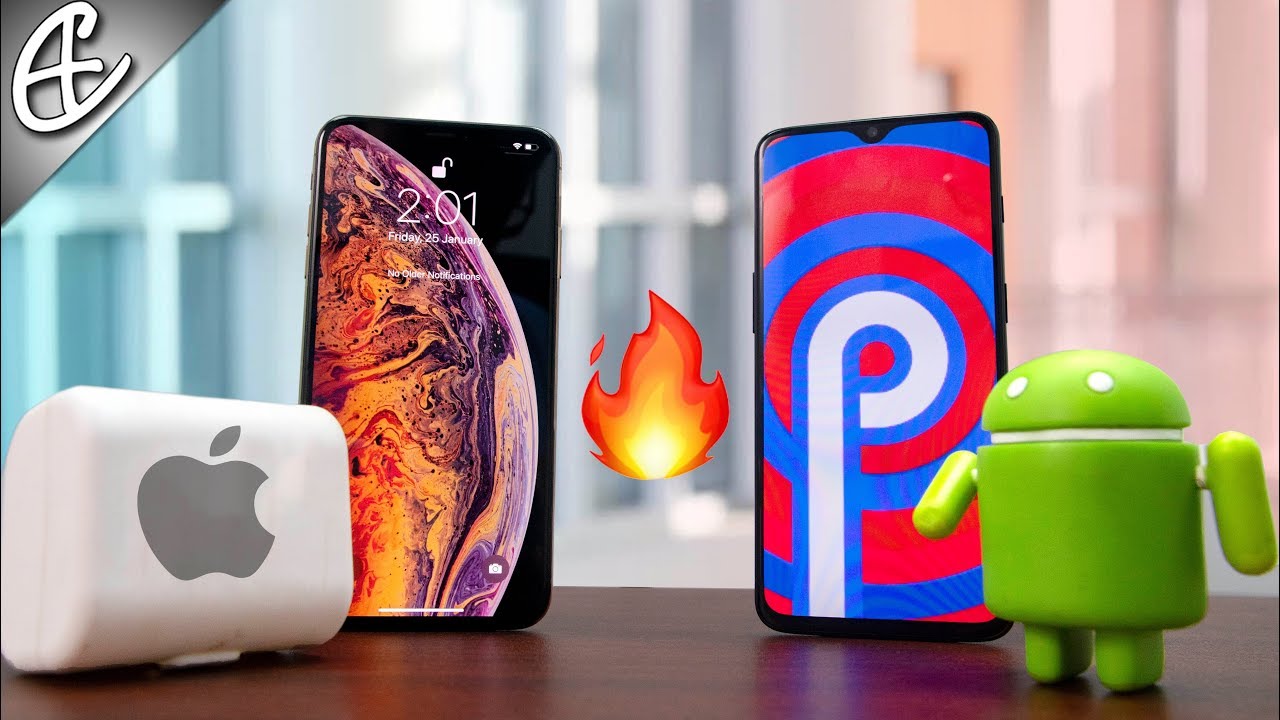 Apple iPhone provides an experience that is certainly good but limited to the features the company allows, both in hardware and software, dictating what a phone should and should not be able to do. Android overcomes these limits and lets the user choose from a variety of devices equipped with different technologies and features, from external storage to different photosensors, including 4K screens … Not to mention either. the painful question of the price, frankly not in favour of the Apple brand.
Here are ten reasons why Android phones have an advantage over iPhones.
1 – A better quality/price ratio
For several years now, purchasing smartphones through payment plans have become less interesting to consumers who now prefer paying for smartphone outrightly often turns out to be a better deal in the long term. When you decide to opt for an iPhone, three choices are possible: the iPhone SE, which starts at 489 €, the iPhone 6, at 639 € (749 € in its Plus version) or the iPhone 6s, at € 749 (€ 859 in its Plus version).
While the recent SE may seem like a bargain compared to its bigger brothers, Android offers great devices at much lower prices. We think in particular of the Honor 5X, available for less than 200 euros and which offers a large 5.2-inch screen with 1080p definition coupled with a very decent processor, the Snapdragon 646. For less than 400 euros, we can even find a Nexus 5X (after its multiple reductions successive earlier this year) which incorporates a powerful Snapdragon 808 processor and an excellent photosensor.
2 – More storage, cheaper
The iPhone 6s and 6s Plus may be very high-end devices, but Apple continues to skimp on storage. The most accessible versions only offer 16 GB of internal memory, of which barely more than 10 can actually be used. For devices supposed to accommodate countless applications, that leaves much to be desired. Moreover, the latest SE model suffers from the same stinginess.
And then, the photos captured by the 12-megapixel sensor as well as the videos in 4K, its collection of music and/or iTunes movies, video games… All these beautiful people quickly fill several tens of gigabytes in the blink of an eye. It is therefore imperative to add a certain amount of euros to move to 64 GB of memory, or even much more to reach 128 GB.
In the Android department, all recent high-end smartphones have a minimum of 32 GB of memory, whether s be it Samsung Galaxy S7 or LG G5. Only entry-level devices, like the Honor 5X, are limited to 16 GB, but compensate with the presence of a microSD reader, like the more expensive models elsewhere. When you know that a 64 GB card costs less than 20 euros in the trade, the calculation of the quality/price ratio is quickly done.
3 – Higher resolutions
The tagline of the iPhone 6s and 6s Plus is "Only one thing has changed. Everything ". This "everything" obviously does not include the definition of the screen. It was in 2014 that Apple launched its first Full HD display, on the iPhone 6 Plus, more than two years after Android devices. Today, the 6s Plus is still stuck at 1080p, while the 6s is content with 1334 x 750 pixels and the SE, at 1136 x 640 pixels. In comparison, 1080p screens are found on relatively accessible Android smartphones, under the bar of 300 euros like the Alcatel OneTouch Idol 3 or the Honor 5X.
The opposite is Sony with the Xperia Z5 Premium which offers a 4K screen (3,840 x 2,160 pixels). Granted, it doesn't always perform at this level of detail and interest in a 5.5-inch device may seem limited, but at least the innovation is there. More reasonable, the Galaxy S7 from Samsung and G5 from LG incorporate Quad HD screens, ie 2,560 x 1,440 pixels, the image quality of which is beyond reproach.
4 – 3D sensors, virtual and augmented reality
If you are looking for cutting edge technology, there is nothing better than Android. Between sensors with a depth of field detection, those capable of capturing its environment in 3D or even virtual reality, there is no shortage of examples. Certainly, it is possible to use some headsets, like the Google Cardboard, with an iPhone. But this does not offer the possibilities of a Samsung Gear VR for example, dedicated to the brand's devices.
And what about the Tango project of Google, which intends to bring a new dimension to augmented reality? Using multiple sensors, including one capable of measuring the depth of field and the other of tracking objects, compatible devices will be able to model the user's environment in 3D. One of the major interests is to be able to map the interior of buildings, whether they are shopping centres or underground metro networks to guide users more effectively.
5 – Customizations, widgets and themes
Apple seems convinced that it knows what is good and what is not for its users. So the brand completely locks its interface and offers virtually no customization, except for some data in the notifications panel. On the Android side, it is simply: everything is customizable. Thousands of widgets are available on both the home screen and the lock screen, to act on your music player or take notes on the fly.
Some manufacturers, Samsung or LG for example, add overlays to the system that take advantage of a specific design and functionalities in general ahead of Google, a multi-window system here, gesture controls there. And for those who don't appreciate isolated initiatives, it's even possible to choose a customizable launcher like Nova or install custom themes with unique colours, icons and wallpapers.
6 – Much more choice in terms of material and resistant devices
Since version 5.0 (Lollipop), Android has benefited from a new slogan: "Let's be together. Not identical. " It fits very well with the philosophy of the platform since, in fact, hundreds of different models integrate the OS worldwide. Some host giant screens, here a projector is integrated, there a physical keyboard, models allow you to change the battery, different photo sensors or processors are available from one brand to another, the quantities of RAM can reach 4 or even 6 GB sometimes, in short: the list is long.
Perhaps more importantly, many devices are designed to withstand the elements, such as submersion underwater or being dropped onto hard floors. The Motorola Moto X Force incorporates, for example, a screen presented as unbreakable, thanks to the integration of five different layers. Otherwise, the latest Samsung Galaxy S7 can stay underwater for 30 minutes without fear of drinking from the cup. While they're tougher than previous models, the latest iPhones can't say the same.
7 – An easily accessible memory
Want to copy files from your iPhone to your computer? You must first install iTunes, configure your account, then finally move the data, but only if it is media (photos, videos, etc.). Conversely, connect an Android smartphone to a computer and all of the internal memory is accessible. Recovering files from the device or moving them to internal storage is as easy as with any other external storage.
From the terminal, it is also possible to navigate in the bowels of the beast thanks to certain applications called "file explorers", like ES File Manager or Astro File Manager. Good luck finding an equivalent on iPhone, obviously Apple does not trust its users enough to access its various files.
8 – Universal sharing
Whether you're on a page from a web browser, from mapping software or a photo in your gallery, sharing is as easy as pressing a button on Android. The list of the different services installed on the device opens and you just have to choose, from Twitter to Facebook via Google+.
From an iPhone, it's immediately more complicated. The application to which you want to share the document, page or data must have been made compatible. Suffice to say that there is not a crowd for the moment, which makes sharing outside of Apple applications really restrictive.
9 – The back button
Android's back button is a very easy and useful way to go back to the previous screen no matter where you are. The button works the same regardless of the application used. If you open a link on Facebook and find yourself in Chrome, a click on the button is enough to return to Facebook.
On iPhones, it is only possible to use the in-app navigation or press the physical home button to return to the main screen. It's much less flexible and we end up doing more manipulation to get to the same place.
10 – Multi-window mode
With devices with generous screens, it becomes possible to run several applications at the same time. If Google will integrate this possibility natively in the next version of Android (N), this functionality is already available on certain devices. This is particularly the case of Samsung and LG, which now offer successful solutions.
Watching a YouTube video while writing an SMS, or viewing a web page while replying to an email, is made possible very simply. On the Apple side, if the feature exists in iOS 9, it is only accessible for tablets, not phones.