Protests Erupt In Chad As Citizens Reject Mahamat Deby's Government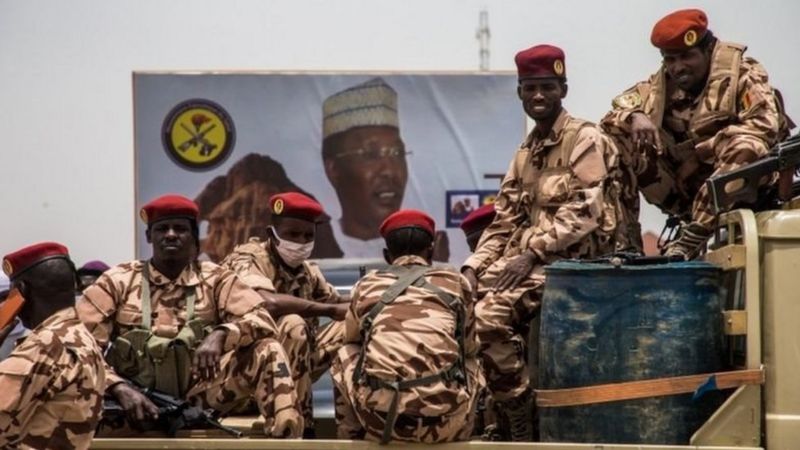 Protests have erupted in Chad, where the public is demanding the dissolution of the country's military council led by General Mahamat Deby Itno.
General Mahamat, 37, is the son of former president Idris Deby Itno and was appointed after his father was killed in a clash with rebels.
Opposition leaders and activists say they will remain silent on the streets as long as they are not listened to.
But reports indicate that authorities are planning to crackdown on protesters.
Opposition leaders called for a general strike on Tuesday.
Bello Bakary Mana, a journalist in the country, published a video of the protest.
Les #Tchad-iens manifestent contre la junte du Conseil Militaire de Transition. Au moment de publier cette vidéo, les manifestants ont été dispersés. Forte odeur de gaz lacrymogène. Un manifestant est tué à Moundou au sud du pays. pic.twitter.com/9Mp1t5wQUT

— Bello Bakary Mana (@belbak) April 27, 2021

Tires and the French flag were burned across N'Djamena. The protesters want the ruling party to be dissolved.
They also need to sit at the table to discuss the conduct of effective elections.
Local media reported that one person was killed and several others were injured, while the military used excessive force against protesters.
Residents in N'Djamena say they have witnessed riot police raiding homes looking for protesters.
The Internet has also been shut down in order to limit access to information.
Chad is now feared to be embroiled in a new civil war.
It also faces rebels from the north, who have vowed to overthrow the military government that has taken over.
Earlier the rebel group Front for Alternation and Concord in Chad demanded talks with the military, but the military council rejected the request.
Source: Naija News