Six African Heads Of State Who Have Succeed Their Parents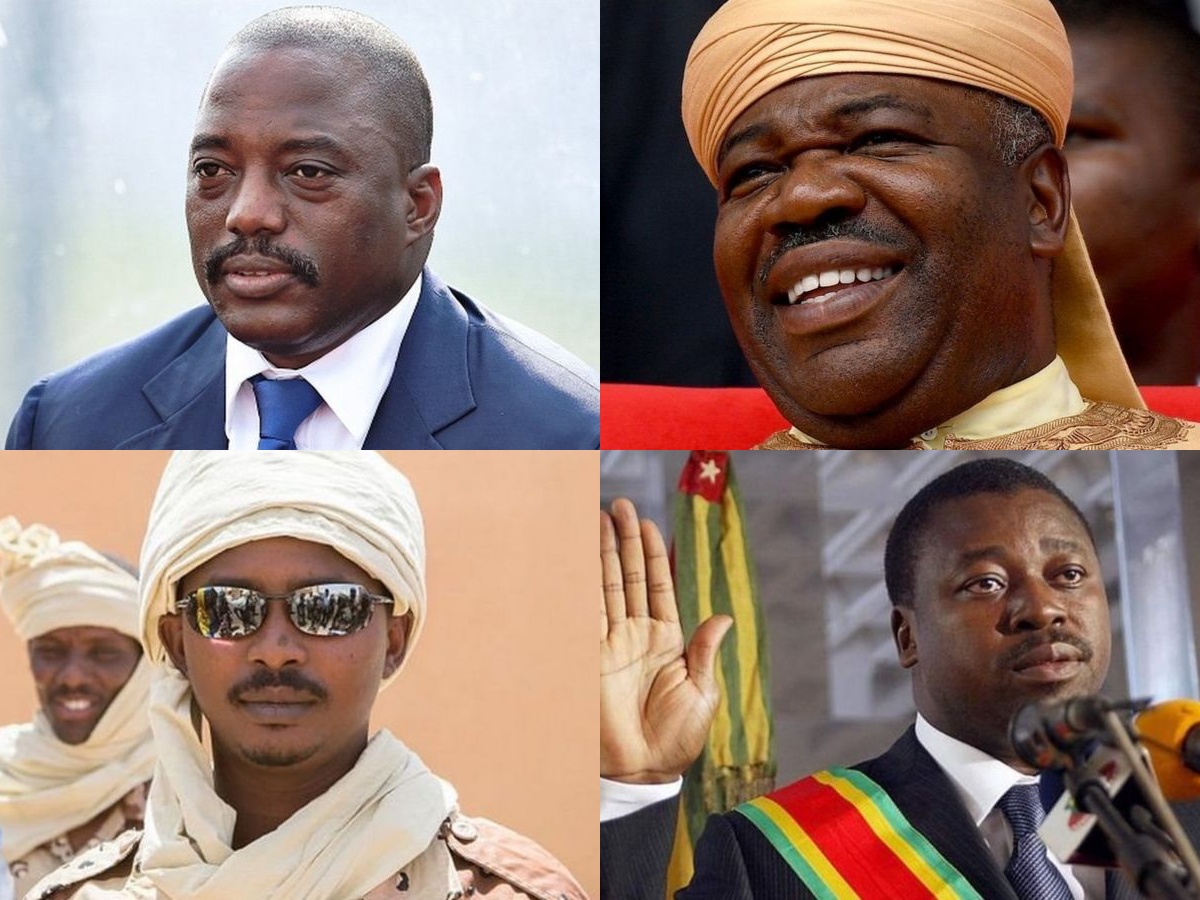 It is not uncommon to inherit power or political office as is the case in monarchies around the world.
But there are also countries, especially in Africa, that are turning political power into something that is inherited from their parents or grandparents.
General Mahamat Déby Itno, the son of Chadian President Idriss Deby, was sworn in on Tuesday following the death of his father as a result of injuries sustained in clashes with rebels.
Apart from Chad, there are African countries that have taken similar steps in the past to appoint the children of dead or resigned presidents, even though this is unconstitutional.
Here are some of the African leaders who inherited power from their parents:
Joseph Kabila – Democratic Republic of Congo
Joseph Kabila Kabange presided over the Democratic Republic of Congo from January 2001 to January 2019.
He took office 10 days after the assassination of his father, President Laurent-Désiré Kabila.
Mr. Joseph Kabila was born on June 4, 1971, in the province of Sud-Kivu, a military officer and politician.
Kabila, the grandson of Congolese rebel leader Laurent Kabila, grew up and studied in Tanzania.
He was part of a rebel group that helped his father oust President Mobutu Sese Seko of Zaire in 1997.
After Laurent became president he returned the country to its original name, the Democratic Republic of Congo, and from there Joseph was sent to China for further military training.
Upon his return home, he was appointed Chief of Army Staff and Major General.
It was not until 1998 that Laurent Kabila began to challenge the tyranny and insurgency, which led to the deployment of troops from several African countries.
After the assassination of President Laurent, Joseph was appointed the new President on January 26, 2001.
It has inherited a host of wars that have engulfed the country, and most of the regions have been without a government or other vital resources, and the economy has collapsed due to high levels of violence.
Although Joseph Kabila has struggled to restore peace, he has clashed with the opposition.
He was accused of plotting a coup in 2004 but was stopped by pro-government forces.
Kabila has not given up on his efforts to unite the nation.
Following the revision of the country's constitution in 2002, multi-party elections were held for the first time in forty years.
Kabila lost a landslide victory, defeating his rival Jean-Pierre Bemba in a referendum in October 2006.
In early 2008, Kabila signed a peace deal with 20 rebel groups fighting in the east of the country, but the deal fell apart and some rebels returned to the waters.
Faure Gnassingbé – Togo
President Faure Essozimna Gnassingbé Eyadéma was born on June 6, 1966, and is a politician who has been president since 2005.
Before becoming president of Togo, his father, President Gnassingbé Eyadéma, had given him a ministerial post from 2003 to 2005.
Following the death of President Eyadéma in 2005, Gnassingbé was hastily appointed as the new president with the support of the military.
But doubts about his eligibility under the country's constitution have put significant pressure on Gnassingbé.
He also won a hotly contested presidential election on April 24, 2005, and was sworn in as president.
Gnassingbé was re-elected president in 2010.
Opposition parties have stated they will not run in the by-elections, which have left dozens dead and thousands displaced.
Mahamat Idriss Déby – Chad
Chad's new president, Mahamat Idris Deby, is a military general who is less than 40 years old, succeeding President Idriss Deby Itnu on April 20, 2021.
General Mahamat Idriss Déby was born in 1983 where he became one of the children of the late Idriss Deby.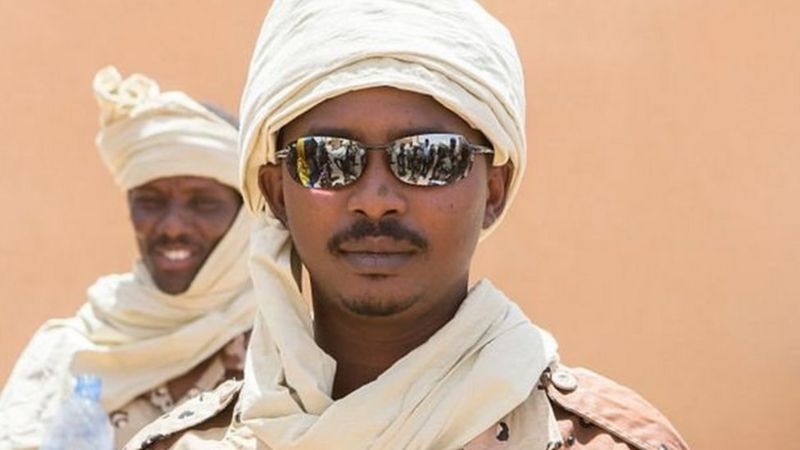 He is also nicknamed Mahamat Kaka because he was raised by his grandmother.
At the time of his father's death, he was the head of the presidential guard, according to a BBC correspondent in Chad.
He added that he had played in a number of military battles during his career.
In 2009, Mahamat Idriss Deby took part in a battle with Am Dam, which was fought by his cousin Timan Erdimi, a cousin of the former president, in eastern Chad.
Ali Bongo Ondinba – Gabon
President Ali Bongo Ondimba is the son of former Gabonese President Omar Bongo, who ruled the country from 1967 until his death in 2009.
He is Gabon's third president since October 2009, following the death of his father.
He was born in Gabon in February 1959 to Ali Bongo, better known as Alain Bernard Bongo in neighbouring Congo-Brazzaville.
He was only eight years old when his father Omar Bongo became president in 1967 according to French historian François Gaulme.
President Ali Bongo's life is full of ups and downs, especially as a young man.
Even at his birth, the rumours that he always denies continued to spread for years that he had been adopted from Nigeria in the south-east at the time. the country's civil war.
An illness that has plagued him in recent years has caused concern in the country, where until the military attempted a coup – which was unsuccessful.
Their reasons include efforts to bring the country back to normal democracy after the 2016 elections, which Bongo lost to, and was described as fraudulent and violent.
King Mohammed Bin Sidi Alaouite of Morocco
King Mohammed Bin Sidi Alaouite of Morocco was born on August 21, 1963, in the capital Rabat.
He ascended the throne on July 23, 1999, following the death of his father, King Hassan II.
Shortly after his ascension to power, King Mohammed VI addressed the nation on television that tackling poverty and corruption by creating jobs and improving the human rights sector.
However, some of his changes have angered Islamist extremists, with criticism from conservative Muslims.
In February 200, he introduced the new Family Law, which provides for women's empowerment.
In December 2020, King Mohammed VI agreed to strengthen ties with Israel under an agreement that the United States would recognize sub-Saharan Africa under Moroccan control.
King Mswati III of Eswatini
King Mswati III (Makhosetive) was the son of King Sobhuza II who was born to one of his wives Ntfombi Tfwala.
He was born on April 19, 1968, in Manzini.
He was crowned Prince Mswati III, Ingwenyama, and was later crowned King of Swaziland on April 25, 1986, at the age of 18, making him the youngest king in the world at this time.
King Sobhuza II died on August 21, 1982, and Prince Makhosetive was elected as the new emperor.