Nigerians Divided Due To Policies Of Buhari Govt – Falana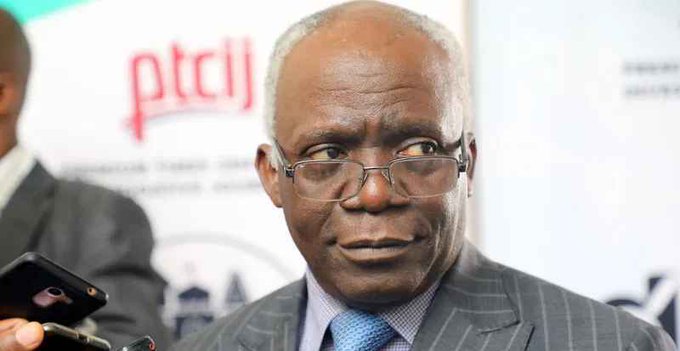 Popular Nigerian lawyer, Femi Falana (SAN) has claimed that Nigerians are so divided due to the policies of the Muhammadu Buhari government.
Speaking on Thursday during his appearance on an ARISE News programme, The Morning Show, Falana said the division among Nigerians was due to lopsided appointments made by the current government.
The foremost human rights activist assured that a new political movement, the Peoples Alternative Political Movement, will arrest the ugly trend and promote unity among Nigerians.
Falana said: "At the moment, Nigerians are divided because of the policies of the government.
"Let me tell you one that we have just taken up from our movement. The president sent nominees for the membership of the governing council of the human rights commission.
"Our movement studied this and discovered that it was full of lopsidedness, whereas in one region of seven states, out of four people nominated in that region, three came from one (Kebbi) state. Of the six geo-political zones nobody was nominated from the northeast zone which records the highest number of human rights violations because of the counter-insurgency operations going on there."
Speaking further, Falana said he has written to the Senate requesting it to advise President Buhari to withdraw the appointees of the governing council of the National Human Rights Commission (NHRC), and ensure that the proposed appointments comply with the provisions of section 14 (3) of the Constitution and section 4 of Federal Character Commission (Establishment, etc) Act.
Falana's petition came about three weeks after the president sent the names of the 16 nominees for the Senate's approval, and while the nominees were screened last year they are yet to be confirmed.
The petition was referred to the committee on ethics, privileges, and public petitions and the committee is to report back in two weeks.
"If we just throw up our hands in helplessness and you allow lopsided appointments to go on and be used to divide our people, we have a duty now to arrest such ugly development, and that is part of what our movement is doing," Falana said.
"Once confidence is built, we have also identified human rights lawyers in the 36 states of the federation and Abuja so that when people's rights are violated, we simply ask our lawyers to go and intervene.
"Our people will begin to have confidence in what we are doing that this is different from those who are colluding with the neo-colonial state to oppress them."
Source: Naija News