INEC Suspends Ekiti Bye-Election As 3 Persons Get Killed, Police, Others Injured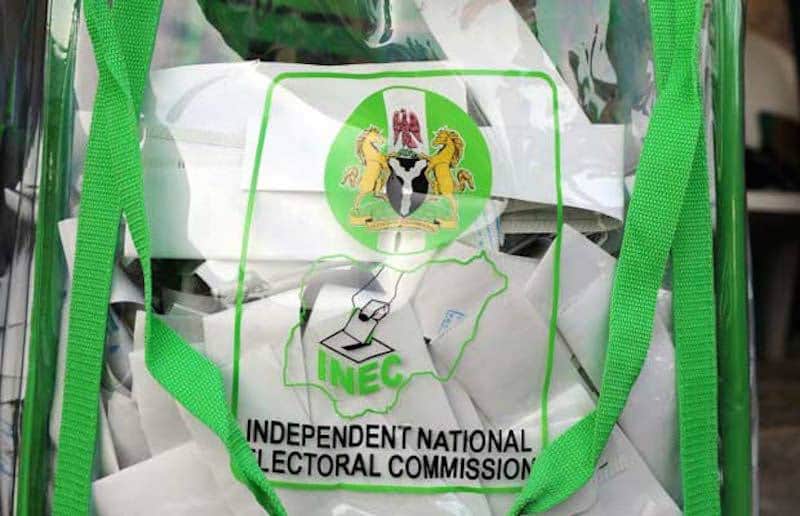 The Independent National Electoral Commission (INEC) has suspended Saturday's  Bye-Election into the Ekiti East State Constituency seat after violence broke out during the polls.
Naija News understands three persons were killed during the violence which erupted while not less than three other persons including a police operative, a NYSC Corps member, and an INEC official sustained gunshot wounds.
Announcing the suspension of the election in a statement made available to Naija News, the INEC Resident Electoral Commissioner in Ekiti state, Dr. Tella Adeniran said the election started in a peaceful manner around 8.30am before violence was reported in some polling units around 10am.
The areas where violence broke out according to the REC are two polling units of Ward 09 (Obadore IV); polling unit 8 (Baba Egbe house/Odouro/Odoule) and Polling Unit 9 (Beside Baba Egbe/Odouru/Odoule) as well as Polling unit 07 (Aro street/Aro) of Ward 07 (Obadore II).
"In Polling Unit 07, Ward 07 three voters were shot dead while a youth corper, a police woman and an INEC staff sustained gunshot wounds", he said.
Adeniran explained that the poll was cancelled as "under the circumstance, the safety of electoral officials, security personnel and election materials as well as the credibility of the process cannot be guaranteed."
"It is unfortunate that in spite of the efforts of the Commission in giving Nigerians free, fair, credible, and inclusive election, some people appear to be unprepared for an improved electoral process.
"The situation is such that, a conducive environment no longer exists for further electoral activity at the Polling Units and the Collation centers.
"In view of this development, the Commission has suspended the election forthwith", he declared.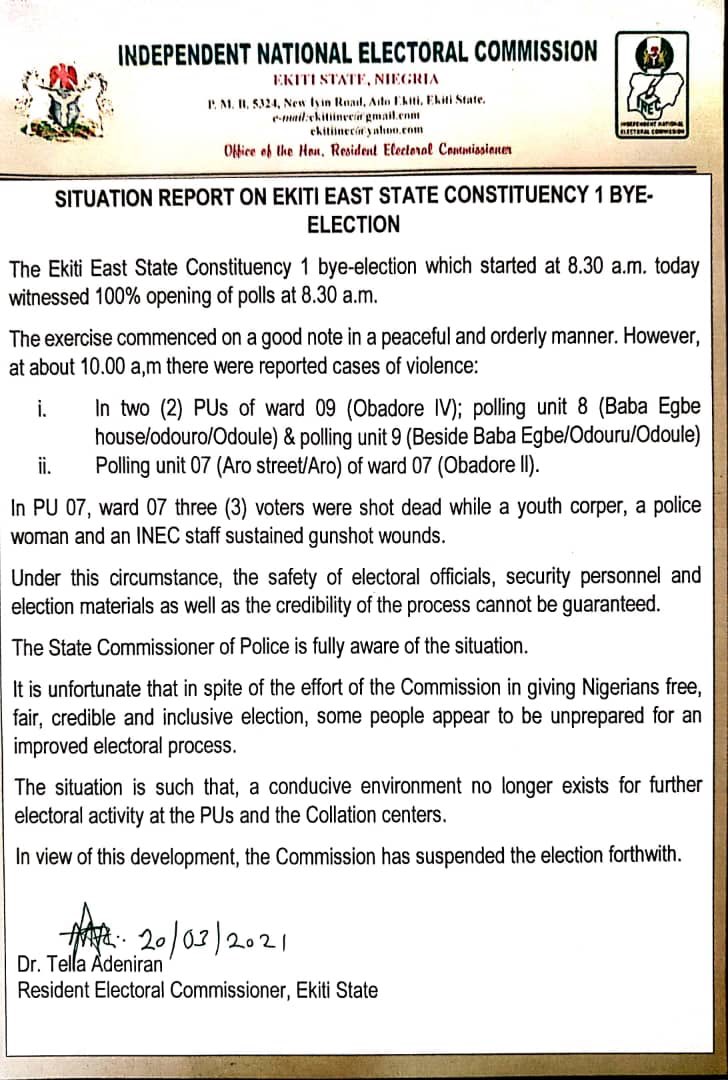 Meanwhile, a former lawmaker representing Kogi West Senatorial District, Dino Melaye, says the All Progressive s Congress ( APC) has failed Nigerians and cannot move the nation forward.
During an appearance on Channels Television on Friday, Melaye said the ruling party deceived Nigerians before the 2015 general elections, adding that he now knows the truth.
The People Democratic Party (PDP) chieftain noted that the APC lacks structure in which a nation can progress politically and it is not a party to be reckoned with.
Melaye asserted that it is the absence of true "political materials" that made people like him and others decamp to the PDP. He added that the APC is not a political party but a Non-Governmental Organisation (NGO).