Minimum Wage Bill: Some People Want Nigerian Workers To Suffer – NLC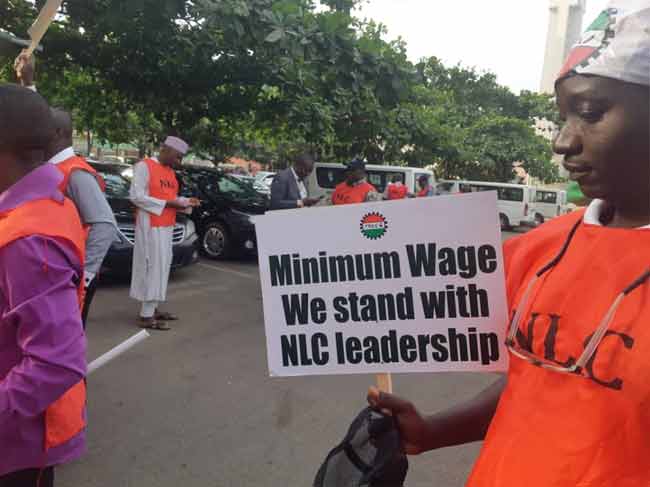 The Nigeria Labour Congress (NLC) has accused those behind the minimum wage bill before the National Assembly of not having the interest of workers at heart.
The NLC President, Ayuba Wabba during a meeting with the leadership of the House of Representatives on Tuesday in Abuja said some forces that do not mean well for workers are behind the bill.
Naija News reports that the minimum wage bill currently before the National Assembly seeks to remove minimum wage issues from the exclusive legislative list to the concurrent legislative list.
The bill has already passed second reading at the House on Feb. 23.
However, the NLC President on Tuesday declared that should the bill be passed, it would return Nigeria to the era of slavery.
He added that the minimum wage was part of the International Labour Organisation (ILO) Convention and Nigerian workers deserve to be adequately compensated.
Wabba noted that no state government should hide under the excuse that they could not afford the N30,000 minimum wage as the excuse was not tenable.
"No one can negotiate below the N30,000, the ILO convention is binding on Nigeria as a sovereign state and not on subnational like states," Wabba said.
On Wednesday, the NLC took over some major streets in Abuja in protest of the proposed amendment by the National Assembly to the minimum wage of workers in Nigeria, Naija News recalls.
In his remark during the meeting, the Speaker of the House of Representatives, Femi Gbajabiamila said the House remains a labour-friendly house and would always put the interest of Nigerians first.
Meanwhile, President Muhammadu Buhari-led government has been accused by the Peoples Democratic Party (PDP) of deceiving Nigerians with claims of job creation in the country.
The main opposition party stated this while reacting to the report by the National Bureau of Statistics (NBS) on escalated 33.3 per cent unemployment rate in the country.
PDP in a statement released through its spokesman, Kola Ologbondiyan, said the report of NBS that no fewer than 21.7 million Nigerians have lost their jobs and means of livelihood while many more have become underemployed under the APC…further shows the despairing and despondent situation that APC and its administration has brought our nation."