Minimum Wage: NLC, TUC Storm Abuja Streets In Protest (Photos)
The Nigerian Labour Congress (NLC) and the Trade Union Congress (TUC), on Wednesday, took over some major streets in Abuja in protest of a proposed amendment by the National Assembly to the minimum wage of workers in Nigeria.
The protest kicked off from the Unity Fountain and attracted a large number of people who came out to demand the bill before the National Assembly seeking to remove the Minimum Wage from the Exclusive Legislative List to the Concurrent Legislative List be dropped.
The protest had other members of the organized union in Nigeria and is headed for the National Assembly to make their grievances known to the lawmakers.
The organized labour had warned on Tuesday that it would stage a protest on Wednesday and should the need arise, a national strike would be declared if the legislators refuse to drop the proposal to move minimum wage issues from the exclusive legislative list to the concurrent legislative list.
The NLC President, Ayuba Wabba while addressing the crowd that gathered for the protest, said some governors and lawmakers are trying to deny Nigerian workers their rights to enjoy the minimum wage.
He argued that if not truncated, the move will make life more difficult for workers in the country.
Below are some pictures from the protest.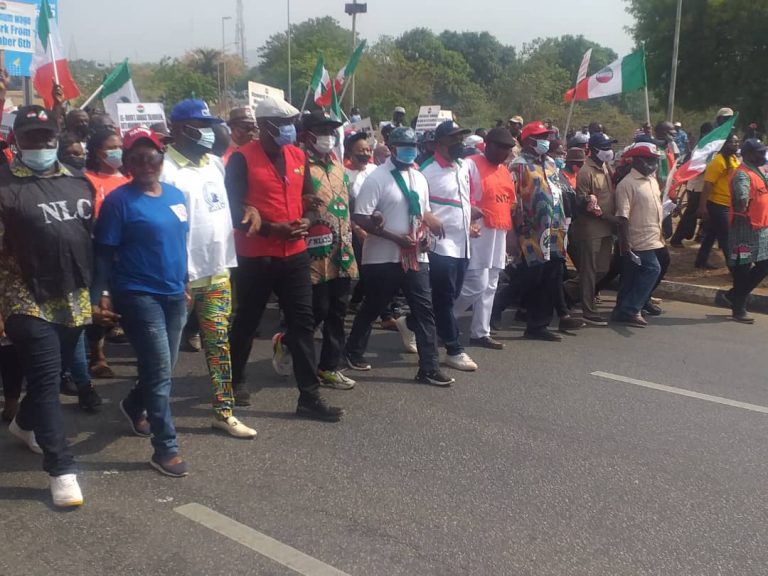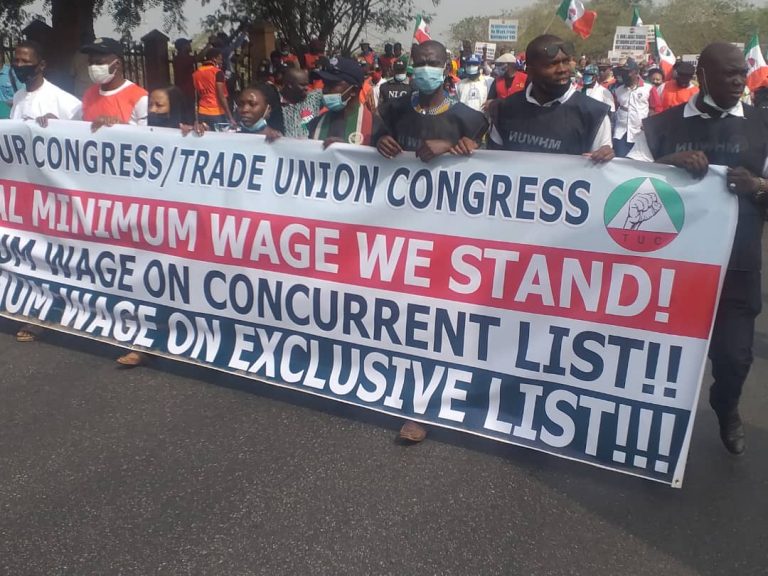 Meanwhile, the Nigeria Labour Congress (NLC) has asked state governors to stop using COVID-19 as an excuse not to pay minimum wage.
Deputy President of the congress, Joe Ajaero, made this known in an interview with Channels Television on Wednesday.
Ajaero opined that while some states have been implementing the minimum wage, others are praying for the pandemic not to end in order not to pay workers.
He said the reason for the union embarking on a nationwide protest on Wednesday is the attempt of the National Assembly to move the minimum wage from the exclusive legislative list to the concurrent legislative list.
The NLC official added that while negotiations for minimum wage were in progress, the least payable amount by states was put into consideration.