Oyo: Osinbajo Speaks On Killing In Shasha Market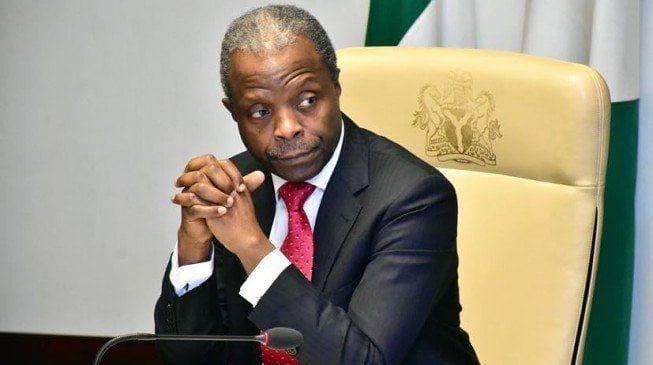 Vice-President Yemi Osinbajo has condemned the "unfortunate mayhem" in Shasha Market area of Ibadan, Oyo State.
Recall that three people were reportedly killed in a clash between Hausa speaking people and the Yorubas at Shasha Market.
It was learned that the disturbing event led to the destruction of shops and properties by hoodlums who took advantage of the clash. It was reported that residents were forced to flee the troubled area around 5:30 pm.
Some lucky residents were said to have hurriedly picked a few clothes with them as they were unsure whether the violence would not escalate. Confirming the report to newsmen, police operatives revealed that one person died in the attack, contrary to the claims by traders.
Consequently, Governor Seyi Makinde ordered the closure of the market with immediate effect and declared a curfew.
But speaking to reporters on Sunday, Osinbajo said criminal acts should be treated according to the tenets of the law, and not as ethnic conflict.
The vice president said Shasha signifies unity among people of different ethnic groups, and urged community leaders to promote peaceful coexistence.
He, however, asked Nigerians never to take the law into their own hands, adding that it is the citizen's duty to assist the police to identify criminals.
He said: "I have heard about the unfortunate mayhem and the tragic loss of lives at the Shasha market in the past few days.
"Shasha market has been a melting pot for traders bringing foodstuff from the north to the south-west for decades. For decades, traders from the north have done business with their brothers from the south-west, and they have lived in peace, and even inter-married. Shasha represents unity.
"So, when a disagreement arises between individuals or a criminal act is committed by one against the other, we must ensure that we see it for what it is: a criminal act, which must be punished according to law. Not an ethnic conflict.
"Every Nigerian has a constitutional right to live, work and enjoy their lives in safety, peace under the law."
"It is the duty of government, through the police and other law enforcement agencies, to arrest and prosecute any person who commits a crime against a citizen of this nation," the vice-president said.
"It is the role of the citizen to assist the police to identify the criminals. We must never take the law into our own hands. If we do, we will be promoting chaos, and a breakdown of law and order, and all of us, especially the most vulnerable amongst us, will be at risk.
"I urge all community leaders to work together to preserve the brotherly co-existence that our people from different parts of the country have enjoyed in Shasha market for several decades.
"I commend the governor for his swift and decisive action, and all the law enforcement agencies for their prompt intervention."
Download NAIJA NEWS app: