My Son's Body Is Now In Aba" Woman Insists Her Son Was Killed In Lekki Shooting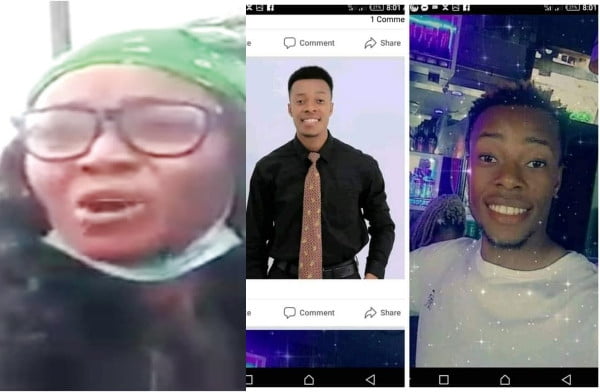 A dramatic one it has been for one Victoria Nicholas, a Nigerian woman, who has insisted that her adopted son, Anthony Okechukwu died of gunshots at Lekki toll gate.
Recall that on Tuesday, Soldiers had opened fire on the protesters and not less than six persons were alleged to have been killed in the process.
Although, Governor Babajide Sanwo-Olu,  had initially declared that there were no deaths recorded, he later confirmed that three people died, as against the huge figures quoted by eyewitnesses at the scene of the incident.
A footage has emerged on Instagram showing Anthony's grieving mother, speaking on the circumstances that surrounded her son's death.
She had alleged that her son's body would have been taken away by the soldiers, but for her son's friends who made sure they picked up his body.
However, Some Nigerians dismissed her claims as untrue, alleging that Anthony didnt die from gunshot wounds, but died after he and his friends bumped into a trailer on their way home.
Read here
Reacting however, Mrs Nicholas has insisted that her son died during the shooting, adding that the dead body is in Aba, Abia state.
Nicholas said she had been taking care of the 23-year-old since the death of his father while he was three.
"I adopted Anthony at the age of three when his dad passed away. I have been the one seeing to all his needs, his schooling and everything. His mum is my elder sister. So Anthony is my son, there is no day we don't communicate," she said.
"I was so heartbroken when I saw his body on social media. He was shot and he died at the protest. He had videoed himself dancing with his friends at the Lekki toll gate during the protest. Since then I have not been myself. Losing a young man like that is not easy."
The presenter for Every Day Event, the platform which hosted the live session, called in an elderly woman who is said to be the deceased's mother.
The woman, who reportedly slumped during the video conversation, said the aunt was responsible for his welfare before his alleged death.
"It was my sister that was taking care of Anthony before he died of gunshot at Lekki toll gate," she said.
Nicholas said Anthony's corpse has been transported to Aba where his biological mother resides.
She condemned the shooting on peaceful protesters by men in military inform, adding that justice must be served.
"I am so confused. I am in pains. I have not told anyone what happened. It is so difficult. The corpse is somewhere in Aba," she said.
"I want justice. I don't see any reason why armed men should go after them. It was a peaceful protest until Tuesday. Why would the government do this? You just can't waste people's children like this. You put my family in misery and say nobody was killed. This is evil. It must stop."
During the conversation, there were pictures of what was said to be Anthony's dead body as well as a video recorded before his death.
Since the shooting incident, there has been controversy over the casualties recorded.
Most of the people named as dead victims of the shooting have come out to deny the reports.
Download NAIJA NEWS app: