25 Houses Demolished In Abuja – FCT Authority Reveals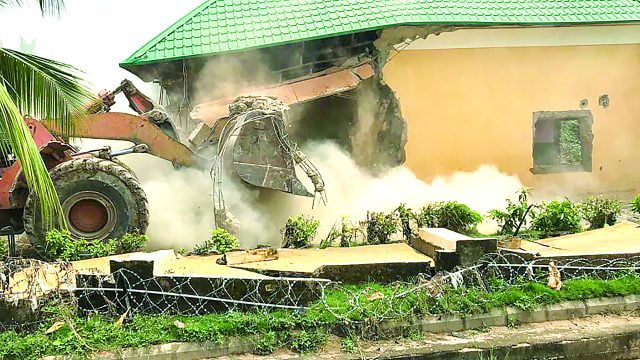 Not less than 25 building structures were on Wednesday, August 12 pulled down by the Federal Capital Territory Administration (FCTA) Department of Development Control.
The houses demolished are all located within Kyami District of the capital city, Naija News understands.
Speaking with reporters on Wednesday, the Director of the Department, Malam Muktar Galadima, who led the demolition noted that FCT authority would not condone land racketeering and grabbing.
Galadima assured the administration's commitment to fighting every form of infractions and abuses of the Abuja Master Plan.
He further challenged residents in the federal capital to always ensure compliance and obey the rules and regulations guiding developments in the nation's capital.
He said, "The FCTA has already made it clear that the actions and activities of land racketeers cannot and will never be condoned."
" That is why we are removing all those illegal developments. About 25 solid structures were removed and this is not limited to that estate (Destiny Estate) alone, it's a continuous exercise and we will remove all illegal structures across the territory."
"So, what you see here is a continuation of the exercise in tackling the issue of land racketeers and land grabbers in Abuja," NAN quoted him as saying.
In another news, Osun State Commissioner for Culture and Tourism, Hon. Obawale Adebisi has announced that the yearly Osogbo Festival will not hold this year due to the COVID-19 pandemic.
Source: Naija News