Lebanon Explosion: President Fumes, Promises To Deal With Perperators, As Explosion Injures His Wife And Child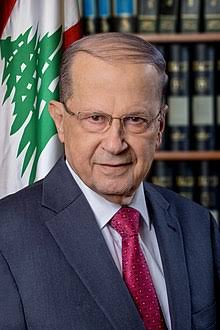 Lebanese President,Michel Aoun has declared a state of emergency for Beirut for two weeks following the massive explosion that occured in the country yesterday.
The president also vowed the "harshest punishments" for those responsible for causing the explosion.
Prime Minister Hassan Diab described the disaster as a "national catastrophe" and added that "those responsible will pay the price".
His wife and daughter were injured in the explosion after it damaged his residence at The Government Palace
Not less than 100 people have now been confirmed dead and more than 4,000 severely injured in an explosion which took place in Beirut, Lebanon, which has now been alleged to be caused by a welder at work.
It was said that just above were the welder was working, there was a "highly explosive sodium nitrate" confiscated from a ship by Lebanese authorities and placed in one of the warehouses located near the harbour. The ammonium nitrate – more than 2,750 tons – had been stored in the warehouse for six years.
According to security sources in the country, the welder sparked the initial fire which then ignited the chemicals, causing a blast that has been compared to a "nuclear bomb".
Read more here