BBNaija: Nigerians Roast Eric For 'Struggling For Indomie Inside Pot' After Lilo's Eviction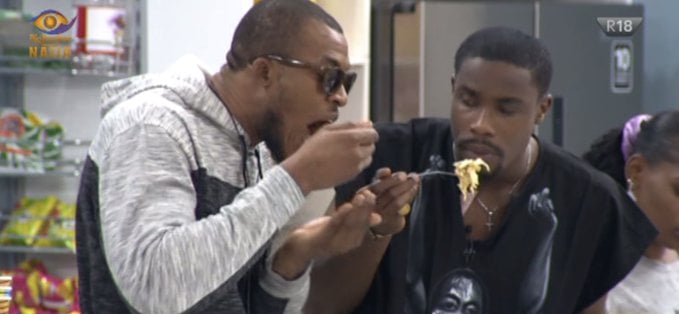 A storm of reactions by Nigerians has greeted a video of Eric struggling for Indomie inside pot after Lilo's eviction.
Naija News had reported earlier that four BBNaija housemates were put up for BBNaija eviction on Sunday. The show host, Ebuka, announced the housemates up for as Lilo, Ka3na, Praise and Eric.
However, Ka3na and Lilo were evicted. Ka3na was the first to be evicted while Lilo became the second to be evicted from the BBNaija Lockdown 2020.
Before the eviction, Lilo was Eric's partner with both serving the viewers "couple's goals". When asked by Ebuka how she feels about Eric after she was evicted, Lilo had said: "I feel the same" which was a confirmation that the relationship with Eric is still intact and would continue after the BBNaija reality show.
When asked about her boyfriend outside the house, Lilo was unable to say anything, the evicted housemate didn't want to reveal anything about him or the circumstances surrounding their relationship.
Surprisingly, after Lilo's eviction, Eric who had earlier showed he was sober about the "love of his BBNaija house" getting evicted, but was minutes later seen struggling for Indomie inside pot after Lilo's eviction.
Displeased with Eric's action after Lilo's eviction, Nigerians took to the micro-blogging site, Twitter.
Naija News captured some of the reactions below…
Teddy A after Bambam's Eviction
Vs
Eric after Lilo's Eviction. #BBNaija pic.twitter.com/VFje0y0BRH

— AURA⭕COOL (@TWEETORACLE) August 2, 2020
Just Look at Eric, lilo left he's eating indomie, are you suppose to be hungry right now. If it was frodd. Frodd will still be crying ??? #Bbnaija #bbnaijialockdown pic.twitter.com/DA6MjhjCRw

— Erica Elites ???? (@Bridget_Ezeh) August 2, 2020
Even Ozo that wasn't so close to them felt it. This Eric is there eating and swallowing indomie like nothing happened.

Sisters, always remember to focus on yourself.

— Bright Stan Account? (@TheClaireAdaji) August 2, 2020
Lilo played herself tbh. See Eric na, asking them to add Lilo's share to his food ? #BBNaija

— Eye Can (@Eyesaymymind) August 2, 2020
See as Eric just moved on. No Tears No Nothing. Men are scum #BBNaija

— DANNY ?? (@Danny_Walterr) August 2, 2020
Na so e Dey be for this life sha.

Even when you d|e your family and friends will eventually move on.

Almost Everyone in the house is back to their normal self

Even the foolish groom, Eric.

Live your life for yourself because at the end of the day, only you love you.

— Pastor Ola ✨ (@Biisi96) August 2, 2020
Lilo to Eric after she was evicted from the Big brother house #Bbnaija #bbnaijialockdown pic.twitter.com/OnKl2Qnulo

— Omo kiikan ?? (@OmoKiikan) August 2, 2020
Ka3na Going back to Her Husband after getting entangled with Praise

Lilo Going back to her Boyfriend after getting entangled with Eric

This was in the spirit of August ??? pic.twitter.com/O6P6HvGMVU

— Slippery Slides Up ✨ (@Papiitiino) August 2, 2020
I know if it was Eric who got evicted, Lilo wouldn't eat nor talk to anyone tonight. But guess who's eating noodles ? Menascum Wallahi. #BBNaija

— Duke of Ibadan ?️ (@AsiwajuLerry) August 2, 2020
When Teddy A's BamBam was evicted VS when Eric's Lilo was evicted from the #BBNaija House pic.twitter.com/ctjlxh2RW5

— Jesca Hilalio? (@Jescahilali) August 2, 2020
Lilo never even reach house, Eric dun move on #BBNaija

— Samuel Mbah (@Mbahdeyforyou) August 2, 2020
When Bambam was evicted Teddy A cried, see Eric struggling for indomie inside pot ?‍♂️. Men are ….. #bbnaijialockdown

— Chemical Boy (@Chemicalboyy) August 2, 2020
Eric to Neo:

"You know say Na she I dey dey with.
My game don change be that."#BBNaijaLockdown pic.twitter.com/1MEe82vhxy

— DStv Nigeria (@DStvNg) August 2, 2020
Bambam was evicted and Teddy A was crying.
Lilo got evicted and Eric dey hustle indomie.

Life no balance.

— Deacon Tolu ⛪aka Baby cakes (@Bams_Jnr) August 2, 2020
7 hours after Lilo's eviction.

Brighto to Eric: "Look at Tolani, put in pressure. All the feelings you had for Lilo, KILL IT!"

— Omoniyi Israel (@__Omoissy) August 2, 2020
Lilo never even reach house Eric don dey chop indomie? #BBNaija #bbnaijialockdown pic.twitter.com/GmKVmxEHIM

— I am a virgin and i (@Anambravirgin) August 2, 2020