Akpabio Accuses NASS of Getting 60% of NDDC Contracts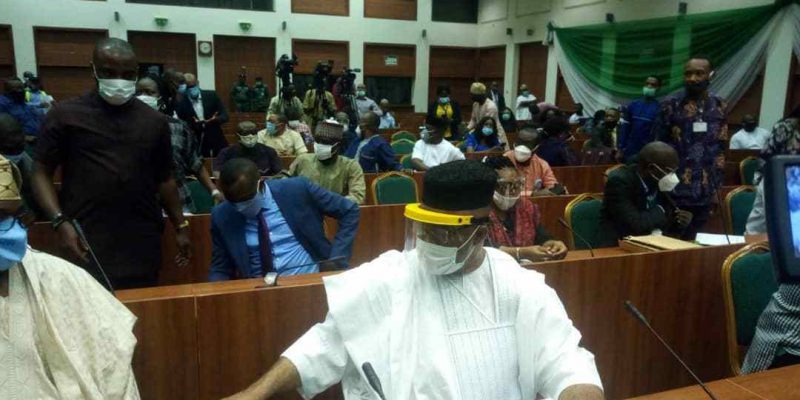 Senator Godswill Akpabio, the Minister of Niger Delta Affairs, has accused members of the National Assembly of getting contracts from the Niger Delta Development Commission (NDDC).
The minister made this known on Monday during the House of Representatives public hearing on alleged mismanagement in the NDDC.
Senator Akpabio, a former Akwa Ibom State Governor, said 60% of NDDC contracts goes to lawmakers.
"Most of the contracts in NDDC are given out to the members of the National Assembly. If you don't know, please ask the two chairmen," he said.
The minister further explained that some Chairmen of committees on NDDC have slots in the budget.
Akpabio was, however, stopped from making further comments by some members, who were shouting "order, order."
Recall that the Hon. Bunmi Tuni-Ojo, Chairman of the House Committee on Niger Delta, has stepped aside from presiding over the affairs of investigative Committee.
Addressing his colleagues and guests on Monday, Tunji-Ojo said he was stepping aside from presiding over the hearing to allow fair hearing and to protect his integrity.
The acting NDDC boss, Prof Pondei, had last week kicked against the Chairman of the Committee, Olubunmi Tunji-Ojo, presiding over the investigative hearing.
According to Pondei, Tunji-Ojo who had been fingered in the alleged fraud at the NDDC cannot preside over a matter in which he is an accused.
Speaking earlier, Akpabio also claimed that the former Acting Managing Director of the NDDC Joy Nunieh was not qualified.
He stated that Joy Nunieh does not have a National Youth Service Corps (NYSC) certificate.
He also revealed that the late Chief of Staff to President Muhammadu Buhari, Abba Kyari, asked him to sack the former NDDC boss.
The minister said the NDDC had over 300 bank accounts when he was appointed by President Buhari.