Nigeria Police Portal Now Working, Apply For Constables Recruitment Here
The Nigeria Police Force (NPF) recruitment portal has finally started working, two days after the NPF opened the portal for the constables into the force.
Naija News reports that the recruitment portal of the Nigeria Police Force opened for the recruitment of constables into the force at exactly 8:00 am on Tuesday, July 14 but since then the portal could not be accessible.
The police portal opened three days after the Force Public Relations Officer, Frank Mba, had announced the recruitment in a statement on Saturday, saying that the police looking to recruit qualified persons as constables in the force.
The Police spokesman had said applicants for Nigeria police recruitment 2020 "must be aged between 17 to 25 years" and must possess "a minimum of five credits, including English and Mathematics, in WASSCE/NECO/GCE/NABTEB".
"Applicants must be medical, physical, and psychologically fit and must not be less than 1.67m tall for male and 1.64m tall for female", adding that "Female applicants must not be pregnant at the time of the recruitment."
The Nigeria Police also those with certain disabilities not to apply. Some of those deformities mentioned include "impediment in speech gross malformation of teeth or jaw preventing proper mastication of food, knocked knees, bowlegs, bent knees (knees which cannot be straightened when standing at attention)".
Others are "deformed hands which cannot perform the full functions of the hand, defective eyesight or squints eyes and amputation of any part of the body," Mba had said in a statement.
"The applicants that meet the requirements from the online registration would be invited for physical screening at all state commands, including FCT Command, from 24th August 2020 to 30th August 2020," the notice read.
The statement continued that: "The names of successful candidates will be published in national newspapers on 14th September 2020 and other platforms."
Meanwhile, Naija News reports that three days after the police announced the recruitment for constables, the NPF opened its recruitment portal for qualified applicants to apply for the job.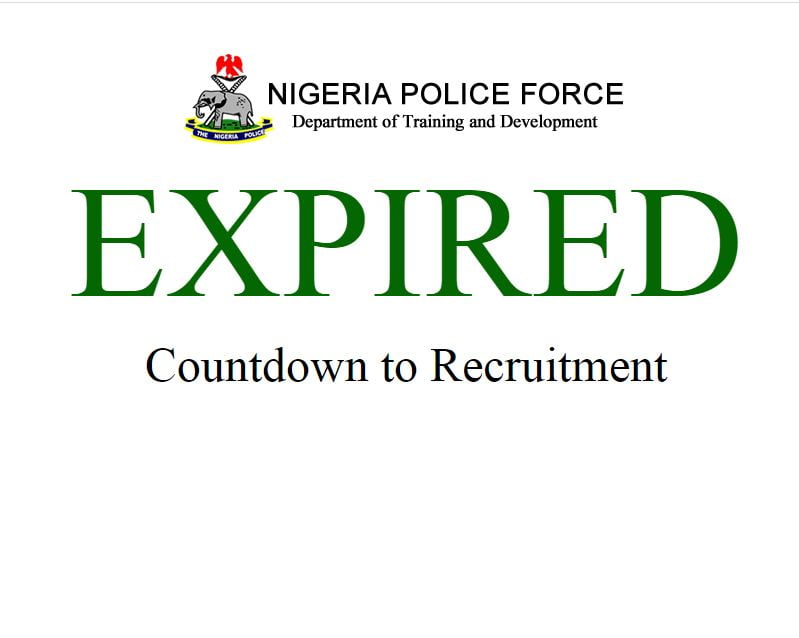 However, the countdown to recruitment expired at exactly 8:00 AM, Tuesday, July 14, signalling the commencement of police recruitment for constables this year but the reverse was the case as the portal remained this way till on Thursday when this reporter visited again.
Naija News can report that the police portal is now working and qualified candidates can apply for Nigeria Police recruitment 2020.
If interested, click HERE to apply.