Biafra: Nnamdi Kanu Reveals Who Killed Dele Giwa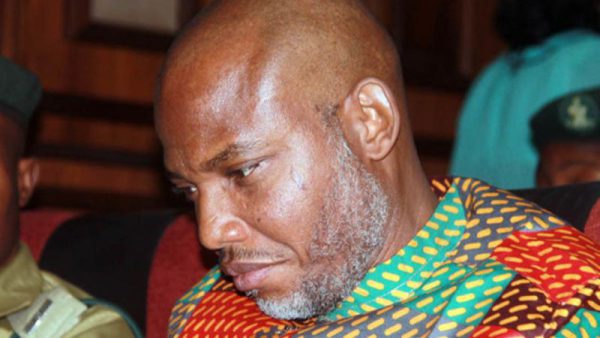 The leader of the Indigenous People of Biafra (IPOB), Nnamdi Kanu, has alleged that late Newswatch founder, Dele Giwa was killed by former Nigerian Head of State, Ibrahim Babangida.
Naija News reports that the IPOB leader made this allegation about IBB during a live broadcast on Radio Biafra on Wednesday, April  22.
This online news platform recalls that Dele Giwa was killed by a mail bomb in his Lagos home on 19 October 1986. The assassination occurred two days after he had been interviewed by the State Security Service (SSS) officials.
In an off-the-record interview with airport journalists,  the Deputy Director of the SSS at the time, Lt. Col. A.K. Togun, had claimed that on 9 October Dele Giwa and Alex Ibru had organised a media parley for media executives and the newly created SSS. The Deputy Director of the SSS claimed that it was at this meeting that the SSS and the media executives reached a secret censorship agreement. Under this agreement, the media was to report any story with the potential to embarrass the government to the SSS before they tried to publish the same.
Before Dele Giwa's death, in the first few months of the administration of General Ibrahim Babangida, who took power in August 1985, Dele Giwa's Newswatch magazine was printed IBB's face on the cover, four times and even criticised "anyone who attempted to make life unpleasant for Babangida" but the paper later took a more hostile view of the Babangida regime.
Speaking during a live broadcast, Kanu said late Giwa was killed because he exposed the corruption in MPN and Fugro,  alleging that IBB who ordered the death of the Newswatch founder, also killed the man that delivered the parcel bomb that killed Dele Giwa.
His words: "Do you know why I love Gideon Orkar? He is a lover of the truth. If you don't love Dele Giwa, you are not a lover of truth. That means you can never ever accept truth in your life and you can never progress.
"Sadly, both men lost their lives but we are not discouraged. No sensible person will be discouraged.
"When I told you that Babangida killed Dele Giwa killed did you believe me? Now that I am reading what Major Gideon Orkar said in 1990, now you believe me? Everybody knew.
"Dele Giwa was having breakfast in his house in the morning and they delivered a parcel to his house, he opened it and the parcel exploded and all his intestines came out.
"Who sent the parcel bomb? It was Babangida and after that, he actually killed the man that delivered it. That's how wicked and evil that man is. Do you know why they killed him? Because he went into all the corruption from MPN. Those that plotted to kill Dele Giwa, the French were among because of Fugro. Most of you don't know Fugro, it was a construction firm, Google it.
"Some of you are talking about Isa Funtua, that was how he got his money. The corruption perpetuated by MPN with Fugro was so much that when Dele Giwa died, Fugro representatives in France put out an advertorial in the newspaper to say that they were very happy he is dead. In other words, it is the black people helping the Whiteman to enslave them it is not the Whiteman," the IPOB leader said.
Source: Naija News