Transfer Market: Chelsea FC Sign 3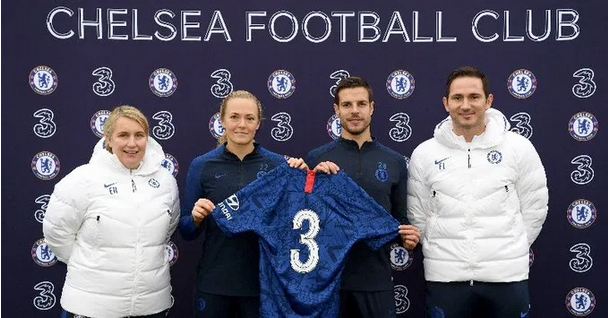 English football giants, Chelsea Football Club has announced the signing of connectivity company '3' as their new official shirt partner.
Naija News reports that Chelsea made the announcement in a statement on the club's official website, on Friday, January 24. The announcement displaces Yokohama Tyres on the club's jerseys from the 2020/21 football season.
A statement on the club's website reads: "The partnership brings together a Premier League football club and a premium brand in connectivity, with both aiming to build towards headline-grabbing success in 2020. It is, appropriately, for three years initially with Three's logo to appear on all of Chelsea's shirts from 2020/21, including Chelsea Women and Academy sides as well as our men's team. The partnership covers the whole Chelsea family.
"In addition, Three, which has grown from being the UK's first 3G-only network in 2003 to having the UK's leading 5G spectrum holdings with more than the rest of the industry combined, launched 5G services in 2019 and will ensure Stamford Bridge is 5G-enabled within the first year of the partnership.
"The deal is a significant one for Chelsea financially but it is also important our official partnerships are a good fit and our new shirt one with Three clearly is.
"Mobile technology has revolutionised the way football clubs and supporters interact with each other which makes Chelsea FC and Three such natural partners.
"We have a social media following of over 100 million and the official app, The 5th Stand, has had nearly four million downloads. We stream live women's and Academy football with men's first team highlights available soon after matches. It truly is an area from which regular fans are benefitting and as communications technology develops in the coming years, Three will be at the forefront of the advances with the exciting roll out of 5G networks, helping to enhance and expand the experience of being a Chelsea supporter in the modern digital age.
"With Three, we have found a partner, who share our passion for innovation and we are delighted to have them on board and on our shirts."
Naija News understands that Chelsea's partnership with 3 comes a day after Yokohama Tyres signed a new contract, changing their role to Tyre partner.
The statement further reads: "The new decade is lined up to be a major one for Chelsea and Three and the parallels are clear, with Chelsea aiming to re-establish ourselves as the leaders with a significant contribution from home-grown talent, and Three a premier UK company with an established name and plenty of achievements behind them, but who are now looking at a bright new future with exciting times ahead.
"Although the current season will bring to an end five very successful years with Yokohama as Chelsea's official shirt partner, the Japanese company is continuing the great relationship we have as our official tyre partner."