'Nigeria Is Useless, Fight For Oduduwa Republic'- Nnamdi Kanu Sends Message To Sowore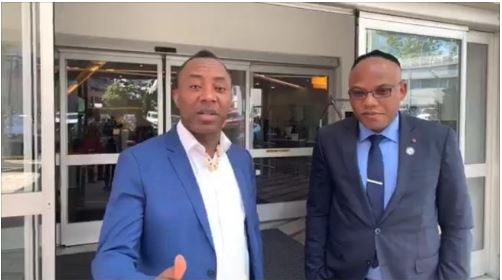 The leader of the Indigenous People of Biafra (IPOB), Nnamdi Kanu, has called on Omoyele Sowore, the convener of #RevolutionNow Movement, to dump Nigeria and fight for the creation of the Oduduwa Republic for the Yoruba race.
Naija News reports that Kanu made this statement during a live broadcast on Radio Biafra on Sunday, December 8, where he spoke on the maltreatment of Sowore by officials of the DSS and the abuse of human rights in Nigeria.
This online news platform had reported earlier that the DSS released Sowore on Thursday night after spending 124 days in detention.
Sowore's release followed a court ruling ordering the secret police to release the former Presidential candidate in the next 24 hours.
However, on Friday morning, the secret police re-arrested Sowore in the premises of the Federal High court in Abuja, Nigeria's capital and reportedly took the activist to the DSS headquarters.
Apparently displeased with Sowore's travails, Kanu held a live broadcast, where he condemned the act and also called for the release of the online publisher.
During the broadcast, Kanu who described Sowore as the "new face of Yoruba liberation", stressed that anytime the activist steps out of prison, he would be the next face of Yoruba land.
The IPOB leader maintained that Sowore will come out of DSS custody and that he would lead his people to freedom, adding that the activist should rather channel his energy towards getting Oduduwa republic rather than fighting for "one Nigeria" as "Nigeria is useless."
"Sowore is the new Yoruba leader. Any day Sowore steps out of prison, he would be the next face of Yoruba land.
"Sowore will come out and he would lead his people to freedom. Sowore should go and fight for Oduduwa, Nigeria is useless," Kanu said in a broadcast monitored by this reporter.
Nnamdi Kanu is leading a group (IPOB) seeking secession from Nigeria. The group has since been proscribed by the Federal Government of Nigeria led by President Muhammadu Buhari.