Biafra: Nnamdi Kanu Delivering Live Broadcast On Sowore, Human Rights Abuses (Listen Here)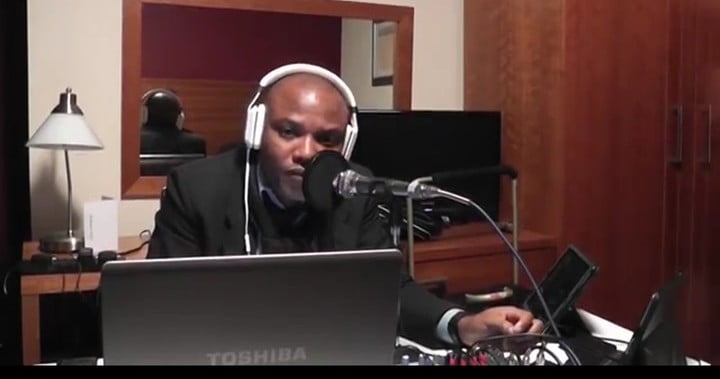 The leader of the Indigenous People of Biafra (IPOB), Nnamdi Kanu, is currently delivering a live broadcast over the maltreatment of Omoyele Sowore by officials of the Department of State Services (DSS) and the abuse of human rights in Nigeria.
Naija News reports that the live broadcast of the IPOB leader is currently holding on Radio Biafra owned by IPOB.
This online news platform recalls that Kanu had earlier announced that he would hold a live broadcast on Saturday but the broadcast failed to hold.
"Join me for broadcast on Radio #Biafra as we continue to expose horrific state-sponsored terrorism & human rights abused by the Nigerian Govt. Sat. 07/12/19. 7 pm #Biafraland Time. TuneIn," Kanu had tweeted December 5.

However, on Saturday, the IPOB leader failed to hold the live broadcast and later issued a statement apologizing for not delivering the broadcast.
Kanu tweeted: "I regret to announce that I will not broadcast today as previously advertised. Instead, it will be tomorrow Sunday 8 Dec. 2019 7 pm Biafraland Time.
"I am sorry for any inconvenience this may have caused and look forward to your company tomorrow night. Thank you." Kanu had tweeted.
Click HERE to listen to Kanu's live broadcast.
Source: Naija News