Sundar Pichai Emerges As Google And Alphabet's CEO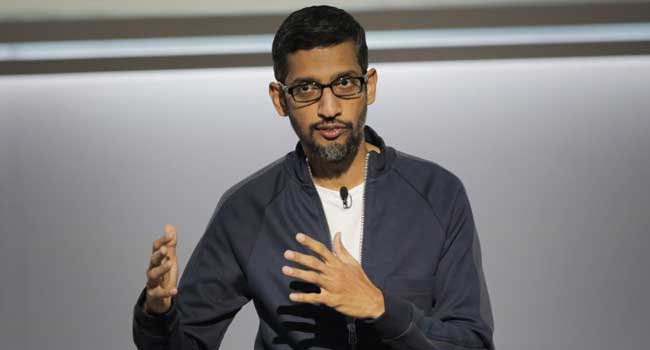 Google founders Larry Page and Sergey Brin have resigned their appointment as the Cheif Executive Officer of both the online giant's organization and its parent company Alphabet.Inc.
Naija News understands that they will leave their respective roles as Alphabet's chief executive officer and president but remain on the board.
The parent company was intended to make the tech giant's activities "cleaner and more accountable" as it expanded from internet search into other areas such as self-driving cars.
Speaking on their resignation, both men also declared it was time to "assume the role of proud parents – offering advice and love, but not daily nagging" and insisted there was "no better person" to lead the company into the future than Mr. Sundar Pichai.
Reacting to the new development and promotion, Sundar Pichai in a statement said he was "excited" about the transition and paid tribute to Mr Page and Mr Brin.
"The founders have given all of us an incredible chance to have an impact on the world," Mr Pichai said. "Thanks to them, we have a timeless mission, enduring values, and a culture of collaboration and exploration that makes it exciting to come to work every day.
I'm excited about Alphabet's long term focus on tackling big challenges through technology. Thanks to Larry & Sergey, we have a timeless mission, enduring values and a culture of collaboration & exploration – a strong foundation we'll continue to build on https://t.co/tSVsaj4FsR

— Sundar Pichai (@sundarpichai) December 4, 2019
"It's a strong foundation on which we will continue to build. Can't wait to see where we go next and look forward to continuing the journey with all of you."
Naija News understands that the move represents the most significant shake-up of leadership at Google since its inception – the first time the dynamic duo of Brin and Page, a legendary Silicon Valley partnership, won't hold important management roles in the company they founded.
Google's parent company, Alphabet, was created through corporate restructuring in October 2015 to manage ventures outside its main search businesses, known in the company as "other bets". Page was Alphabet's CEO, while Brin was its president.