2023: APC Leaders Expose, Send Strong Warning To Governor Cabals Are Using Against Osinbajo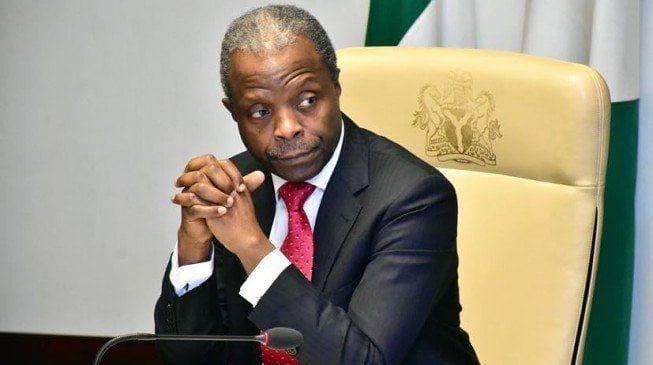 APC Leaders Send Warning To Cabals
Some leaders of the All Progressives Congress (APC) in the United States have alleged that cabals in Aso Rock are using a certain South-West Governor against Vice President Yemi Osinbajo.
They further alleged the cabals are using the governor to undermine Osinbajo's position in order to prevent him from contesting the 2023 presidency.
The APC leaders identified Governor Kayode Fayemi of Ekiti State in their submission.
They made the claim in reaction to the alleged travails of Vice President Osinbajo since the commencement of President Muhammadu Buhari's second term in office.
The APC leader, Dele Alade, said politicians should leave the President and his Vice out of their games ahead of 2023, so they can focus on governance.
He said: "Any humiliation of the VP or Asiwaju Tinubu or other leaders will not be acceptable. All these shenanigans are because of 2023.
"Kayode Fayemi has to be very careful. VP Osinbajo has done a great job. We know it. Nigerians know it. Rather than helping Buhari/Osinbajo concentrate on delivering better governance to our people, some crazy elements and enemies of progress are bent on destroying the gains made so far and paralyzing governance.
"Tens of millions of Nigerians are suffering because of this. Only those lazy government officials who live on government and/or on government welfare (and not on their ingenuity) are unconcerned. We're watching and we will hold them accountable."
Another chieftain of APC in the US, Baba Adam, said the Vice President has been at the forefront of all achievements so far recorded by Buhari's administration and should be applauded for his roles.
He also warned Fayemi to desist from any act of sabotage.
"So you want to be the next Nigerian Vice President? He quizzed. "You as a person from the South West – through your in-action you may have endorsed the ongoing insults by the Cabal on VP Pst. Prof. Osinbajo, SAN, GCON… and remember he is highly regarded at the White House – so they are sending you and others 'clear shot across the bow.
"If you do not heed this warning – next – worldwide freezing of you and your friend's assets," he said.
Meanwhile, Naija News reports the presidency has strongly denied the case of any rift between the President and the Vice President, stating those peddling the rumours are political opportunists.
Source: Naija News