Akpabio 'Confesses' Real Reason He Is Being Attacked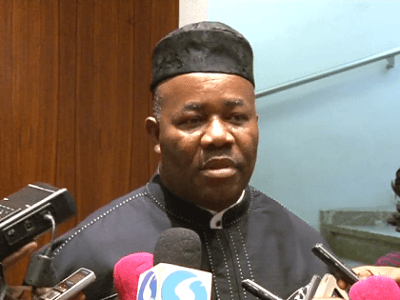 Senator Godswill Akpabio, the Minister of Niger Delta Affairs, has disclosed those who are behind the series of attacks against him of recent.
According to the senator, those who are opposed to the forensic audit of the Niger Delta Development Commission (NDDC) are sponsoring the attacks.
Akpabio further disclosed that the same people
are the ones cooking up spurious allegations being made against him.
He however noted that rather than face his attackers, he would continue to do his work and carry out his mandate as assigned to him by the president, "who ordered the forensic audit"
He went on to assure people of the Niger Delta that they would see the huge impact of President Muhammadu Buhari in the next four years, while urging them to continue to support the president.
The Minister denied the insinuation that he collected money from the former Managing Director of NDDC Nsima Ekere or any other individual for that matter.
He described the allegation as "spurious and part of the conspiracy of those who have been milking the resources meant for the development of the Niger Delta for the past 19 years."
He described it as parts of efforts to frustrate the forensic audit of NDDC accounts.