'Between Ambode & Sanwo-Olu', See How Nigerians Compare Lagos Past & Immediate Governors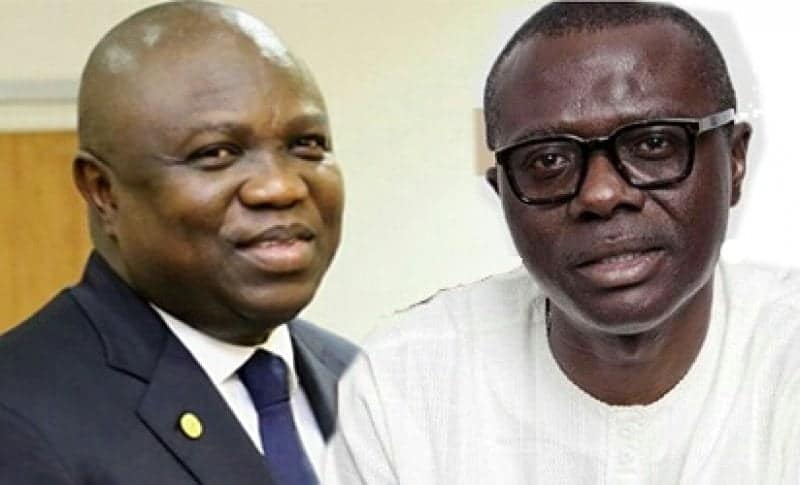 Its been almost eight months since Gov. Babajide Sanwo-Olu was sworn into power in Lagos after he defeated other gubernatorial candidates, including Mr Jimi Agbaje of the People's Democratic Party(PDP).
Before the election, Sanwo-Olu had become the flagbearer of the party, All Progressive Congress(APC), after he defeated the then Incumbent governor, Akinwunmi Ambode at the party's primaries.
However, about eight months after he began to rule, Nigerians have taken to twitter to do a comparison between Governor Sanwo-Olu and his immediate past predecessor, Ambode
I knew there is Big problem the day i saw this Sanwo-olu iron his jeans trouser and put gators on it.#Ambode said it o? pic.twitter.com/ejUF0fwur9

— Tuka Loanyie (@TukaLoanyie) October 9, 2019
Meanwhile the way things are going…

Lagos citizens will block road and protest soon.@jidesanwoolu has to come out

This #Ambode trend cannot continue.

You promised to be better…now you're silent. pic.twitter.com/6QkOTaSqsV

— Uncle Gee (@Oncle_Gee) October 9, 2019
So Dangote is behind the Oshodi – Mile 2 road construction??
and in turn, he is tax-free for the next 5years
??

This Country sha, anything's possible las las #Nigeria #Lagos #Ambode

— NNAMDI DARLINGTON (@n_d_opara) October 9, 2019
⚽OUR TODAY EARLY KICK OFF IS HERE AGAIN ??, DON'T MISS OUT ⚽

IF YOU ARE INTERESTED AND READY TO MAKE PAYMENT FOR OUR FIRST GAME.

KICK OFF : 13:30 GMT+1

CALL ME OR WHATSAPP ME ON +2347035229247#WorldSegaDay #WednesdayThoughts #Ambode #Joey #Discos #Nigeria #ILOVE #England pic.twitter.com/ddshNUiugS

— MR WILLIAMS SURE ODDS (@williamsodds01) October 9, 2019
EARLY GAME IS OUT AGAIN. HURRY UP AND PURCHASE NOW BEFORE ITS TOO LATE

TIME : 13:30 PM

CALL ON +2348103663020

OR

WHATSAPP +2348103663020#WorldSegaDay #eriggalines #Neymar #lagos #joey #ambode #kemi #mustafi #sanwoolu #Nigeria #scofield #upd8 #taina #ghana pic.twitter.com/lIyOzIGdOP

— MR H. (WINNING ARENA) SURE BET???????? (@winningodd) October 9, 2019
When Jimi Agbaje was shouting it , we thought he was mad now see ! #ambode https://t.co/TQgmEzE2a1

— Chikero (@thechikero) October 9, 2019
Who can help with all those sanwoolu campaign again pls?#ambode
The campaign was powerful.
Second term will be mad..@Gidi_Traffic

— 4 years ??? (@adetoyeee) October 9, 2019
A friend of mine who lives in Lagos said the governor has suddenly disappeared. I don't blame Sanwo-Olu, the man cannot come and kee himsef. #Ambode that almost killed himsef ontop of Lagos work, wetin him gain las las?

— John Olugbemi (@johnolugbemi01) October 9, 2019
#Ambode doesn't deserve an apology, we should be ashamed of ourselves that we continue giving power to same folks and expect something different! https://t.co/u5ZJNZ6ij1

— Chikero (@thechikero) October 9, 2019
https://twitter.com/gidi_naija/status/1181873005682671618
Tinubu loyalists will forever make media presentation of how bad #ambode was just to justify his replacement because landlord Tinubu wanted it so.
Lagosians felt real changes under the government of ogbeni Akinwunmi Ambode.

— Hader Otaki (@haderotakisblog) October 9, 2019
Four months gone and lagosians are already realising that Ambode did great in Lagos, I think Babajide Sanwo-Olu is way too silent for a governor of lagos. Well, let's fold our arms and wait, we never might know#lagos #ambode

— Web N3rd (@web_n3rd) October 9, 2019
Abeg does anyone still have the clip of the world (ranting) press conference @AkinwunmiAmbode had before the primary elections? I want to check something ?#Ambode #Sanwoolu #Lagos

— Temitayo Odugbesan (@bigtt76) October 9, 2019