Biafra: Nnamdi Kanu Has More Loyalists, Respect Than Ojukwu – Rev. Ebube Muonso (Video)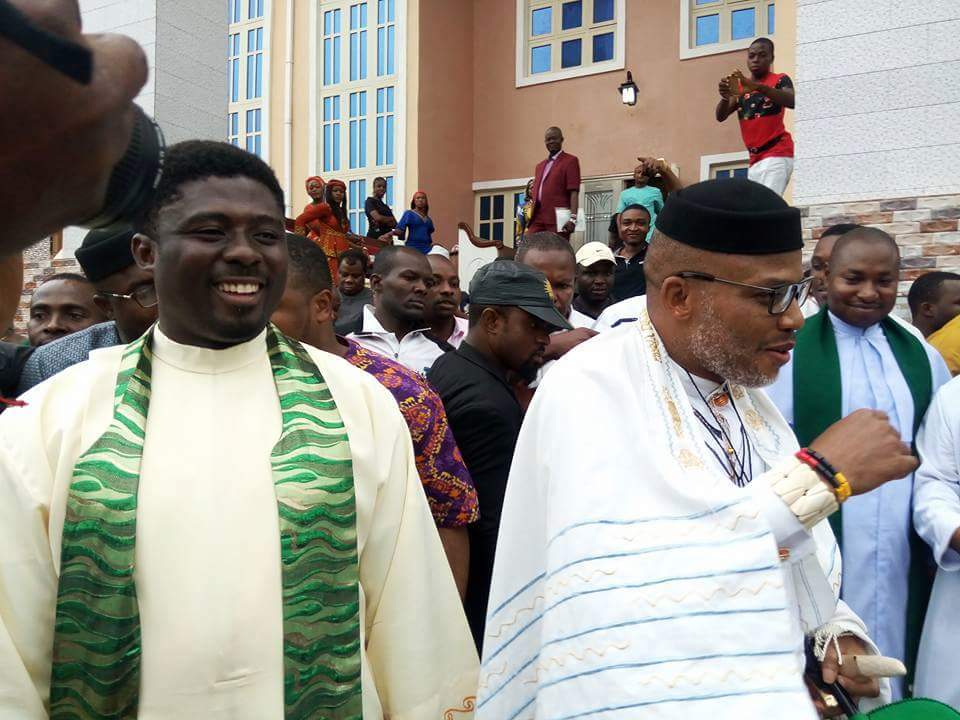 Rev. Fr. Emmanuel Obimma, popularly known as Ebube Muonso, the Spiritual Director of Holy Ghost Adoration Ministry in Anambra, Southeast Nigeria, says the leader of the Indigenous Peoples of Biafra (IPOB), Nnamdi Kanu, is more respected and has more loyalists than Chukwuemeka Odumegwu Ojukwu, the late Biafra warlord.
Naija News reports that Ebube Muonso as he is fondly called made this comment at a crusade in the South Eastern region of the country recently.
This online news platform recalls that Ojukwu started the struggle for the Republic of Biafra, a struggle he won when Biafra came into existence as a country but later lost after Biafra stopped existing as a country.
After Ojukwu's demise, Ralph Uwazuruike picked up the Biafra struggle, becoming the leader of the Movement for the Actualization of the Sovereign State of Biafra (MASSOB), a secessionist movement in Nigeria, associated with Igbo nationalism, which supports the recreation of an independent state of Biafra.
However, Nnamdi Kanu, who at the time was under Uwazuruike, left the MASSOB founder, to create his own group with the name IPOB, which has since become the most vibrant Biafra group in Nigeria of recent.
Speaking on Kanu's influence, Ebube Muonso said for members of the IPOB and some pro-Biafra agitators to sit-at-home when Kanu called for it on May 30, shows that the IPOB leader is a major force in the South East.
Naija News reports that Ebube Muonso described Kanu as the "highest Igbo leader" who is more respected than Chukwuemeka Odumegwu Ojukwu, the late Biafra warlord.
"Nnamdi Kanu has become the highest Igbo leader. A man that said everybody should sit at home and everybody sat at home should be respected. I'm I lying?" The reverend father asked the congregation at a crusade recently.
Speaking further, Rev. Muonso told worshippers at the crusade that Kanu has the highest loyalists in the history of Igbo.
"The type of loyalists that Nnamdi Kanu has, I have not seen anybody that commands that kind of respect or type of loyalists in the history of Igbo even Ojukwu."
Watch the video below…
Meanwhile, Naija News reports that Nnamdi Kanu is leading a group (IPOB) seeking secession from Nigeria. The group has since been proscribed by the Federal Government of Nigeria led by President Muhammadu Buhari.