G7 Summit: Will AFDB President, Akinwumi Adesina Become The Next Nigerian Messiah?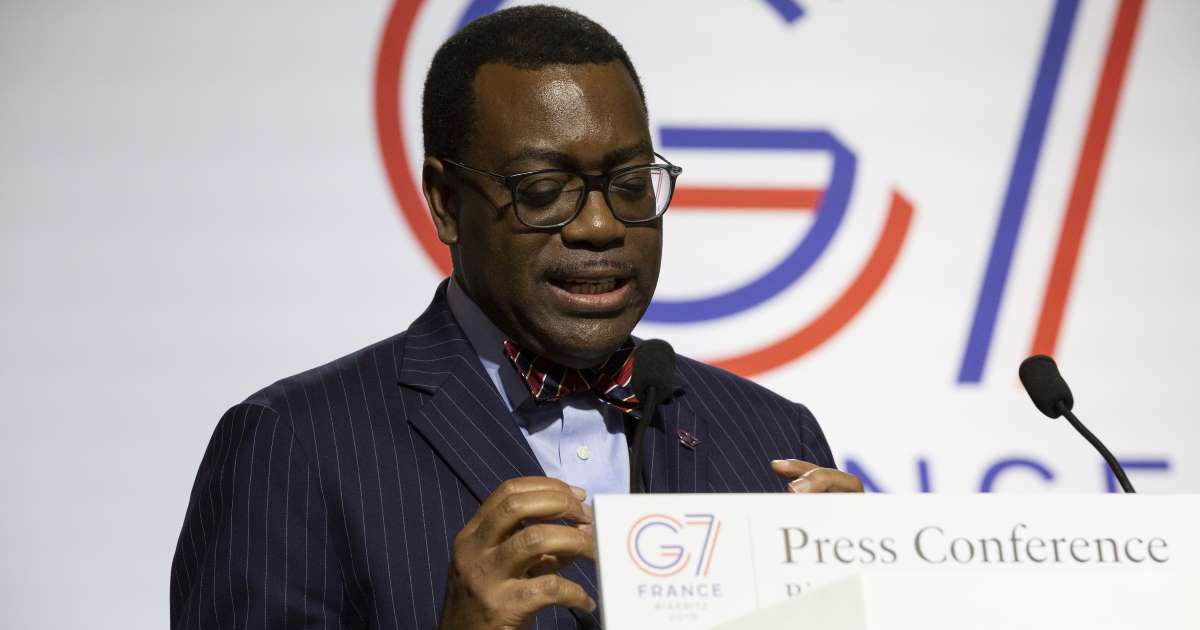 Twitter Reactions Trail AFDB President, Adesina's Presence At G7 Summit
The presence of the African Development Bank President Akinwumi Adesina at the 2019 G7 Summit session has generated several reactions and statement by several Nigerians.
Naija News recalls that Adeshina was seen with several world leaders who also attended the summit.
Adeshina who presented a paper titled the Affirmative Finance Action for Women in Africa (AFAWA) initiative, alongside French President Emmanuel Macron said that investing in women's entrepreneurship is not just a good idea; it also makes economic sense."
The G7 Summit, or 'Group of Seven', meets each year, bringing together the heads of state and government of Canada, France, Germany, Italy, Japan, the United Kingdom and the United States, plus the presidents of the European Commission and European Council.
Meanwhile, here are some of the reactions of Nigerians as Adeshina was seen with some world leaders like Emmanuel Macron, Donald Trump and Angela Merkel.
https://twitter.com/ChelsTracy/status/1166225359429414912?s=20
A country that is blessed with @akin_adesina have a Tinubu aspiring for presidency.

Tragic. pic.twitter.com/8P8vvmPoUc

— Ofuji Peter Obi (@MistaChika) August 27, 2019
Did u observe the body language b/w @akin_adesina n world leaders? Subtle, yet powerful!

He knows who he is in his own skin, hence the confidence.This is why I am so enamoured by these images. African leaders pls take a cue.@TF9JA @DrJoeAbah @segalink @HenshawKate @KadariaAhmed pic.twitter.com/Atfzpp8MRW

— Jide Salu (@jidesalu) August 27, 2019
Our thirst for a Messiah has led to the coronation of Akin Adesina as next in line after Bubu and apparently, the trigger was the simple act of putting his hand on Trump's shoulder & turning on his trademark megawatt smile. To Jesus be our glory.

— Babanla (@biolakazeem) August 27, 2019
https://twitter.com/geeweeny/status/1166231841118068737?s=20
https://twitter.com/DrEffaB/status/1166228049337180160?s=20
https://twitter.com/Pastor_CVB/status/1166252184297758721?s=20
Nigerian's in my mentions all over Akin Adesina over his outing in France … It's important to be at the frontline when it comes to geo-politics but let's be guided that he attended the #G7 meetings as the African Development Bank President… pic.twitter.com/w4FNppXTRl

— Mercy (@AbangMercy) August 27, 2019
Are you not just a dreamer. A country that rejected Peter Obi, Kingsley Moghalu and even Pat Utomi over Buhari, You think they will choose Adesina. Baba wake up. https://t.co/ozLiB5wSeH

— Mr. Waltz (@EduWaltzChuka) August 27, 2019
While our confused President who can only address people / the nation with a written essay from his aides is in Japan for nothing reasonable , Adesina who's sound is busy meeting with those who shape world's economy .

2023, Nigerians will still be imposed with expired brains. pic.twitter.com/MMfL3klooc

— I z u (@heisizumichaels) August 27, 2019
https://twitter.com/iam_doctormayor/status/1166253168164036608?s=20