Breaking: President Buhari Swears-In RMAFC Chairman, Members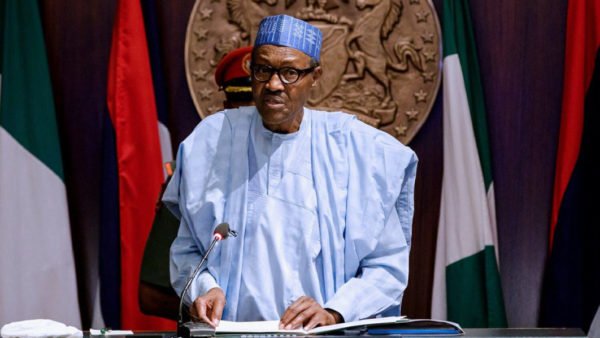 President Muhammadu Buhari has on Thursday, swore-in Mr. Elias Mbam the Chairman of the Revenue Mobilization, Allocation and Fiscal Commission (RMAFC).
The President also swore in thirty Commissioners for the commission.
Naija News understands the ceremony started around 12 noon at the Council Chamber of the State House in Abuja.
The Commission is established by law to monitor the accruals into and disbursement of revenue from the Federation Account; Review from time to time, the revenue allocation formulae and principles in operation to ensure conformity with changing realities in line with relevant approvals by the National Assembly.
The President said during the swearing-in: "The mandate of the Commission is very wide and has an important for our country's economy. The Commission must be fair and just to the three tiers and arms of government without compromising its core mandate.
"In my speech on June 12 Democracy Day, I informed Nigerians that this administration has laid the foundation for transforming our country and liberating our people from the shackles of poverty by putting policies and measures to integrate our rural economies to the national economic grid.
"Our measure is to extend credit facilities currently available, to be able to encourage and support domestic production of basic goods and reduce our reliance on imported goods.
"I set a target for our country to lift 100 million Nigerians out of poverty in 10 years. This commitment is to further challenge the Revenue Mobilisation, Allocation and Fiscal Commission to rise to its constitutional responsibilities and mandate."
"Your appointment as Chairman and members of the Commission was carefully considered based on your proven track records of hard work and integrity."
"It is therefore the expectation of government that you will rapidly and systematically set to work to address all areas of your mandate in a businesslike manner.