Liverpool Beat Tottenham 2-0 To Win UEFA Champions League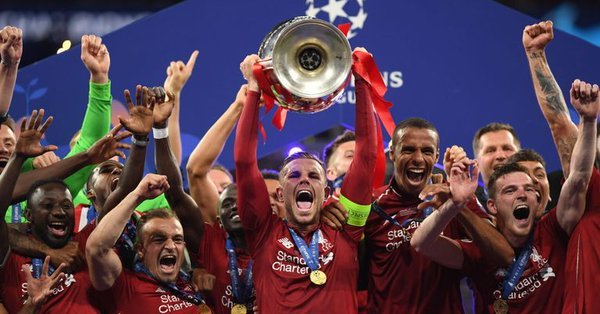 Liverpool Football Club are champions of the 2018/2019 UEFA Champions League, thanks to a 2-0 victory over Tottenham Hotspur.
Naija News understands that the all English team final started with Mohammed Salah scoring the second-fastest goal of the Champions League on the spot kick.
Salah's 1:48 seconds opener for Liverpool was the second fastest goal in a Champions League final, only behind Paolo Maldini 00:50 seconds for AC Milan versus Liverpool in 2005.
This online news platform understands that the Egyptian stepped forward for the spot kick after Tottenham's Moussa Sissoko was judged to have handled the ball in the penalty box.
Belgian international, Divock Origi added Liverpool's second on the 87th minute to end the game 2-0 in favour of the Kops.
Meanwhile, after the final whistle, Salah, who scored his team's first goal from the penalty spot, said: "everyone is happy now."
Salah added that Liverpool "deserved it" after the season they had had, which included coming second in the Premier League.
On the other hand, Liverpool manager Jurgen Klopp was unable to contain his excitement as he asked: "Did you ever see a team like this?"
"What a night," he added, saying that his family "suffer for me", and "deserve it more than anybody".
Also speaking after the match, Tottenham manager Mauricio Pochettino said: "when you live this experience you want to repeat it".
Pochettino added: "It's the best game in the world after the World Cup and we want to be there in future."
Meanwhile, the UEFA Champions League capped an extraordinary year for English clubs in European football after Chelsea defeated Arsenal 4-1 in the Europa League final on Wednesday.