IPOB Speaks On Killing Of Pro-Biafra Prophet, Nwoko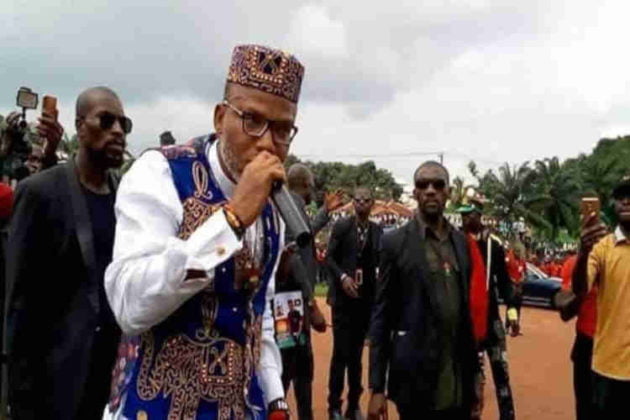 The Indigenous People Of Biafra (IPOB) has stated that the administration of President Muhammadu Buhari will be held Should independent autopsy confirm any foul play in the reported death of Prophet Anthony Nwoko.
In a statement on Friday by IPOB Publicity Secretary, Emma Powerful, the pro-Biafra group accused the ruling All Progressives Congress (APC) to announcing the death of the prophet to divert attention from the planned broadcast of its leader, Nnamdi Kanu.
IPOB also stated that it was aware that the government will go to any length to stain the reputation of the pro-Biafra group.
IPOB statement reads in part: "The media should be mindful not to prejudice the uninvestigated circumstances surrounding the passing of Anthony Nwoko in order not to become unwitting agents of dark forces that wish to tarnish the image of IPOB at any given opportunity.
"As a movement rooted in the principles of democratic values and all it entails, IPOB will always welcome criticisms from all quarters because the Biafra we are seeking to build will be an open tolerant society.
"We must, however, caution that Biafrans should be mindful of the opportunities their perceived hostility towards Biafra liberation might present to those seeking to exploit it for the benefit of the Fulani 'One Nigeria' caliphate agenda.
"Enemies of Biafra within and outside the East will seek out every available avenue to damage the stellar standing of IPOB and her leadership and they will never ever stop until we recognise the danger they pose to us all.
"If this APC demonic dictatorship had their way, they would have blamed IPOB for the sacking and conviction of Onnoghen in order to engineer enmity between South East and South South. Nothing is beyond them in their desperation to subdue every opposition.
"We will flush out Jubril Al-Sudani the great impostor from Aso Rock. He must provide his DNA and face charges of high crimes and misdemeanours alongside Abba Kyari and the rest.
"Nothing our enemies do, even with the help of a media that doesn't investigate stories, will stop IPOB from liberating Biafra from the shackles of damnation and iniquity that Nigeria has come to represent."
Source: Naija News