Nigerians React As Atiku Unveils Microsoft As Witness On INEC Server Result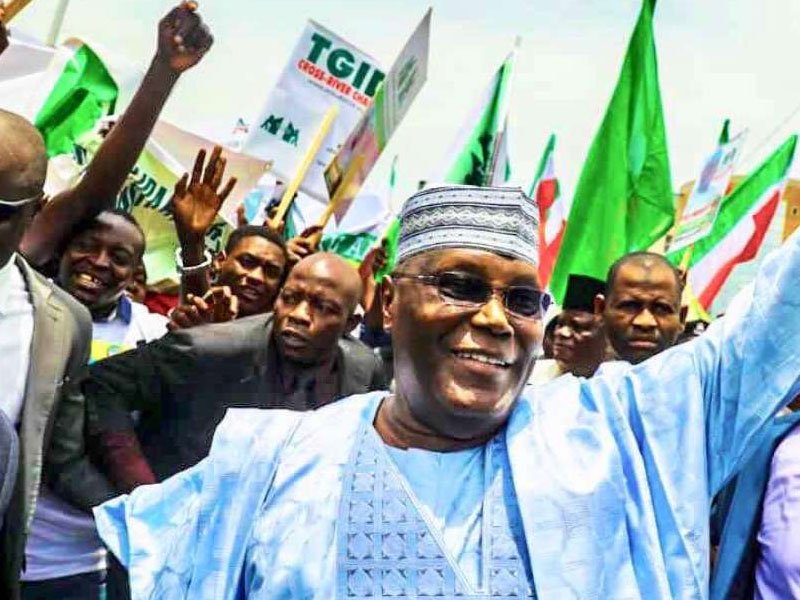 A storm of reactions by Nigerians has greeted Atiku Abubakar's decision to engage experts from Microsoft, IBM and Oracle to verify his claim that the servers belonging to the Independent National Electoral Commission (INEC) showed that he defeated President Muhammadu Buhari by 1,615,302 votes.
Naija News recalls that figures from the 36 states and federal capital territory (FCT) released by INEC in the last Presidential election, gave Buhari 15,191,847 votes, while Abubakar who contested the election on the platform of the Peoples Democratic Party (PDP), Nigeria's main opposition party, came second with 11,262,978 votes.
However, Abubakar alleged in his petition submitted at the tribunal, that he garnered a total of 18,356,732 votes to defeat Buhari, who, according to him, polled 16,741,430 votes in the presidential election held on February 23.
Responding, INEC said the results being paraded by Atiku was fabricated and not from its website.
Reacting to INEC's submission, the former Vice-President and PDP said the address of the server from which the results were obtained are unique to INEC.
"The Servers from which the said figures were derived belong to the first Respondent (INEC). The figures and votes were transmitted to the first Respondent's Presidential Result's Server 1 and thereafter aggregated in INEC_PRES_RSLT_SRV2019, whose Physical Address or unique Mac Address is 94-57-A5-DC-64-B9 with Microsoft Product ID 00252-7000000000-AA535. The above descriptions are unique to the 15t Respondent's Server," Abubakar and his party said.
Abubakar and the PDP also said it would rely on the services of some prominent technology companies to argue the case at the presidential election tribunal.
"The petitioners will at the trial of this petition rely on experts on Microsoft, IBM and Oracle, amongst others," they added.
Moments after the news broke, Nigerians took to the micro-blogging site, Twitter, to air their opinions on the matter with some saying the former vice-president is determined to retrieve his "stolen mandate" according to him and his party.
Naija News captured some of the reactions below…
News – "Atiku to call Microsoft, IBM experts as witnesses, gives 'details' of INEC servers."

It seems we under estimated .@atiku resolve and preparation for the #Nigeriadecides2019. Just as we thought Senator Ademola .@IsiakaAdeleke1 was all about dancing. pic.twitter.com/OMtdXz9Pha

— Amòye Àgbà (@ojogbonagba) April 17, 2019
When @inecnigeria and @OfficialAPCNg heard that @atiku has called Microsoft, IBM experts as witnesses, and has also identified the server where the results are kept as INEC_PRES_RSLT_SRV2019 and its unique Mac address as 94-57-A5-DC-64-B9 with M/P ID 00252-70000-0000-AA535.
?? pic.twitter.com/5dC6ORIdbW

— Dbaba (@PrinzDebola) April 17, 2019
Waziri & PDP are dead serious. Little wonder APC are diverting attention with mundane issues.

Atiku to call Microsoft, IBM experts as witnesses, gives 'details' of INEC servers – Punch Newspapers https://t.co/mCwMhANeBn

— John Danfulani (@john_danfulani) April 17, 2019
People, we really need to pay a little more attention to this Atiku Appeal.

Lol. Some interesting stuff https://t.co/ZrDRcoD6Qu

— Gene Peterson (@EuginhoCortez) April 17, 2019
"…Address is 94-57-A5-DC-64-B9 with Microsoft Product ID 00252-7000000000-AA535. The above descriptions are unique to the 1st Respondent's Server."

Let Keyamo, APC and INEC challenge the above fact.

We wait.

— Callings (@CollinsUma) April 17, 2019
#Nigeriadecides2019 results were transmitted thru unique Mac address 94-57-A5-DC-64-B9 with Microsoft Product ID 00252-70000-0000-AA535.

.@atiku is using technology to fight @inecnigeria & APC's unholy collaboration. Surely, the tribunal will favour .@OfficialPDPNig pic.twitter.com/drGmxCw1Ho

— Amòye Àgbà (@ojogbonagba) April 17, 2019
Atiku to call Microsoft, IBM expects as witnesses over INEC server at the tribunal.

By the time Atiku finish with INEC and Buhari, their eyes go clear??

We move! pic.twitter.com/U249jmW7dc

— Benny Umoren (@BennyUmoren) April 17, 2019
APC: PDP and Atiku are about calling Microsoft and IBM as witness on the election matter oooo

Inec: pic.twitter.com/dSDTwocCHI

— King Emmy Wise❄ (@montee_93446) April 17, 2019
Festus Keyamo, INEC and APC looking up the constitution to wriggle out after hearing that Atiku has called Microsoft, IBM experts as witnesses, and has also identified the server where the results are kept as INEC_PRES_RSLT_SRV2019 and its unique Mac address pic.twitter.com/JPXl3tJ3kd

— Midas (@unyimedominice) April 17, 2019
Atiku is not joking at all!

Microsoft and IBM experts will surely explain if the results are from INEC server or not will 100% accuracy! https://t.co/h7exATumNa

— Uche (@ubig1) April 17, 2019
@atiku's legal team at the petition tribunal shall be calling experts from Microsoft, IBM & Oracle to prove the authenticity of the results from INEC's Server which returned him as winner.
The fear of Atiku is the beginning of wisdom.

— PantoKrato (@lucidator) April 17, 2019
Source: Naija News