Nigerians React As Yusuf Buhari Receives NYSC Certificate In Aso Rock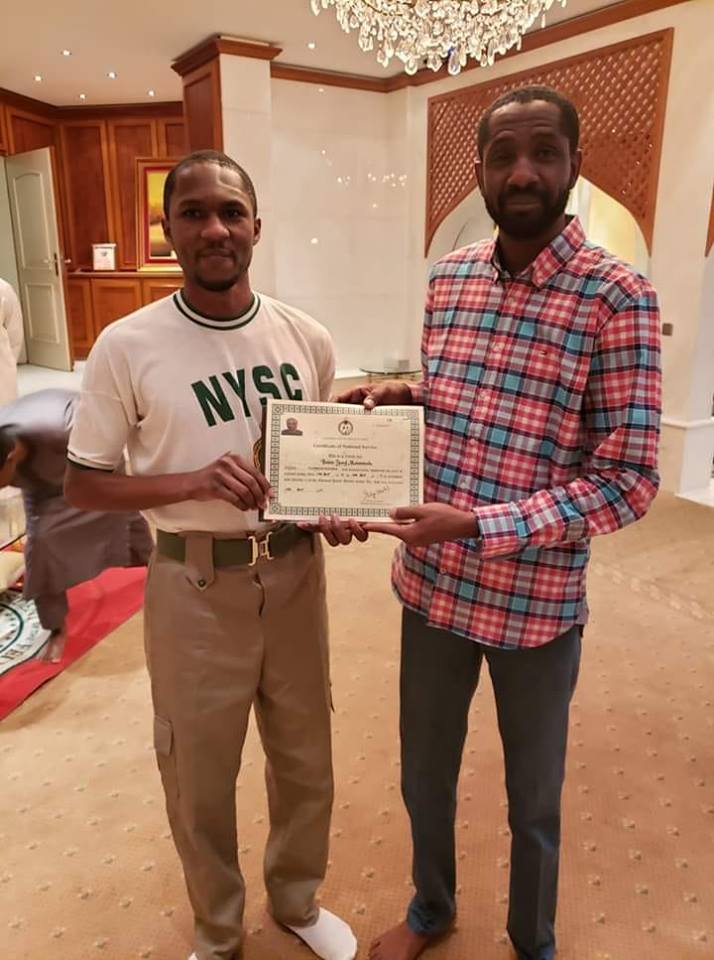 A storm of reactions by Nigerians has greeted a photo showing the moment Yusuf Buhari, the son of Nigeria's President, Muhammadu Buhari, received a certificate indicating the completion of his National Youth Service Corps (NYSC).
Naija News had reported earlier that the President's son completed his one year mandatory service year which he started last year recently.
This online news platform, however, understands that Yusuf's state of service and place of primary assignment (PPA) was never disclosed during his service year.
Naija News can, however, report that the President's son bagged his Master's Degree in the United Kingdom in July 2016 before he proceeded for his NYSC last year.
The President's son and his sister, Zahra graduated from the University of Surrey, Guildford.
While other Nigerians receive their certificates at the NYSC State Secretariat, Yusuf, on the other hand, received his at Aso Rock, Nigeria's Presidential Villa in Abuja, the nation's capital.
Apparently displeased with the development, Nigerians took to the micro-blogging site, Twitter to question President Buhari's integrity over the development.
Naija News captured some of the reactions below…
So una get chill, you people expect Yusuf Buhari after a fatal accident resulting him having a dimple in his forehead to do NYSC? Who NYSC help? pic.twitter.com/xcVzllG99j

— Comrade Frederick? (@ComradeFrederi1) March 15, 2019
Most people on here shouting Yusuf Buhari did not go to camp nor serve blah blah blah are fucking hypocrite.
Even Davido, an ordinary musician couldn't stay on camp for 24hrs bcoz it was too risky and won't be conducive for him, yet you expected the son of the president to.

— Babatunde (@iam_bheetee) March 15, 2019
Yall saying Yusuf buhari did nt attend any camp yen yen yen better stfu. Where were u when davido was in camp today and abroad tomorrow? Is there another camp there we dnt knw abt?

— Jaqen H'ghar (@sadeeqmusa_) March 15, 2019
Yusuf Buhari started NYSC in November and has passed out yesterday…. pic.twitter.com/S80XeOQX6P

— Tessyama?? (@tescool) March 15, 2019
Son of the President, Yusuf Buhari Passes Out of NYSC Today.

Congratulations till we meet at CBN#corper of the year pic.twitter.com/RTA550nXVw

— CP Wakili (@Ibrahim__Bello) March 14, 2019
Sometimes I wonder what comes to Yusuf Buhari mind when he receive alert for 19k NYSC corpers salary. pic.twitter.com/kHC6C7jgBK

— Uche Ahiafor (@olduche) March 15, 2019
This is what Davido envisaged. Yusuf Buhari treatment. ???? Now he may wait another 5 years to get his NYSC done. pic.twitter.com/awRaVqwPrh

— OONI OF ABUJA (@Deji_OoniAbj) March 15, 2019
Did Yusuf Buhari attended camp? Na wa, so presentation of NYSC certificate is now done inside villa. pic.twitter.com/Mbjhk84zCM

— Adetutu Balogun (@Tutsy22) March 15, 2019
"Next Level" yen yen yen yen
"Integrity" yen yen yen yen

Here's 'Yusuf Buhari', your Mr integrity's son receiving his Discharge Certificate at home .

Also remember he graduated from the University of Surrey, Guildford …

Living within your means kill you people there?? pic.twitter.com/q1BHr1VcDJ

— ? Obong Ekpe ? (@Ody_johnson) March 15, 2019
This is Yusuf Buhari.
Who was in camp with him please?
Who saw him during clearance?
Where was his PPA?

iNtEgRiTy pic.twitter.com/fVmEA6N0Vv

— Callings (@CollinsUma) March 15, 2019
For those asking questions about Yusuf Buhari and NYSC
He was posted to Abuja,
He camped in the Villa,
He did his PPA in the Villa,
He did clearance in the Villa and has now received his certificate in the Villa.
Remember; WAEC also did presentation sometime ago in the Villa. pic.twitter.com/bKVdYuaqwI

— DanEtai (@DanEtai01) March 15, 2019
Yusuf Buhari has completed his NYSC…. what they said

Who has seen him during the mandatory 3 weeks camp?

Who has ever seen him at his place of primary assignment?

Who has ever met him during the monthly clearance?

But we keep desecrating the sanctity of the word INTEGRITY pic.twitter.com/t6KL0ma6Ln

— Nafiu T (@nafeezi) March 15, 2019
Yusuf Buhari matter, I maintain that most of the sycophants raging "Sai Buhari" , have more integrity than Buhari.
The same Yusuf that bought over 100 million Naira worth of motorbikes for himself and his friend, and hid it trom his thieving Father. #MrIntegrityMyFoot

— Somto Onuchukwu (@chosensomto) March 15, 2019
I taught NYSC is a year. And Certificate is to be issued at NYSC State Secretariat. Yusuf Buhari started in October and got his certificate Yesterday. Is God not wonderful.??? https://t.co/Au8fqvvs5x

— doctormayor ?????? (@iam_doctormayor) March 15, 2019
So you people actually think Yusuf Buhari would do NYSC the same way we did ours? He's the son of the president. If it were you, you'd do more than that.

— Apostle DAN (@danny_gooner) March 15, 2019
I think this is Yusuf Buhari, son of the President.

Please who knows which NYSC camp he attended and where he did his PPA?

? ? ? ? ?

Look at how he looks in the kaki.. ? ? ? pic.twitter.com/5uMqulviEt

— Tosin Olugbenga (@TosinOlugbenga) March 15, 2019
When Davido posted with his nysc khaki and flew out the next week on tour, you people were saying its ok, he had a job to do. But now you're bitter with Yusuf Buhari receiving special treatment. I'm not a buharist, I don't even like him a bit. But don't be sentimental.

— Apostle DAN (@danny_gooner) March 15, 2019
Yusuf Buhari must been a private corper ???????
Executive Presentation of Discharge Certificate.

Nigga no kuku get white canvas to wear.
White socks saved the day.
????????

Next life, I will still wanna be a Nigerians. Don't ask me why mbok pic.twitter.com/ypNTpnmbCw

— Ak (@ak_cute115) March 15, 2019
The president's family is the 'first family' and they are entitled to special treatments. To think Yusuf Buhari would be running around the jungle inside sun for NYSC is insane. I'm not a Buharist, I never liked him. But this, there's no issue here.

— Apostle DAN (@danny_gooner) March 15, 2019
The people that kept mute when Davido was breaking rules and laws set by the NYSC are the ones lamenting over Yusuf Buhari's POP picture.

I always trust our dear Wailers to always set different standards to nourish their partisan minds.

Hypocrites!!!

— TallJohn? (@JohnFanimokun) March 15, 2019
I swear to my God who made me, i saw Yusuf Buhari in Wuse zone3 when he came for Clearance.

— Salaudeen Hassan (@hazzern1) March 15, 2019
Chill y'all are Forgetting that Yusuf Buhari owns a Power Bike… He used it to speed up NYSC pic.twitter.com/1cQINF2qsu

— DANNY WALTER ?? (@CuteWalterr) March 15, 2019
Download Naija News App. Advertise with us. Send us enquiries and press releases.