Biafra: Why IPOB Leader Nnamdi Kanu Is A Coward – OPC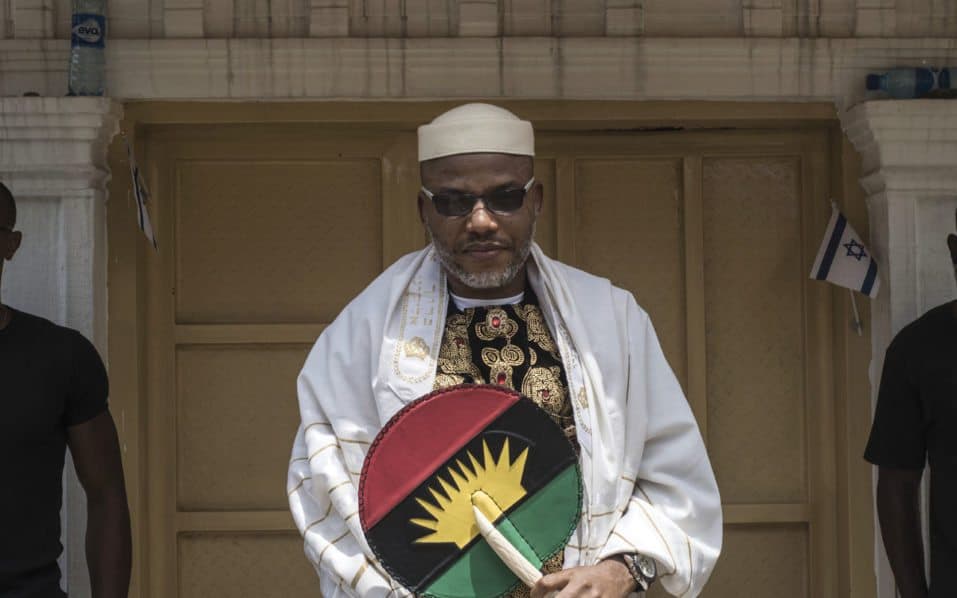 A faction of the Oodua People's Congress, known as OPC New Era, has described the leader of the Indigenous People of Biafra (IPOB) Nnamdi Kanu, as a 'loquacious coward'.
The group made this known while reacting to the threat by Nnamdi Kanu to attack Southwesterner if Igbos living in their region were killed in any post-election violence.
In a statement obtained by Naija News, the spokesperson of the group, Adesina Akinpelu stated that the IPOB leader wants to cause mayhem in the region.
"If not for the purpose of setting the record straight; OPC would not have descended so low to react to Kanu's careless postulations," he said.
"This is a guy who brainwashed many young Igbo youths into joining IPOB and left them to be killed by soldiers. This coward who fled the country like a thief in the night is now threatening to attack Yoruba land.
"We urge him to carry out the threat. What soldiers did to him and his brainwashed members will be a 'child play'compared to what we would do to them."
However, Akinpelu said his group noted the reported attacks on people of Igbo tribe living in Lagos State during the Presidential and National Assembly elections.
He called for the immediate arrest of those who perpetrated the attacks.
He said: "We members of Oodua People's Congress, New Era, condemn in its totality the recent attack on Igbo people in Lagos State over their decision to cast their votes to those they want.
"How can any sensible person attack fellow human being just because he or she has a preferred candidate to vote for? Every Nigerian has the right to vote for any candidate he or she wants. Those miscreants who attacked and prevented law abiding Igbo people from voting in Lagos State and their sponsors must be fished out and made to pay for their crimes."
Akinpelu added that the former OPC members who took part in the attack have deviated from what OPC stands for and so they must be made to pay for their crimes as they are bad eggs.