Nigeria 2019 Presidential Election: Live Updates, Results And Situation Report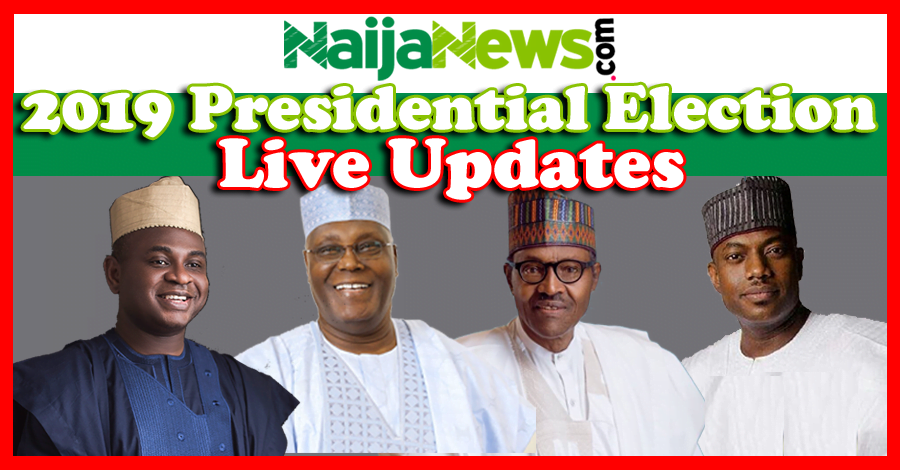 Today, 23 February 2019 Nigerians would vote in the sixth presidential and national assembly elections since the country's return to democracy in 1999.
Nigerians are expected to vote from a list of 72 Presidential candidates and 6584 National Assembly candidates.
91 political parties are participating in the 2019 general elections, however, some would not be fielding candidate for the position of the president.
According to the figures recently released by INEC, there are currently 84,004,084 registered voters compared to 67,422,005 in the 2015 elections.
In the build-up to the elections, Incumbent President Muhammadu Buhari of the All Progressives Congress and Atiku Abubakar of the Peoples Democratic Party have popped up clearly as top contenders for the office of the president.
Voting has ended in most polling units across Nigeria, Please click here to check results update
---
4:25 PM: Click HERE for comprehensive live updates of 2019 election results (Presidential/National Assembly)
4:00 PM: Results trickling in so far…
Oyo state:
PU 023, Ward 4, Ogbomosho South LGA
Presidential election result
APC: 29
PDP: 75
Enugu state: Result from PU 016, Ogui New Layout LGA, Obiagu Road Primary School 015, Enugu North Senatorial District,
Presidential
PDP: 64
APC: 3
Senate
PDP: 56
APC: 8
House of Reps
PDP: 52
APC: 10
Osun ( Boluwaduro LG)
ward 8 unit 7
presidential
APC 54
PDP 25
Senate
APC 54
PDP 23
Rep
APC 48
PDP 17″
3:28 PM: We will be bringing you updates on the results as they trickle in while we wait for official declaration of results by INEC
3: 17 PM: Sorting and counting of votes is already underway in some units where voting has been concluded
3:00 PM – Ballot papers reportedly burnt at Ago Palace way, Okota
1:49 PM: The Independent National Electoral Commission (INEC) has ordered the extension of voting time for some polling units which experienced delay due to technical challenges and complaints.
1:17 PM: Two persons were killed while three others sustained injuries in a clash between PDP and APC members in Amagu ward one, Ikwo LGA of Ebonyi according to report by The Cable
1:11 PM: Less than one hour to the official close of voting as INEC previously declared no one will be allowed to join the queue after 2pm
12:42 PM: Inspector General of Police, Ag. IGP M.A Adamu on election supervision tour.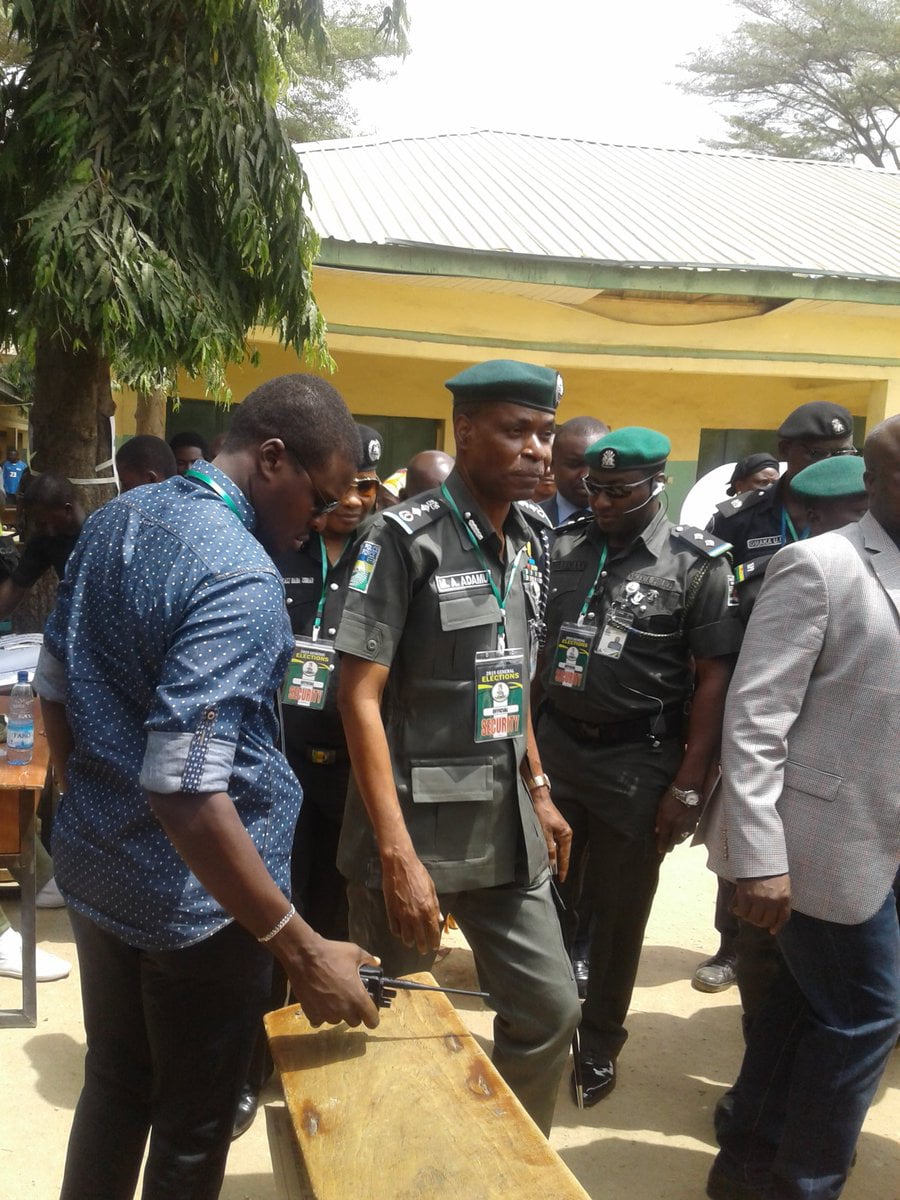 12:35 PM: Card reader issues force manual voting in many polling units across the country
12:30 PM: Card readers fails to recognize Lai Mohammed's finger
12:04 PM: Former President Olusegun Obasanjo casts his vote in Ogun State
12:01 PM – Manual voting reported in Akwa Ibom state
In polling unit 12, ward 4, Ikot Obio Ndua, there is no card reader. The presiding officer said they are voting manually.
11: 52 AM: Asiwaju Bola Tinubu exercises his civic responsibility in Lagos state.
11:45 AM – Former President Goodluck Jonathan and his wife and mother, Ayi have already voted at unit 39, Ward 13 at the Otazi Playground, Otuoke in the Ogbia Local Government Area of Bayelsa.
11:42 AM – Impressive voter turnout reported at polling units 021 and 022 at the presidential villa. Accreditation/voting in progress.
11:35 AM – APC National Chairman, Adams Oshiomhole votes, say 2019 election better than 2015 version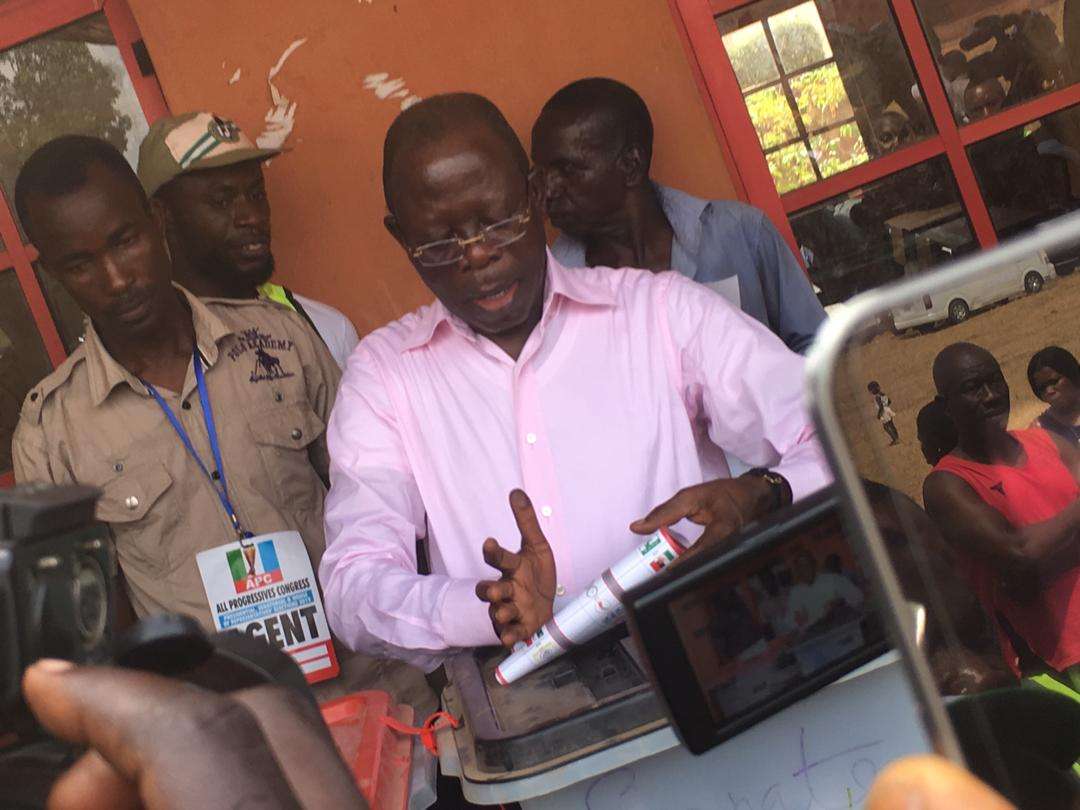 11:30 AM – AAC presidential candidate, Omoyele Sowore casts his vote
11:10 AM – Vice President Yemi Osinbajo and wife, Dolapo arrive polling unit
They have now cast their votes.
---
11:01 AM: INEC Chairman, Prof. Mahmood Yakubu arrives INEC situation room in Abuja, Nigeria's capital.
---
10: 00 AM – Saraki Votes
The Senate President, Bukola Saraki has cast his vote in his polling unit in his home town of Ilorin in Kwara State.
The number three man in the nation cast his vote at polling Unit 005/006 Agbaji Quarters, Ajikobi Ward, Ilorin West LGA, of Ilorin in Kwara state.
---
10:02 AM – Keyamo laments non-arrival of election officials
No INEC official in sight in my polling unit (Ward 1, Unit 20, along Ovie Palace Road), Effurun, Uvwie LGA, Delta State as at 8.56 am. However, INEC's LGA's office is just about 100 meters away. What's going on?

— Festus Keyamo, SAN (@fkeyamo) February 23, 2019
10:00 AM – Protesters, displaying their PVCs and chanting "Buhari must go", initially prevented from moving but a senior army officer intervened and they were allowed to go to their respective polling units.
---
9:58 AM – PDP Candidate Atiku Abubakar votes
The presidential candidate of the Peoples Democratic Party, Atiku Abubakar and his Wife Hajia Titi Abubakar cast their vote at their polling unit in Yola at exactly 10:04 AM
---
9:20 AM – Governor Nasir El-Rufai arrives to cast his vote.
The Kaduna State governor insists on joining the queue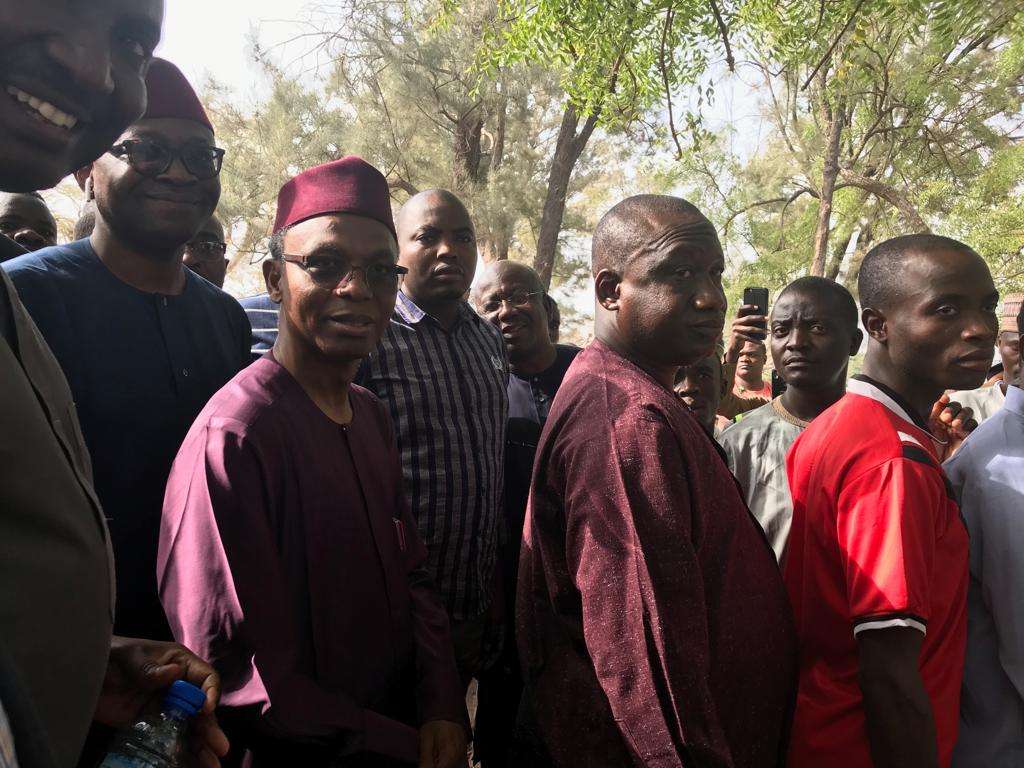 9:15 AM – How to locate your polling unit
8:59 AM – The Vice Presidential candidate of the Peoples Democratic Party (PDP), Peter Obi, casts his vote in his hometown in Aniocha, Anambra state, southern Nigeria.
8:25 AM – Voters Arriving Polling Units In Ekiti State
PU13/01/08/008, ADO 'H' EREGURU WARD, ADO EKITI LGA
Voters checking their names and Corp members arranging the cubicle.
8:10 AM – President Buhari Votes
President Buhari and Aisha arrived at the election stand, where they were accredited at 8:05 am.
Buhari who is seeking a second term in office voted at 8:06 am.
The President inserted the ballot paper into the ballot box at exactly 8:07 am.
---
7:32 AM – INEC support line
You can contact the Independent National Electoral Commision on any of the hotlines below, however, you need to be specific with your location(s) while reporting issues from the field. Please provide the name of; State/LGA/Ward/Polling Unit to enable INEC to track your report(s) and provide solution(s) as soon as possible.
#NigeriaDecides2019
Hotlines: 0700-CALL-INEC (0700-2255-4632)

09050858629, 09050858675, 09050858649 08180958715, 08180958717, 08180958709 09025038466, 07086945927, 08120183063 07062896047, 08105119010, 08146697603

— INEC Nigeria (@inecnigeria) February 23, 2019
7:05 AM – Identify the ballot boxes
It is very important to note that the red ballot boxes would be used for the presidential election, while the black boxes would be used for the senatorial elections, the green ballot boxes would used to cast votes for the house of representatives.
Ballot Boxes ? for 23rd February #NigeriaDecides2019 elections.
Remember, you can vote with any of your fingers??. pic.twitter.com/Fx91Xro6Ns

— INEC Nigeria (@inecnigeria) February 22, 2019
---
7:00 AM – Voting tip
you can use any of your FINGERS to VOTE but don't let the mark cross into another box. INEC: Making your votes count… Consolidating our Democracy.
#NigeriaDecides2019
Remember, you can use any of your FINGERS to VOTE but don't let the mark cross into another box.

INEC: Making your votes count… Consolidating our Democracy. pic.twitter.com/1EEq3ht2gc

— INEC Nigeria (@inecnigeria) February 23, 2019
Source: Naija News