See How Nigerians Reacted To Photo Of Diezani Alison-Madueke Allegedly Seen Trekking In London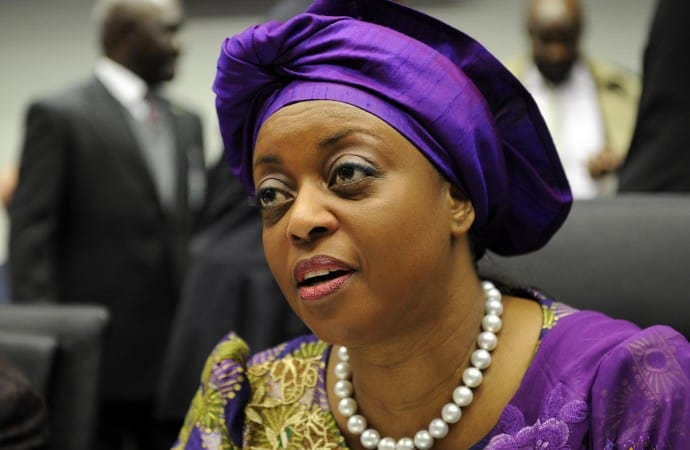 A former Minister Of petroleum, Diezani Alison- Maduekwe reportedly sick from cancer was reportedly seen by a Nigerian man taking a walk in NW, London on Monday, looking incredibly fit.
The man who shared the photo via his Twitter handle @osquare78, said he was going to ask the former minister about 'our yam' but was unable to because traffic was moving.
According to him, Diezani, who Naija News recalls has been declared wanted by a court in Nigeria, was walking leisurely on the road when he spotted her.
However, he said she took to her heels after she observed that he wanted to snap photos of her.
"Guess who I just saw in NW, London? Diezani Alison Madueke," he tweeted. "When she noticed I wanted to snap her, she quickly moved very fast away from me. I was gonna come down to ask her abt our yams, but the traffic was moving."
Funny how these people go to foreign lands and live as ordinary people while they live a protected life in Nigeria. She can never walk the streets of Nigeria like this, never!!!

— MrKarma (@DiplomaticSan) February 11, 2019
Mummy is here jogging but @DeleMomodu wants to tell us she is suffering from cancer abi? She will return that our money by fire by force!

— #ForThePeople (@Oganla44553633) February 11, 2019
It is time we start doubting the integrity of Dele Momodu too. His penchant for promoting thieves is becoming alarming.

— Egbetayo Olushola (@Asiwajuegbetayo) February 11, 2019
Why isn't she in jail? What's Buhari government waiting for before they persecute her? ?‍♂️ It clearly shows that the government of Buhari condole evil.

— ChuChu Billion (@Chubalus16) February 11, 2019
Please where are waiting for Kemi Adeosun's pictures too. And in case Gandollar also show up in London before the end of the year,we need his too. Not to forget Abba kyari and co.

Thanks.

— Damola (@ohyindha) February 11, 2019