Nigerians React As El-Rufai Threatens US, UK And EU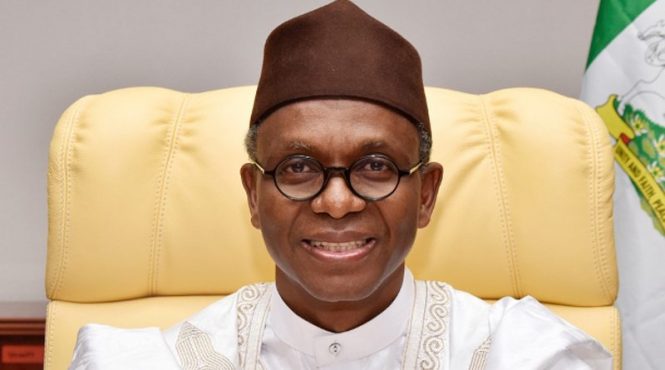 Nigerians have berated Governor Nasir El-Rufai of Kaduna State for saying foreign officials who try to intervene in Nigeria's internal affairs will "go back in body bags".
Naija News reports that the governor's comment was in reaction to the statements issued by the United States, the United Kingdom and European Union on the suspension of Justice Walter Onnoghen as the Chief Justice of Nigeria (CJN).
The US, UK and EU had expressed reservations about the legality of Onnoghen's suspension unilaterally by President Muhammadu Buhari without the input of the National Assembly.
Reacting to the statements, El-Rufai said the foreign countries had no right to lecture Nigerians how to run their country.
This online news platform reports that the Governor made this comment on Tuesday, February 5 when he appeared on NTA.
El-Rufai said, "They (the comments) were based on non-information and they are most irresponsible and I am happy that the Presidency responded to them.
"As Nigerians, we must understand that these guys can sit pretty in their country and say things but when the crisis breaks we are here. We are the victims, our wives and children are the victims, and we must rise up and unite and say that no to violence in this country."
"Those that are calling for everyone to come and intervene in Nigeria, we are waiting for the person that will come and intervene. They will go back in body bags. Because nobody will come to Nigeria and tell us how to run our country. We've got that independence and we are trying to run our country as decently as possible and we know the history of those countries that are trying to teach us these things; we have read their history. We also know that in their stages of development they went through these challenges.
"So, please, let's work together; let's advise one another but don't lecture us," he said.
Apparently displeased with the Governor's threats, Nigerians took to the micro-blogging site, Twitter to lampoon El-Rufai.
Naija News captured some of the reactions below…
As I watch and listen to the final stages of the a Presidential campaigns,APC is sounding and acting increasingly like a desperate group, intent on sowing division and discord, while PDP is trying to heal and unite.Just listen to the latest ravings from Lai and El Rufai. Strange.

— Mustafa Chike-Obi (@ChikeMustafa) February 6, 2019
Now we wait for Dr. Joe Haba! To tell us how El-Rufai's comments are bad but can still be understood properly.
A finely balanced thread from the stable of Dr. Goebbels

— – (@Olumuyiwa__) February 6, 2019
Did Gov. El Rufai threaten to kill election observers? He says any foreign body that comes to intervene in Nigeria's elections will go back in body bags @USEmbassyAbuja @StateDept @CIA @OfficialPDPNig pic.twitter.com/7Q4D0MdQAR

— Jackson Ude (@jacksonpbn) February 6, 2019
Man like @elrufai, the political hitman of Nigeria aka Mr. Bodybag || El-Rufai threatens to kill foreigners who intervene in elections https://t.co/IfjkqH7j1i

— Gimba Kakanda (@gimbakakanda) February 6, 2019
El-Rufai is an extremely dangerous, irresponsible (& possibly deranged) man.

How can you say to people that they'll go back in body bags?

I hope the international community is taking note of El-Rufai's inciting statements.@EUEOMNigeria19 https://t.co/B7Lf6PUJwr

— afrispheric (@afrispheric) February 6, 2019
Nasiru El-Rufai isn't stupid. When he threatened the International Community with the Body Bag line, he was referring to this. He knows his audience, and that kind of rhetoric should be a thing of the past. We should be talking Unity now. #AtikuWillWin because #AtikuMeansUnity pic.twitter.com/DW9QZ3zY06

— Don Oddy Corleone (@Oddy4real) February 6, 2019
Dear Governor Nasir El Rufai @elrufai
Just so you know, nobody has monopoly of violence! You keep waving violence at us as if you alone own it. YOU DON'T!
Body bags we already are used to in APC government!
Zamfara bled yesterday. They have been bleeding. We all have bled!!!!

— Aisha Yesufu (@AishaYesufu) February 6, 2019
I PRAY MY DEAR BROTHER NASIR EL RUFAI WILL WITHDRAWAL THAT UNFORTUNATE THREAT… I'M HIS FAN…
Nigerian Governor, El-Rufai, Threatens murder of Foreign Officials over upcoming elections…https://t.co/YhaWHwFRrX

— Dele Momodu Ovation (@DeleMomodu) February 6, 2019
Governor Nasir El Rufai threatens International community with death if they participate in Nigeria's elections! #NigeriaDecides pic.twitter.com/OOsBZsZQJp

— Superstar Influencer (@LadiSpeaks) February 6, 2019
Really disturbing comments: https://t.co/axUtiDSYdO

— Matthew T. Page (@MatthewTPage) February 6, 2019
I still remember when you were supporting El Rufai for president.

Like you supported GMB.

You have a knack for supporting ethnic bigots and religious extremists. Terrible political choices

No discerning mind should listen to you. EVER AGAIN! https://t.co/SYdKk98FfW

— IKECHUKWU (@iykimo) February 6, 2019
Foreigners who interfere in Nigeria (2019 election) will go back in body bags (As dead bodies).
– El-Rufai#ME: Issokay

— Lere Olayinka – Aresa 1 (@OlayinkaLere) February 6, 2019
We don't have the capacity even if El-Rufai wanted to do anything to these countries. Why are these people so foolish? Same APC invited Nigeriens to participate in Buhari's campaign in Kano. https://t.co/mAs8OkrScR

— Ms Boateng (@JoyceOdukoya) February 6, 2019
Pretending to have not heard El Rufai's violence inciting comment https://t.co/5ZhchorkYz

— Don Oddy Corleone (@Oddy4real) February 6, 2019
Maybe El-rufai thinks the international community is like the Journalist, activist, opposition Politicians he has gagged and imprison In Kaduna illegally.
This dude is scared the international community will expose his plans of rigging election in Kaduna#ElrufaiBodyBags

— Jim Gami Makama (@Jimgami) February 6, 2019
Imagine the gut with El-Rufai threatening the international community. Such a blood thirsty fellow!
You think he is doing that without backups? No one can just threaten the International Community without some strong back ups. Oh! He is Buhari's right hand man pic.twitter.com/JX5OvRDxgi

— Taiwo, Busola (@TaiwoBusola3) February 6, 2019
Y'all deserve El Rufai. I hope he wins elections. He publicly swore to deal with Audu for a tweet, young Nigerians applauded. He buried Shiites, harassed columnists, Nigerian writer-hustlers wrote articles in his defense, oh savior of northern literature. Enjoy your body bags!

— The Writer Formerly Known As Elnathan (@elnathan_john) February 6, 2019
This El-Rufai man is a violent, murderous thug. He is always threatening murder & violence against political opponents. Thank goodness he became a governor, which has afforded us the opportunity to know him. Imagine this man with his homicidal tendencies as Nigeria's president! https://t.co/xjUXAAvRl0

— Farooq Kperogi, Ph.D (@farooqkperogi) February 6, 2019
Download Naija News App. Advertise with us. Send us enquiries and press releases.