Biafra: Buhari Removes Cap To Prove Nnamdi Kanu Wrong On Jubril (Photo)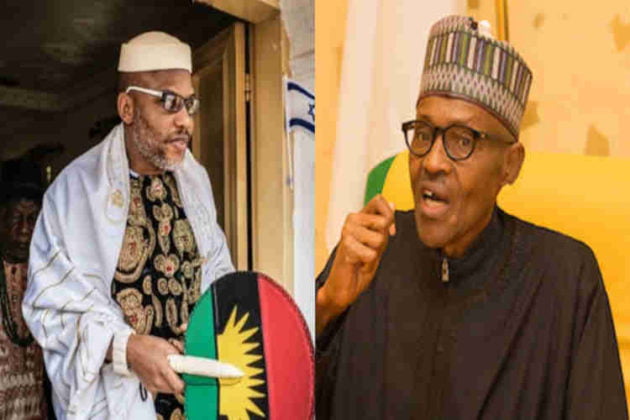 President Muhammadu Buhari has finally quashed Nnamdi Kanu's claims of him being an impostor with the name "Jubril" from Sudan by removing his cap.
Naija News reports that since Kanu, a leader of the Indigenous People of Biafra (IPOB), resurfaced in Israel, he has been alleging that President Buhari is an impostor whose real name is Jubril Al-Sudanni from Sudan, an allegation which the President debunked last year.
This online news platform recalls that Kanu had also alleged that Buhari, who he said was dead and replaced by Jubril, will never remove his cap because he is not bald like the "late" Buhari.
In one of his broadcasts on radio Biafra last year, which was monitored by Naija News, the secessionist leader had said: "I will unmask that thing called Jubril, on live Television with experts."
"I can only forgive the cabals that imported that thing, if only they will return him back to Sudan."
"By the time I finish with them, no Fulani Man will ever be the President of Nigeria. They know it, that is why they want to kill me, but they can't because Chukwuokikeabiama is with me," Kanu had boasted last year.
Speaking further, the IPOB leader said: "That thing in Aso Rock from Sudan is not bald, like the real Buhari. If you think I'm lying, ask that thing in Aso Rock, to remove his cap for air to penetrate his head, people will run away.
"Experts from America are coming, to join me in this very exposure of that thing called Jubril," had added.
However, during the launch of Nigeria's new e-passport held recently in Abuja, Nigeria's capital, President Buhari removed his cap to take his passport photo, thereby putting to rest Kanu's allegation that he (Jubril) is not bald like the "late" Buhari.
Check out the photo below…