#2019: Only God Can Control Imo Elections – Araraume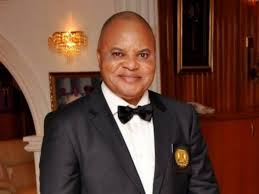 Senator Ifeanyi Araraume, contesting for Imo state governorship under the platform of the All Progressives Grand Alliance, APGA, has today said he has handed over the election of Imo state, to God.
This, Araraume said in Owerri, while affirming that the election cannot be manipulated by anybody.
He said "We have come to thank God for all that we have passed through. We went through all the processes and we have emerged candidate of APGA, for the purpose of governorship. We came to the church to handover to God the rest of the journey.
"God you have done well the rest of this journey we have handed over to you. For us reconciliation is ongoing and we have reconciled many of our members. It is normal in any contest one person will emerge.
"It is normal that in every contest one person will emerge and others will be aggrieved. The most important thing is that the process was transparent. There are one or two persons who had gone to the other parties we also wish them well.
Araraume went further to say: "Each time I have opportunity to talk to members of my party I am excited because they are committed.
"The journey so far is not easy. It is the grace of God that brought us to this way. It is when we hand over to God the rest of the journey that you will be happy. Some people have perfected plan for APGA, not to have their candidate.
"During the primaries, some lied to the National Chairman that the deadline for the primaries has been shifted but they did not succeed at last. God prevailed. We have to hand over this journey to God. At the end of the day God will touch the minds of Imolites to vote for APGA.
"The three major political parties have elected their candidates, God knows that Imo people have been tortured. They have been in pains. In Imo state, the quality of education is inferior compared to the quality of education other children in other states receive.
"We are in a situation the level of infrastructure in Imo state, has gone down. We are in a state where our traditional institutions have been destroyed. They make them feel inferior. The only way to end this is to enthrone good governance."
The APGA guber candidate said: "Our vote must be casted. Our votes must be counted. Nobody will write the election results. Nobody can rig Imo election. The era of somebody writing election results has gone.
"There is a reason why we ask people to vote APGA, look at Anambra, it stands out among the five southeast states. But Imo state has more resources than Anambra state. What is the problem ? That is the question many keep asking. The answer is that we must enthrone good governance in the state.
"Go home and pray that as we journey into this election, we will not encounter wicked people. Your contribution must not be money. There are places you need prayer that money cannot achieve."
Source: Naija News