Top Nigerian Newspaper Headlines For Today, Friday, 9th November 2018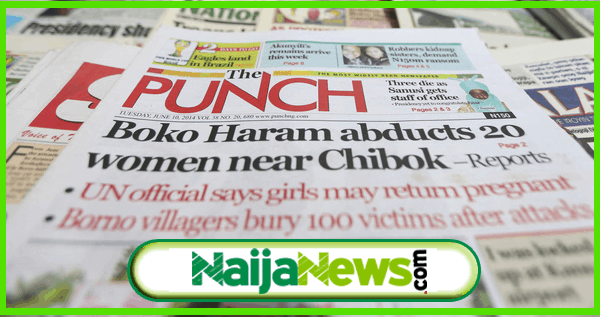 1. President Buhari declares no figure has been announced as new minimum wage
President Muhammadu Buhari has declared that the federal government has not endorsed N30,000 as new minimum wage has widely reported in certain quarters.
He however stated his commitment to having a new minimum wage regime in no distant future.
2. Reps want Buhari to sack NEMA DG, Mustapha Maihaja
The House of Representatives on Thursday, urged President Muhammadu Buhari, to sack the Managing Director of National Emergency Management Agency (NEMA), Mr Mustapha Maihaja over alleged mismanagement of resources.
This followed the adoption of a report of the House Committee on Emergency and Disaster Preparedness at plenary.
3. Contractor ready to testify before panel in Ganduje bribery scandal
The contractor behind the videos showing Abdullahi Ganduje, Kano state governor, as he allegedly received bribes, says he is ready to testify before the state assembly panel investigating the matter.
In a letter sent to the chairman of the investigative panel, the contractor said his allegation against Ganduje is strictly personal and that he would appreciate if the governor also appears in person at the panel.
4. Buhari declares state of emergency in water and sanitation sector
President Muhammadu Buhari, has on Thursday declared a state of emergency on Water, Sanitation and Hygienic sector, (WASH), explaining that the nation has been ranked number two in open defecation globally.
The President said this during the inauguration of the National Action Plan for Revitalization of Water Supply, Sanitation and Hygiene (WASH) Sector at State House Conference Centre.
5. DSS arrests suspected IS bomb expert
The Department of State Service has apprehended Abbas Abubakar, an alleged expert producing Improvised Explosive Devices for terrorist group, Islamic State in the Toungo Local Government Area of Adamawa State.
Abubakar, also known as Sombo is believed to an IED expert for the Islamic State and investigations were ongoing to fish out his accomplices.
6. FG spends N3.5million feeding El-Zakzaky every month
Lai Mohammed, minister of information has said about N3.5 million is spent every month to feed Ibrahim El-Zakzaky, leader of the Islamic Movement in Nigeria (IMN).
Since December 2015, El-Zakzaky has been denied freedom and has remained in the custody of the Department of State Services (DSS) despite the bail granted to him by a federal high court.
7. 3 die in Lagos boat accident, 5 missing, 12 rescued
Three persons have been confirmed dead as a boat carrying 20 passengers capsized between Liverpool and Coconut Under Bridge in Lagos.
Mr Adesina Tiamiyu, the General Manager, Lagos State Emergency Management Agency (LASEMA), said that the incident happened on Wednesday at about 8:20p.m.
8. We have done a lot to push Boko Haram out of Nigeria – Buhari
President Muhammadu Buhari has stated that Nigeria, under the leadership of his administration has done a lot to push Boko Haram terrorists out of the country.
He revealed that despite the success already recorded, his government remains committed to fully dislodging the remaining Boko Haram fighters from their hide outs.
9. INEC raises concerns over non-Nigerians with PVCs
The Independent National Electoral commission has expressed worries over foreigners who are registering and obtaining permanent voters card.
A Deputy Comptroller of Immigration, Owoeye Rufus, said 2,000 PVCs had been seized from expatriates, explaining ed that because most of them bore similarities with Nigerians, the electoral officers might not be able to identify them.
10. Court orders federal government and labour to submit negotiations by January 30
The court has ordered, both the Federal Government and the organised labour to submit a report of their negotiations on the disputes over the new minimum wage by January 30, 2019.
The national industrial court adjourned till January 30, 2019 for the parties to report to the court on whether or not they had settled amicably or would still be interested in going on with the case.
Read more Nigerian news here on naijanews.com
Download Naija News App. Advertise with us. Send us enquiries and press releases.