Top Nigerian Newspaper Headlines For Today, Friday, 9th November 2018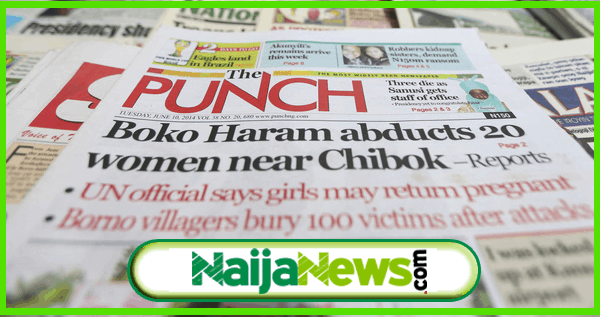 1. President Buhari declares no figure has been announced as new minimum wage
President Muhammadu Buhari has declared that the federal government has not endorsed N30,000 as new minimum wage has widely reported in certain quarters.
He however stated his commitment to having a new minimum wage regime in no distant future.
2. Reps want Buhari to sack NEMA DG, Mustapha Maihaja
The House of Representatives on Thursday, urged President Muhammadu Buhari, to sack the Managing Director of National Emergency Management Agency (NEMA), Mr Mustapha Maihaja over alleged mismanagement of resources.
This followed the adoption of a report of the House Committee on Emergency and Disaster Preparedness at plenary.
3. Contractor ready to testify before panel in Ganduje bribery scandal
The contractor behind the videos showing Abdullahi Ganduje, Kano state governor, as he allegedly received bribes, says he is ready to testify before the state assembly panel investigating the matter.
In a letter sent to the chairman of the investigative panel, the contractor said his allegation against Ganduje is strictly personal and that he would appreciate if the governor also appears in person at the panel.
4. Buhari declares state of emergency in water and sanitation sector
President Muhammadu Buhari, has on Thursday declared a state of emergency on Water, Sanitation and Hygienic sector, (WASH), explaining that the nation has been ranked number two in open defecation globally.
The President said this during the inauguration of the National Action Plan for Revitalization of Water Supply, Sanitation and Hygiene (WASH) Sector at State House Conference Centre.
5. DSS arrests suspected IS bomb expert
The Department of State Service has apprehended Abbas Abubakar, an alleged expert producing Improvised Explosive Devices for terrorist group, Islamic State in the Toungo Local Government Area of Adamawa State.
Abubakar, also known as Sombo is believed to an IED expert for the Islamic State and investigations were ongoing to fish out his accomplices.
6. FG spends N3.5million feeding El-Zakzaky every month
Lai Mohammed, minister of information has said about N3.5 million is spent every month to feed Ibrahim El-Zakzaky, leader of the Islamic Movement in Nigeria (IMN).
Since December 2015, El-Zakzaky has been denied freedom and has remained in the custody of the Department of State Services (DSS) despite the bail granted to him by a federal high court.
7. 3 die in Lagos boat accident, 5 missing, 12 rescued
Three persons have been confirmed dead as a boat carrying 20 passengers capsized between Liverpool and Coconut Under Bridge in Lagos.
Mr Adesina Tiamiyu, the General Manager, Lagos State Emergency Management Agency (LASEMA), said that the incident happened on Wednesday at about 8:20p.m.
8. We have done a lot to push Boko Haram out of Nigeria – Buhari
President Muhammadu Buhari has stated that Nigeria, under the leadership of his administration has done a lot to push Boko Haram terrorists out of the country.
He revealed that despite the success already recorded, his government remains committed to fully dislodging the remaining Boko Haram fighters from their hide outs.
9. INEC raises concerns over non-Nigerians with PVCs
The Independent National Electoral commission has expressed worries over foreigners who are registering and obtaining permanent voters card.
A Deputy Comptroller of Immigration, Owoeye Rufus, said 2,000 PVCs had been seized from expatriates, explaining ed that because most of them bore similarities with Nigerians, the electoral officers might not be able to identify them.
10. Court orders federal government and labour to submit negotiations by January 30
The court has ordered, both the Federal Government and the organised labour to submit a report of their negotiations on the disputes over the new minimum wage by January 30, 2019.
The national industrial court adjourned till January 30, 2019 for the parties to report to the court on whether or not they had settled amicably or would still be interested in going on with the case.
Read more Nigerian news here on naijanews.com
Copyright Naija News 2018.
All rights reserved. You may only share Naija News content using our sharing buttons. Send all news and press releases to
[email protected]
.
Top Nigerian Newspaper Headlines For Today, Friday, 16th November 2018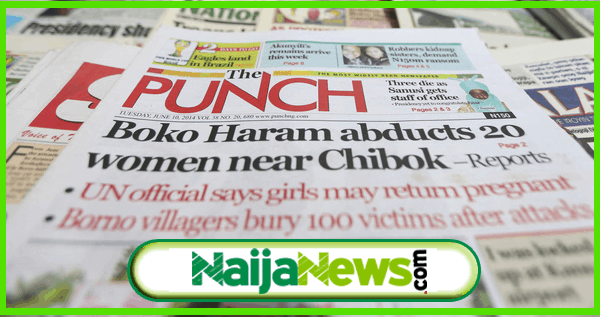 1. NLC condemns threat by governors to sack workers over new minimum wage
The Nigerian Labour Congress (NLC) has dismissed the threat by the Nigerian Governors Forum (NGF) that states may have to sack workers if forced to pay N30,000 as minimum wage.
The union said the threat is not new and that workers are standing firm on the figure agreed by the tripartite negotiation team as the new national minimum wage.
2. Oshiomhole threatens to sue Saraki over corruption allegation
The National Chairman of the All Progressive Congress (APC) Adams Oshiomhole has vowed to drag the Senate President, Dr. Bukola Saraki to court over unwarranted accusation and call for his resignation.
The APC National Chairman, Oshiomhole described Saraki's attack as pathetic and an irresponsible resort to petty politics.
3. Court re-affirms Tonye Cole as Rivers APC Governorship candidate
The suit filed by Senator Magnus Abe, seeking to be declared the flagbearer of the All Progressive Congress (APC) before a Federal High Court sitting in Port Harcourt, Rivers State, have been turned down.
Dr. Chidi Llyod, the Director-General of Tonye Cole Campaign Organization, on Thursday, made the details of the court ruling available to newsmen in Port Harcourt.
4. Ganduje slams N3b naira suit against Daily Nigerian over video bribery allegation
Kano State Governor, Abdullahi Ganduje has filed a N3 billion suit in a Federal High Court against an online news platform, Daily Nigerian, and its publisher, Ja'afar Ja'afar, for defamation of character, slander, libel over publications and releases of video clips alleging that the plaintiff was involved in bribery.
Recall that Daily Nigerian, an online news platform last month, published a story, accompanied with video clips, alleging that Governor Ganduje collected $5 million kick-back from contractors.
5. Mimiko drops 2019 presidential bid, launches senatorial bid
Dr. Olusegun Mimiko, the presidential candidate of the Zenith Labour Party, and former governor of Ondo State, has shoved his presidential ambition.
Following his withdrawal from the presidential race, he would be participating in the senatorial election for Ondo Central Senatorial District of Ondo State.
6. We will go bankrupt if we pay minimum wage – Governors
Lagos and Rivers state are the only states that can afford to pay the N30,000 minimum wage as recommended by the new minimum wage committee.
This was stated by the Nigerian Governors' Forum (NGF) at an emergency meeting on Wednesday with the governors further explaining that states may go bankrupt with ned minimum wage.
7. Atiku slams Buhari over inability of NBS to publish unemployment results.
Former Vice President and Peoples Democratic Party presidential candidate for 2019, Atiku Abubakar has said Nigerians deserve to know the truth about unemployment figures in Nigeria.
This comes in reaction to a statement by the Statistician General of the Federation, Mr. Yemi Kale, who explained to Nigerians why the National Bureau of Statistics has not been able to publish unemployment reports in the country.
8. ICPC to prosecute Oshiomhole over corruption allegations
The Independent Corrupt Practices and Other-Related Offences Commission, ICPC has promised to look into the allegation brought before it against the National Chairman of the All Progressive Congress, Adams Oshiomhole during the recently concluded primaries of the ruling party.
Rasheedat Okoduwa, the spokesperson of the agency made this revelation during a protest by some members of the APC under the aegis of Coalition for New Nigeria.
9. My husband has never stolen Nigeria's money – Titi Atiku
Wife of the Peoples Democratic Party's presidential candidate, Mrs. Titi Abubakar has joined to criticize the search of her husband by security agents.
She questioned why her husband was being accused of corruption or being a thief without any substantial evidence against him, noting her husband has never stolen the nation's money.
10. EFCC impounds over 20 houses from Diezaini, Fayose, Others
The Economic and Financial Crimes Commission (EFCC) has seized properties of former governors, ex-ministers, top military officers and businessmen.
According to Ibrahim Magu, EFCC chairman, not less than 407 mansions were seized by the agency from 2015 to 2018, while adding the the forfeited assets have been handed over to the federal government for use by ministries, departments and agencies.
Top Nigerian Newspaper Headlines For Today, Thursday, 15th November 2018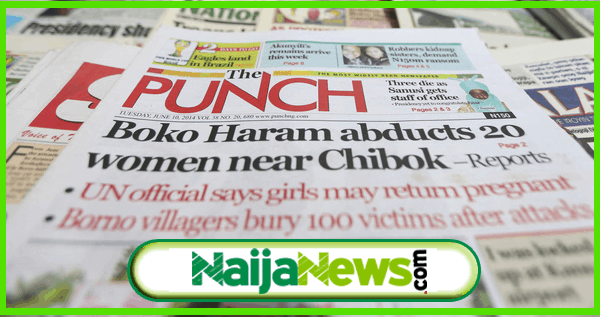 1. Senate president, Bukola Saraki calls for Oshiomhole's resignation
The Senate President, Dr. Bukola Saraki, has called for the resignation of the All Progressives Congress, National Chairman, Adams Oshiomhole from politics.
Saraki, reacted to the allegations of the APC National Chairman collecting bribes in dollars, he added that there is no moral justification for him to continue to remain in politics.
2. Nigerian Navy commences operation chase thief in Niger Delta
The Flag Officer Commanding Eastern Naval Command, Rear Admiral David Adeniran has announced that the Eastern Naval Command will commence EXERCISE ANI-OFORIFORI meaning Chase Thief in Kalabari language.
The Exercise will hold at the Eastern Flank of Nigeria's Maritime Environment from 15 – 22 November 2018.
3. Igbo leaders endorse Atiku/Obi ticket for 2019 presidency
Alhaji Atiku Abubakar, the Presidential candidate of the people's Democratic Party have received the full backing of Igbo leaders, on Wednesday.
Southeast elders, comprising political, traditional and religious leaders as well as women groups, took the decision in Enugu to endorse the candidature of Atiku Abubakar and Peter Obi as President and Vice President ahead of the 2019 elections.
 4. NECO shifts commencement dates for Nov/Dec exams
The National Examinations Council (NECO) has announced that its November/December 2018 Senior Secondary Certificate Examination (SSCE) earlier scheduled to commence on November 15th, has been shifted to November 19th.
This was contained in a statement signed by the Acting Registrar, Mr Abubakar Gana and made available to newsmen in Abuja.
5. Ahmed Aliyu resigns as deputy governor of Sokoto state
The deputy Governor of Sokoto state, Alhaji Ahmed Aliyu Sokoto has resigned his appointment.
Ahmed who is the governorship candidate of the All Progressives Congress (APC) for the 2019 Sokoto governorship election tendered his resignation letter to the state House of Assembly on Tuesday, November 13, 2018, but the letter was read on the floor of the house on Wednesday.
6. Governors hold emergency meeting over new minimum wage
The 36 state governors in Nigeria, operating under the auspices of the Nigeria Governors Forum on Wednesday evening, held an emergency meeting over the new minimum wage.
The meeting, where the issue of the minimum wage was discussed, held in Abuja, the nation's capital.
7. Court orders Abaribe, 2 other sureties to forfeit N100m Nnamdi Kanu bail bond each
Justice Binta Nyako, of the federal high court sitting in Abuja has ordered Sen. Eyinnaya Abaribe and two others who stood sureties for the leader of proscribed IPOB , Nnamdi Kanu to temporarily forfeit their N100m bail bond each.
She ordered that the bail bond of N100 million should be converted to cash and paid into the court's account.
8. Senate to investigate FG's plans to reduce MTN's $8.1b fine
The Senate says it would demand explanation on why the federal government wants to reduce the $8.1 billion fine imposed on communication giant, MTN, to $800 million.
The Central Bank of Nigeria, accused MTN, in August, of illegally repatriating $8.1 billion from the country.
9. Labour gives FG December deadline to implement new minimum wage
The federal government has been given a December 2018 deadline for the implementation of the N30,000 new national minimum wage for Nigerian workers.
The President of Trade Union Congress (TUC), Bobboi Bala Kaigama and the Secretary General of the Association of Senior Civil Servant of Nigeria (ASCSN), Bashir Alade Lawal, gave the warning at the National Executive Council (NEC) meeting in Abuja yesterday.
10. ICPC to prosecute APC national leader, Adams Oshiomhole
The Independent Corrupt Practices and Other-Related Offences Commission, ICPC has promised to look into the allegation brought before it against the National Chairman of the All Progressive Congress, Adams Oshiomhole during the recently concluded primaries of the ruling party.
Rasheedat Okoduwa, the spokesperson of the agency made this revelation during a protest by some members of the APC under the aegis of Coalition for New Nigeria.
Top Nigerian Newspaper Headlines For Today, Wednesday, 14th November 2018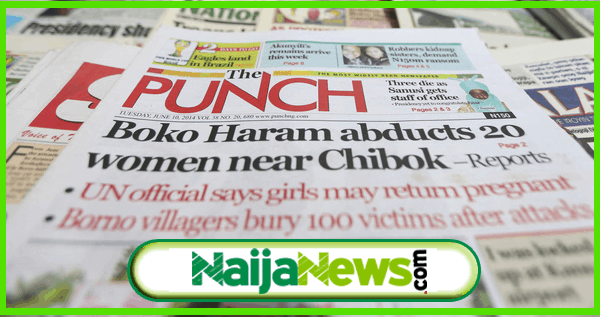 1. President Buhari breaks silence on Ganduje bribery video
President Muhammadu Buhari broke silence on the bribe-taking videos of Kano State governor, Abdullahi Ganduje.
He said the security agencies were vetting the video and that action would be taken on the matter soon.
2. Dasuki to boycott trial over FG's disobedience of court order
The former National Security Adviser Col. Sambo Dasuki (rtd) has berated the Federal Government over his continued detention and disobedience to various court orders that admitted him on bails.
Dasuki in a strongly worded letter he personally signed and addressed to the Registrar of the Federal High Court Abuja vowed to boycott any proceeding for his trial since the federal government has proved beyond reasonable doubt that it would not obey any order of the court even if it is in his favour.
3. Over 2,000 PVCs stolen from INEC office in Akwa-Ibom state
The Independent National Electoral Commission (INEC) said 2,045 Permanent Voter Cards (PVCs) had been stolen from its office in Akwa Ibom.
INEC's National Commissioner in charge of Akwa Ibom, Delta and Cross River, Dr Mohammed Lecky, made this known at a news briefing in Uyo on Tuesday.
4. BMO accuses Atiku of using Senate against Buhari
The Buhari Media Organisation (BMO) has accused the leadership of the Senate of acting a script by the Peoples Democratic Party (PDP) Presidential candidate, Atiku Abubakar, on the Social Investment Programme (SIP) of the President Muhammadu Buhari administration.
BMO, in a statement by its Chairman, Niyi Akinsiju and Secretary, Cassidy Madueke, claimed that the probe ordered by the senate is an attempt to cast aspersion on the social welfare scheme through unwarranted accusations.
5. Lagos state lifts ban on use of hijab by secondary school students
The Lagos State government has made U-turn on the prohibition of the use of the hijab on uniforms in schools.
Tutor General/Permanent Secretary, in a circular signed by A.O Olukoya, entitled "Re-The Use of Hijab in Lagos State Public Schools," eased the ban on the use of hijab in schools in the state.
6. Senate adjourns sitting for one week
The Nigerian Senate was on Tuesday, forced to adjourn plenary for a week as the lawmakers present were unable to form a quorum.
The Senate needs a minimum of 38 senators to conduct plenary but only 20 members were seated as at the commencement of plenary on Tuesday.
7. President Buhari gives condition for restructuring Nigeria
President Muhammadu Buhari has given conditions under which he could consider the so much talked about 'restructuring'.
The president gave the conditions during an interactive session with Nigerians based in France, saying there should be proper definition of what Nigerians want before the government can delve into restructuring.
8. Anambra state house of assembly speaker impeached
The Speaker of Anambra State house of Assembly, Rt Hon Rita Maduagwu has been impeached.
Maduagwu was impeached by 22 out of 30 members of the state assembly following a motion moved by a member of the House, Hon Ikemba Uzoezie and seconded by Hon Onyebuchi Offor.
9. Kano assembly bows to pressure, suspends investigations on Ganduje bribery video
All investigations into allegations that Abdullahi Ganduje, governor of the state, collected bribe from contractors has been suspended by the Kano state house of assembly
The is following a court order, after a group known as Lawyers For Sustainable Democracy in Nigeria, had asked the court to compel the assembly to stop probing.
10. Army arrests 19 year old female suicide bomber
Troops of 251 Task Force Battalion Maiduguri arrested a female suicide bomber who attempted to infiltrate Maiduguri to detonate her suicide vest and inflict maximum casualty on innocent Nigerians.
Upon interrogation,she said her name is Shaidatu Adamu,19 years old from Gwoza in Borno State. She was sent on a lone mission.