Osinbajo Assesses Flooded Communities In Bayelsa, Visits Flood Victims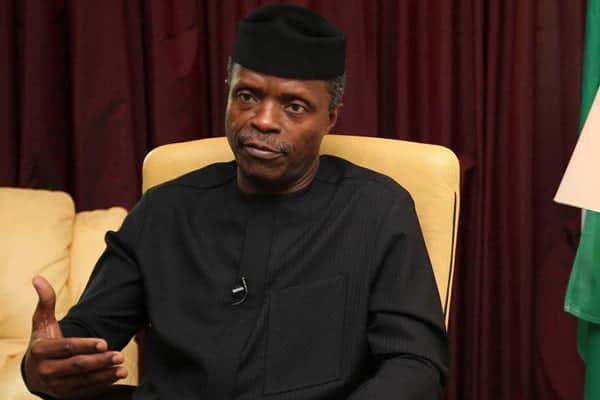 Vice President Yemi Osinbajo has expressed dismay over the severity of the flood that ravaged Bayelsa Communities, described it as a "monumental disaster."
Osinbajo, who said that the reason for his visit was to assess the extent of damage caused by the flood, was at the Internally Displaced People's (IDP) camp, Igbogene.
He added that he had seen the level of damage the flood had wracked on communities in Rivers and Bayelsa States, during his over-fly on a helicopter from the Port Harcourt International Airport
The VP specially applauded the efforts of the National Emergency Management Agency (NEMA) and its state counterpart, (SEMA) to ease the suffering of the people affected.
He said his visit along with with the Director-General of NEMA and the Minister of Environment was to demonstrate the seriousness the federal government attached to the welfare of flood victims.
Osinbajo, who assured that the federal government was doing all it can to ease the suffering of those affected by the flood, said that i will return to Abuja to come up with viable solution to their problems.
He also assured that the government will do all it can to take good care of the babies born in the camps.
He urged the people to avoid dumping solid wastes into water channels to avoid flooding.
Also speaking, Gov. Seriake Dickson, described Bayelsa as the most impacted state across the federation, saying the state is situated below sea level.
"You saw personally the extent of the devastation. This is the state mostly affected whenever there is flooding. This state is below sea level," he said.
According to him, apart from the 13 IDP camps already set up, additional three would be established to contain the increasing number of people displaced by flood.
He expressed readiness of the state government to collaborate with the federal government for long term solution to the problem of flooding in the state.
The governor admonished the vice president to see that the supplied need to help the displace persons are adequate.
Source: Naija News