Flood: NEMA Places Disaster Response Units On Red Alert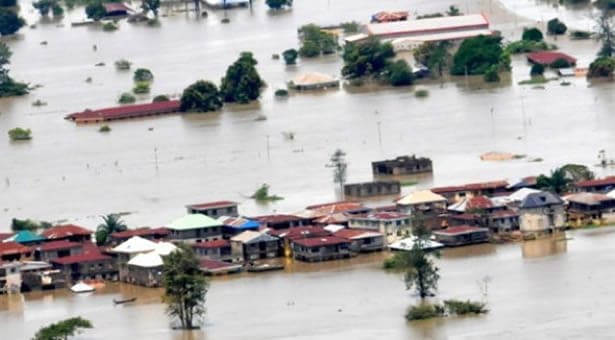 National Emergency Management Agency (NEMA)'s Director General, Mr Mustapha Maihaja, has directed all Disaster Response Units across the country to be ready to respond to emergency due to rise in water level.
Air Commodore Akugbe Iyamu, the agency's director of Search and Rescue who represented the DG, announced this on Friday in Ilorin when NEMA team visited the Commanding Officer, 222 Battalion Rece, Major Emmanuel Okoye, at the Sobi Military Cantonment.
Iyamu stated that the constant rainfall in the country has cause the water level in the country to rise.
"As at yesterday (Thursday) the water level was 10.84 at the confluence in Lokoja, this is approaching the level experienced in 2012 which was about 12.
"Putting that into focus and looking at that in perspective, that is why we are building a response team to adequately address it.
"The DG has put all the response agencies on red alert to be mainstreamed if the situation gets to catastrophic disaster," Iyamu added.
According to him, 12 frontline states have been identified by the agency as flood prone states, adding that the flooding could occur in the state at anytime.
"The DG has formed six teams to go round these frontline states to ascertain the preparedness of the Response Agencies there and to ensure that those that are vulnerable and threatened by flood are evacuated to safe areas," he said.
According to the Director, NEMA team is in Ilorin to assess the preparedness of the Army Disaster Response Unit, in case of disaster in Kwara, Kogi and Niger.
Iyamu described the military as a key player in disaster management in the country, hence the visit to the 222 Battalion.
Iyamu, however, advised the people of Kwara not to exercise any fear in case of any disaster, especially flood as the Agency was up to the task.
"You in Kwara have nothing to fear; we are ready; we are prepared to deploy our team whenever disaster occurs," he said.
Vice Admiral Dolapo Kolawole, the Director of Search and Rescue at the Defence headquarters, outlined the important of the military in emergency and disaster response.
Kolawole said he was in the NEMA team to Kwara to assess the response team at the 222 Battalion.
Earlier, the Commanding Officer, 222 Battalion, Major Okoye, highlighted the disaster situation in Kwara and the area most prone to flood.
He said over 2,000 hectares of farmland were destroyed by flood in Patigi, Lafiaji and Shonga, particularly on the bank River Niger.
The team also visited the 333 Medium Airlift Group (MAG), Nigerian Air Force, Ilorin, where the Commander, Group Capt Patrick Obeya, presented the readiness of the Response Unit to any disaster or emergency.
Download NAIJA NEWS app: