No Debt Crisis In Africa – Akinwunmi Adesina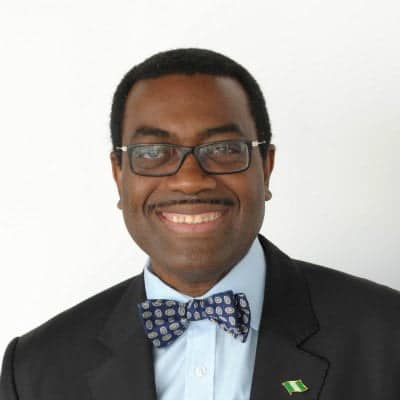 Dr. Akinwumi Adesina, President of the African Development Bank (AfDB), has refuted claims that China is heaping Africa with debt, while also discrediting the claims that African country are in debt crisis.
He made this assertion on the sideline of China-Africa Cooperation (FOCAC) Beijing Summit.
Western Nation had earlier warned African nations to be wiry of China's loan, while also accusing china of hoodwinking poor African nations into debt overload.
Adesina told the press after a discussion at the High-level Dialogue Between Chinese and African Leaders and Business Representatives, which was closed Tuesday as part of the FOCAC Beijing Summit that Africa do not have debt worries.
"African countries are desperate for infrastructure. The population is rising, urbanization is there, and fiscal space is very small," the AfDB president said.
"They are taking on a lot more debt, but in the right way."
He stated that the ratio is markedly lower than 100 per cent or 150 per cent of many higher-income countries and over 50 per cent of emerging economies.
Africa saw an overall debt-to-GDP ratio of 37 per cent last year, which, albeit up from 22 per cent in 2010, is within the reasonable range for low-income countries, Adesina said.
China is saddling poor nations with unsustainable debt, Ray Washburne, head of the U.S. Overseas Private Investment Corporation (OPIC) alleged recently.
According to him, the large-scale infrastructure projects run by the Chinese are not economically viable.
Sri Lanka formally handed over commercial activities in its main southern port in the town of Hambantota to a Chinese company in December as part of a plan to convert $6 billion of loans that Sri Lanka owes China into equity.
Meanwhile, African observers say that Chinese investments in Africa will not add any debt burden to the continent. In the long run, they will ease it.
China's ministry of commerce explained that that mounting debt was already commonplace before incursion of China into the continent.
Chinese Commerce Vice Minister Qian Keming looked to parry concerns over Chinese projects in Africa in a news conference (link in Chinese), arguing that debt issues in Africa long preceded the rise of Chinese investment there, and that challenges facing African economies were global in nature.
"The world economy has been in a difficult recovery, global trade and investment have been sluggish, and commodity prices have fluctuated at a low level," he said.
Chinese President Xi Jinping had also been emphatic as he warned firms that the funds provided by the country are not for "vanity projects" in Africa but are to build infrastructure that can remove development bottlenecks.
"China does not interfere in Africa's internal affairs and does not impose its own will on Africa.
"What we value is the sharing of development experience and the support we can offer to Africa's national rejuvenation and prosperity," Xi said.
"China's cooperation with Africa is clearly targeted at the major bottlenecks to development. Resources for our cooperation are not to be spent on any vanity projects but in places where they count the most," he said.
Download Naija News App. Advertise with us. Send us enquiries and press releases.