Apologize To Us – MASSOB Tell Okorocha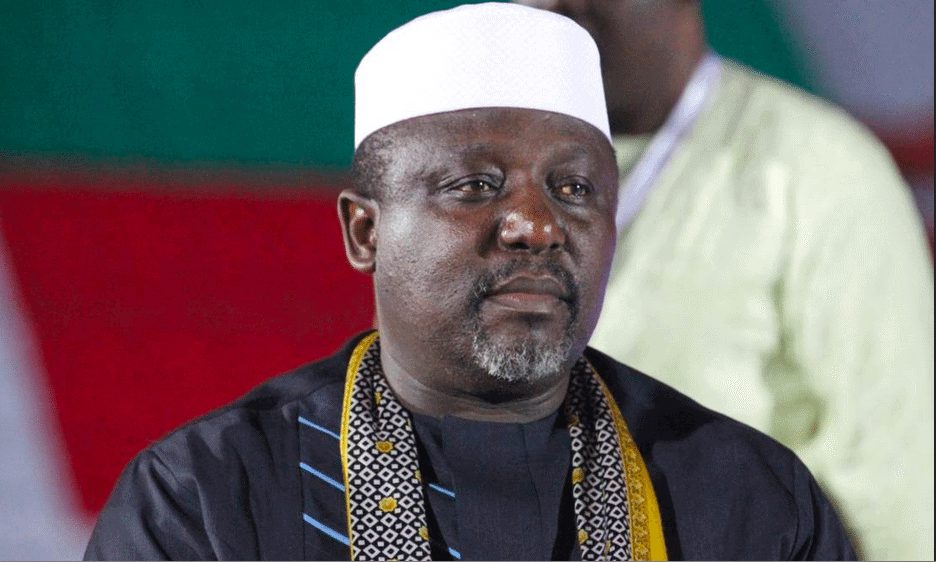 Imo state governor, Rochas Okorocha, has today been called on by the Movement for the Actualization of the Sovereign State of Biafra, MASSOB, to apologize to Ndigbo for the arrest and alleged beating of Pro-Biafra women in the state.
In a statement to Newsmen in Owerri, by MASSOB leader, Uchenna Madu, also viewed the planned operation python dance 3, as aimed at putting fears in Igboland ahead of 2019 elections.
Over 2000 Pro Biafra women who were on a peaceful protest, were tear gassed by the police, an incident where some of them were said to have been injured.
In the statement by Madu, on the arrest of Pro-Biafra women in Imo state, during their peaceful protest, "MASSOB condemned in its entirety, the clampdown, mesmerization, torture and arrest of Biafra women agitators that protested in Owerri against the continued subjection of Biafra self-determination agitation by Nigeria APC led federal government.
"We can't continue to fold our hands and watch our enemies mesmerizing our ancestral cultures and traditions. It is a taboo in Igbo land to beat or assault elderly women in public. Imo state government under Rochas Okorocha has allowed and committed a sacrilegious abomination against Ala Igbo and our ancestors.
"MASSOB demands that all the women must be released now with official apology statements from Imo state government. Secondly, Imo state government must institute a traditional cleansing of Imo land or major calamitous occurrences will befall Governor Rochas Okorocha led Imo state."
It went further to disagree with the Federal government on the controversial Operation python dance 3, in the Southeast zone.
He said: "The Movement for the Actualization of the Sovereign state of Biafra (MASSOB) condemned in totality the recent declaration of Nigerian Army on operation Python Dance 3 in Biafra land describing it as another dimension of war prosecution by Buhari led Administration against Ndigbo, it also amount to political declaration of state of emergency in South East States.
"Army headquarters with their ulterior negative motives started this annihilating operation in Biafra land since Nov 27, 2016 without any public enlightenment and orientation in other to maim the people of Biafra.
"Though their main primary target and reasons of these operations is to silence and mesmerise the activities of pro Biafra Agitators whose non violence activism and international diplomatic sympathies have cause jittery and diplomatic cracks on Federal government."
The group was of the feelings that, "MASSOB also learnt that other frustrations of the Federal government led Army against the people of Biafra is gross jealousy of our technological and economic achievements despite all systematic and calculated subjections against Ndigbo."
"The military's planned third annihilation Python dancing is against the people of Biafra mostly the Igbos during this coming Christmas period through intensive pressurised monetary extortion, harassment/ intimidations, mesmerization and secret / extra judicial killings of Ndigbo because of current Biafranization of Igboland and Ndigbo.
"They know that this Igbo festive season and subsequent Christmas season are period of Igbo gathering with much concentration in Igboland, so to the military, it's a fertile land and opportunity for creating fears/ tensions among our people which they thought will derail the love, confidence and consciousness of Biafra.
"MASSOB described this is an extension of Buhari led administration forceful islamisation of Igboland through military fears and religious intimidation.
"This operation is also designed to demoralize the people of Biafra from returning home for Igbo festivities and Christmas celebration. The military operation is beyond Igbo leaders including the Governors and National Assembly members.
"MASSOB and the people of Biafra will never be intimidated, grow cold or loose focus on Biafra actualization and restoration. We encourage the military to continue their Python dancing until all their nakedness get completely exposed before the international communities.
"MASSOB advice the people of Biafra not to panic or entertain fears because of another Python dancing of Nigeria military in Biafra land. No amount of Nigeria military intimidations, Python dancing and militarisation of Biafra land will ever extinguish Biafra spirit among our people."