Offa Robbery: Saraki Is Still Under Investigation – IGP, Malami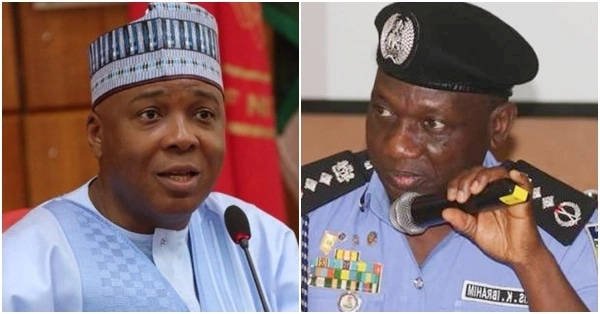 Offa Bank Robbery Is Still Under Investigation
The attorney-general of the federation, Abubakar Malami, and IGP Ibrahim Idris, have maintained that Senate President Bukola Saraki has not been cleared of his alleged involvement in the bloody Offa bank robbery.
Malami and Idris, made the submission in reaction to widespread insinuations that the interim report of the director of public prosecution (DPP) exonerated Saraki of any role in the robbery incident.
They spoke on Thursday in their separate counter affidavits in response to a fundamental rights enforcement suit filed by some persons on behalf of Saraki before an FCT high court on Jabi, The Nation reports.
Naija News recalls the police had accused Saraki and Abdulfatai Ahmed, governor of Kwara of links with some of the arrested suspects who according to them, claimed that Saraki provided them with some of the arms used for the operation.
The two leaders have however since denied the allegations brought against them.
Malami and Idris, speaking through their separate lawyers, maintained that investigation is till ongoing on the matter, hence no one can be declared innocent yet.
They also stated that their investigation is not targeted at harassing or blackmailing anybody as been claimed in certain quarters.
The AGF in particular said "The interim investigation report is not a conclusive investigation and does not put an end to the investigation of Senator Bukola Saraki, hence the investigation to ascertain direct or any possible link of Senator Bukola Saraki and the robbery incident is still on going.
"The interim investigation report does not in any way exonerate Senator Bukola Saraki from any further investigation. As a matter of fact, Senator Bukola Saraki has no immunity whatsoever from investigation, arrest, detention or prosecution where reasonable suspicion is established.
"Contrary to paragraphs 8, 14, 17 and 21 of the applicants' affidavit, neither the position of Senator Bukola Saraki as the Nigerian Senate President nor his political portfolio is a barrier to any investigation by the 2nd and 3rd respondents (NPF and IGP) if he is suspected of having committed any crime."
Source: Naija News