Why FG Cannot Release Dasuki Despite Court Bail – Malami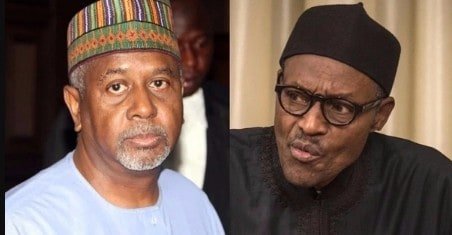 Dasuki May Remain In Prison Custody
The attorney-general of the federation, Abubakar Malami, has cited reasons for the inability of the federal government to release former national security adviser, Sambo Dasuki, on bail despite a court order to that effect.
Malami stated that the allegation against him is a matter of public interest, which far outweighs his personal interest.
Malami made the submission in a Voice of America, Hausa, interview obtained by Premium Times.
He claimed Dasuki is instrumental to the death of over 100,000 people.
"What I want you to know is that issues concerning law and order under Muhammadu Buhari are sacrosanct and obeying court order is compulsory," he said.
"However you should also know that there is a general consensus world over that where the dispute is only between individuals, then you can consider the issue based on the instant situation. But if the dispute is about an issue that affects an entire nation, then you have to remember that government is about the people not for only an individual.
"So you have to look at it from this perspective. If the issue about an individual coincides with that which affects the people of a nation and you are now saying the government did not obey a court order that infringes on a single person's rights. Remember we are talking about a person who was instrumental to the deaths of over one hundred thousand people. Are you saying that the rights of one person is more important than that of 100,000 who lost their lives?
"Reports have shown that there was massive mismanagement of funds meant for military hardware which the military could not access and that led to the death of many, embezzlement of the fund and because of that many people have lost their lives. Obeying the court is not the issue per say. Are we going to take the issue of an individual more important than that of the people? The government's main responsibility is for and about the people. The essence of governance is to better the lives of its people. So you have to weigh it based on that; the rights of an individual or the rights of the people."
Naija News recalls that Dasuki was arrested in 2015 by operatives of the Department of State Security (DSS) for "illegal possession of firearms" and diversion $2.1 billion from his office during his tenure as the National Security Adviser under the administration of ex-president Goodluck Jonathan.
Download NAIJA NEWS app: