Oshiomhole State Reasons Behind His Meeting With R-APC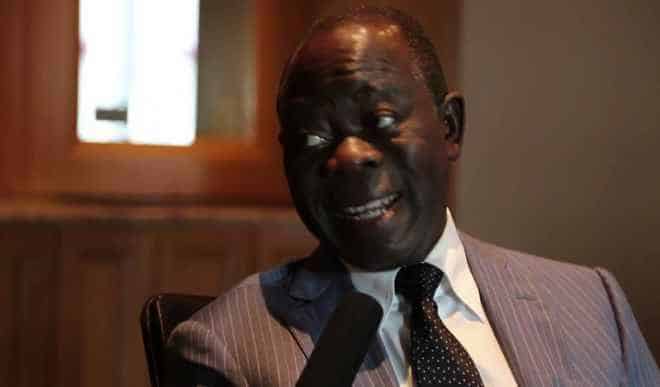 Meeting With Aggrieved Members Is To Restore Peace In The Party
Adams Oshiomhole, the National Chairman of the All Progressives Congress, while reacting to the present crisis in the party, stated that his move to stop members of the R-APC from leaving APC is not an act of cowardice.
He pointed out during a book launch by Senator Bukar Abba Ibrahim (APC, Yobe-East), that the move made to aggrieved members was targeted at restoring peace and getting justice for the members.
Oshiomhole stated that the act was not as a result of fear.
Oshiomhole said, "Throughout the weekend and up till today (Monday), many of the national dailies reported different stories with the impression that I have not been sleeping within the last one week as a result of alleged midnight meetings with aggrieved party members, who they say I have been begging not to leave the party.
"In some of the reports, the insinuations even went as far as saying that I made juicy offers to the aggrieved party members in stopping them from defecting. While I will not be too direct in reacting to such reports here, I will only say though I have been meeting aggrieved party members over whatever injustices they felt the party or some chieftains of the party had done to them. I have not been having sleepless nights as being reported, and also I am not in any way jittery.
"Rapprochement move, as far as I am concerned, is not an act of cowardice but a desirous endeavour in making peace since you can't decree peace but only work for it. So, in a nutshell, I am not ashamed of doing that as chairman of a great party. To those who the rapprochement moves are being directed to, we want them to appreciate that we are more or less trying to prevent them from making a blunder of dumping palm wine for kain kain (local gin)."
The Peoples Democratic Party while reacting to the statement, described the opposition National Chairman as fake.
PDP stated that while Oshiomhole boasts in the day, he visits the aggrieved members of APC at night and pleading with them not to leave the party.
Mr. Kola Ologbondiyan, the National Publicity Secretary of the party, in a statement said Oshiomhole and the national leadership of APC are jittery over the plan of defection.
He said, "We will rather forget and ignore him. He is a drowning man and his party will soon become the opposition party in Nigeria. That is why he's busy running his mouth.
"In day time, he goes out shouting, calling people names but at night, as from 2am, he goes about visiting and begging people he had abused, asking them not to leave and offering them positions and tickets.
"We should rather ignore him. We understand his predicament. So, we won't waste our time talking to or responding to a fake man who is heading a faction of the APC."
Source: Naija News